Nowadays we need the best microwaves with WiFi for our smart homes. Being able to control the microwave over WiFi saves you the time and effort you'll have to spend in the kitchen.
But how to choose the best smart microwaves with WiFi? What are the best smart microwaves with WiFi available in 2022?
In this post, we'll provide reviews of the 4 best options available now. Also, we'll go through some tips to make sure your next microwave with WiFi is as smart as possible.
4 Best Smart Microwaves with WiFi
To help you with your purchase, we have reviewed and picked the top 4 smart microwaves with WiFi. Whichever one you pick, it'll ensure you a smooth and enjoyable cooking experience.
1. Toshiba ML-EM34P(SS) Smart Countertop Microwave Oven
This 1.3 cu. Ft. microwave oven was built specifically with WiFi connection in mind.
It comes with WiFi that is designed to satisfy your needs for hands-free operation. The microwave oven with WiFi is integrated with Alexa. Thus, when paired with an Echo device, it can be controlled by voice command or app control.
The smart microwave with WiFi boasts a built-in humidity sensor. Therefore, it can automatically adjust cooking power and time to achieve better results.
It has 23 Preset Menus in the app. You just need to select power levels and time in the app, and it will automatically start cooking with the appropriate power.
For users who would like to enjoy some quiet moments, it comes with a mute function to turn off the annoying beep.
Overall, it's the best smart microwave with WiFi that offers smart controls, ease of use and great value for money.
2. GE Smart Countertop Microwave Oven
Not so tech-savvy? This smart microwave oven with WiFi is for you. Designed with convenience in mind, it was very easy to set up this microwave with WiFi and a smart home system.
Many users love the fact that it's a smart microwave that works with Alexa, which means you can get the microwave to start working, simply by saying "Alexa, defrost 1 pound of chicken".
The smart countertop microwave has a capacity of 0.9 cubic feet. It would make a great choice for individuals and small families.
Also, you can count on it for great convenience. Its scan-to-cook technology can automatically set the perfect cooking settings for your favorite frozen food. Therefore, you can have quick meals ready without any guesswork. Its extra-large LED display sets the clock automatically as it cooks.
This smart microwave oven with WiFi comes with a push-button door. Microwaves without handle let you open the microwave door with one press of the push button latch.
3. Amazon Basics Microwave Oven with WiFi
The Amazon Basics Microwave is one of the best value smart microwaves with WiFi on the market.
If you're looking for an affordable, compact microwave oven with WiFi, look no further.
This is the smallest option on this list, but it still packs a capacity of 0.7 cu. Ft. that can serve a small family. And it makes a perfect choice for small spaces like mobile homes, offices and apartments.
It features a bunch of smart functionalities that you don't usually see in such an affordable microwave. It comes with WiFi, and it's compatible with Alexa.
Cooking has never been easier when this smart microwave with WiFi is paired with an Echo device. Press the Ask Alexa button and say your cook time, then the smart microwave will start cooking.
Just because it's small doesn't mean that it doesn't have all the basics. The smart microwave oven with WiFi has 10 power levels, a kitchen timer, a child lock, and a turntable so you can cook all kinds of food.
4. Whirlpool WMH78019HZ Convection Over-the-Range Microwave Oven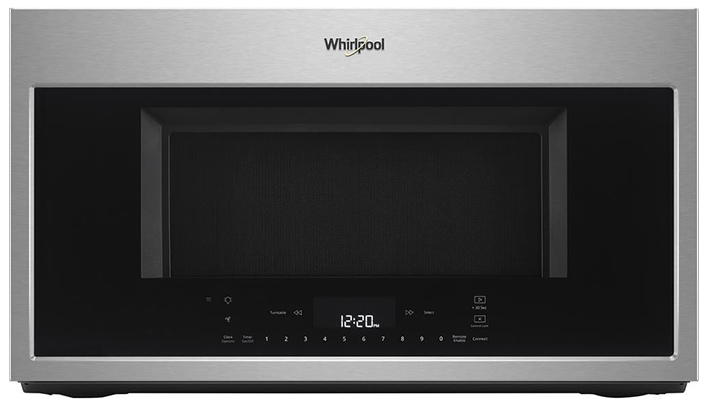 Whirlpool is a trusted brand when it comes to home appliances. If you're looking for a smart over-the-range microwave with WiFi, consider the Whirlpool WMH78019HZ.
You will like this smart WiFi-controlled microwave not only for the timeless design but also because of its functionalities.
For sure, it comes with WiFi. The smart microwave with WiFi can be connected to smart Apps, which lets you send cooking instructions to the microwave from your smartphone
When paired with Google Assistant or Alexa, you can control your smart WiFi microwave with voice commands through a smart home assistant.
With a 4-Speed, 400 CFM exhaust fan, it would help quickly get rid of cooking odors and smokes.
It's a 1.9 cu. Ft. large microwave, so it's capable of making feed-a-crowd meals and it can easily fit dishes of various sizes.
The smart wifi-controlled microwave is also equipped with a lighted keypad. The backlit controls are extremely easy to clean. Plus, they only pop up when you need them for a sleek look.
The stainless steel design and clean release non-stick interior are excellent. It requires the minimum effort to keep clean and maintain.
Should You Get a Smart Microwave with WiFi?
Is a smart WiFi-controlled microwave worth it? I think it is. I'm not saying that all smart microwaves with WiFi are better than the regular ones. But they're relatively beneficial.
They can save you a great amount of effort and time if you frequently cook with a microwave.
Maybe they're slightly more expensive overall, and it might take a bit longer to set up in the first place, but these don't take away from their benefits.
And if you're trying to build a smart home, a smart microwave with WiFi is necessary.
If you found this post helpful, let us know in the comments or drop your questions below.