Got baking soda or sauces all over your hands, but needed to access the microwave?
That's when you need a microwave without handle, so you can open the microwave door with a push of the button.
Check out our picks for the best microwaves without handles, and boost your cooking experience like never before.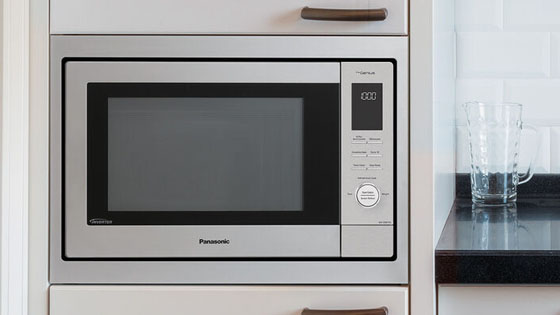 Contents:
Best microwaves with no handle available to buy
How to open a microwave without handle?
5 Best Microwaves Without Handle for Your Kitchen
We all try our best to keep our kitchen neat and clean while cooking or baking. And now, with microwaves with push button door, you can effortlessly access the microwave without putting your dirty hands on it.
If you're still weighing between a microwave with or without handle, read this.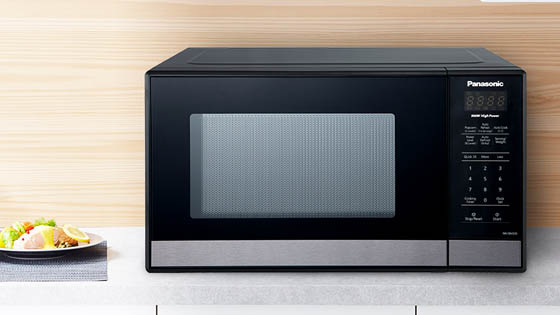 With an extremely long list of microwaves without handles on the market, it can be time-consuming to find the best option for you and your family.
That's why we've taken a look at the options out there to compile a list of the best microwaves without handles you can buy right now. Enjoy!
Panasonic NN-SB458S Compact Microwave Oven Without Handle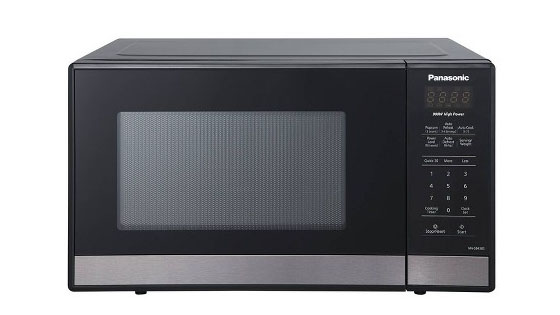 Key Features:
7 preset menus
Small countertop footprint
900 Watts & 10 power levels
The compact microwave oven without handle by Panasonic has a clean and sleek look, making it an easy matching appliance for every kitchen style.
The microwave with push button door is moderately priced, and will be more than enough for most homes, offices, and dorm rooms.
Having a high power output of 900 Watts and 10 power levels, the microwave oven without handle can cope with all your basic cooking requirements and have meals on the table in no time.
It provides a capacity of 0.9 cu. Ft which is able to fit a regular-sized dinner plate, and the small counter footprint makes it perfect for those who have limited counter space.
The 7 preset auto cook menus make microwave cooking an absolute no-brainer, helping you to reheat or cook potatoes, frozen entrees, dinner plate and more with one touch of the auto-cook button.
This compact microwave without handle also cooks perfect microwave popcorn. With 3 power levels for every size popcorn bag, it will have popcorn ready for the movie night in a snap.
BLACK+DECKER EM720CB7 Microwave Oven with Push-Button Door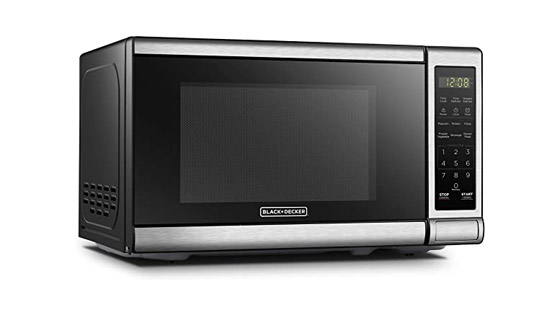 Key Features:
6 preset menus
Small counter footprint
Removable 10" glass turntable
If you're looking for the best budget-friendly microwave without handle, this one by BLACK+DECKER is going to be your best bet.
It has an even smaller counter footprint than the previous one, allowing you to free up considerable counter space, which makes it a great choice for small spaces like dorm rooms and studio apartments.
The stainless steel finish of the microwave oven can easily blend in any kitchen decor, and the push-button door release allows for easy access.
Behind the microwave door, you'll find a removable glass turntable for even cooking results and a spacious interior to accommodate large bowls and dinner plates.
The large LED digital display, and the easy-to-read control panel are pretty straightforward, so you don't need to spend hours figuring out how to navigate the functions.
The easy defrost by time or by weight functionality lets your experience effortless preheating food items.
The small microwave without handle boats with pre-programmed buttons for popcorn, potato, pizza, frozen vegetable, beverage and dinner plate, allowing you to optimally preheat or cook these food items with one press of the button.
Samsung MG14H3020CM Microwave Oven Without Handle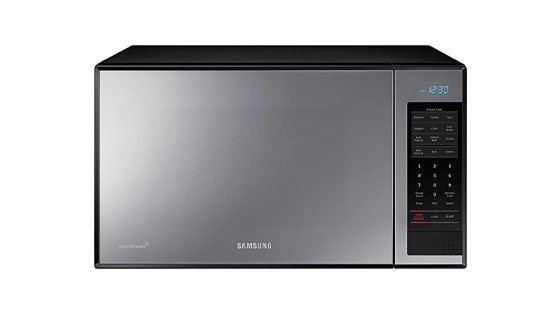 Key Features:
1.4 Cubic Foot
Grilling element
Auto-cook presets
Ceramic enamel interior
The Samsung MG14H3020CM microwave with push button door, which is also one of the best-rated microwaves without handle on the market.
You might figure out just from looking at it that Samsung put a lot of effort into the design and build process.
The shiny mirror design and asymmetric shape surely will add a touch of class to your living space.
One thing that distinguishes this microwave from the previous ones is its grilling element.
It combines traditional microwave heating technology and a grilling element in one appliance, which means you can achieve a crispy finish when you cook pizza, sandwiches, bacon, fish and more in the microwave.
Furthermore, the scratches-resist and stain-resistant ceramic enamel interior works like a dream when it comes to cleaning and maintaining. Simply wipe away grease or oil from the surface, and that's all it needs.
Panasonic NN-CD87KS 4-in-1 Microwave Oven Without Handle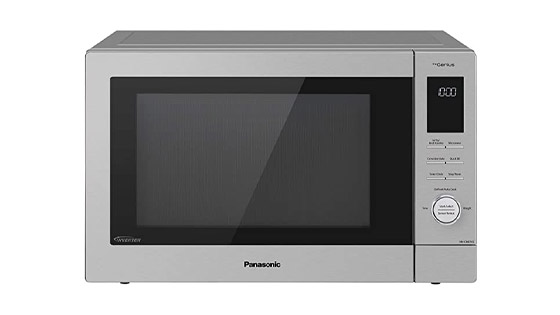 Key Features:
Healthy air fryer
Convection bake function
Inverter microwave
FlashXpress Broiler
Easy-to-clean interior
If you're interested in baking and roasting, the Panasonic NN-CD87KS microwave oven with push button is for users who want to achieve versatile cooking results.
The 1.2 cu. Ft capacity microwave oven without handle combines a microwave, broiler, air fryer and convection oven all in one appliance, helping you cook, roast, and bake with ease.
It has a healthy air fryer that can rapidly circulate hot air around food items to produce crispy and brown results.
Panasonic's patented inverter technology to get you the most out of the microwave cooking function, allowing for smart, even defrosting, reheating, cooking and keeping food warm.
The stylish, space-saving design with a push button door, the microwave oven without handle looks great in any kitchen style.
With sensor reheat, and 20 auto-cook programs including potatoes, popcorn, and dinner plate, the microwave oven with push button door helps you have perfectly prepared meals on the table.
GE Profile PVM9005SJSS Over the Range Microwave Without Handle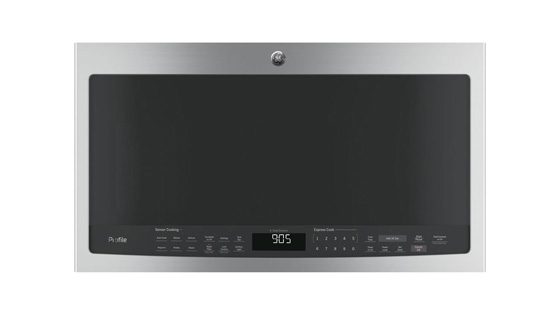 Key Features:
2.1 cu. Ft capacity
Easy-to-clean interior
3-speed, 400 CFM venting system
If you want to get an over-the-range microwave without handle and free up most counter space, you'll find the GE over-the-range microwave with push button interesting.
The stainless steel finish and classy design of the microwave oven will bring a new touch of luxe to your home kitchen.
The microwave without handle boats a capacity of 2.1 cu. Ft, so it would be more than enough to make big meals for big families.
It has a high power output of 1050W which is higher than the previous ones, making it capable of having feed-a-crowd meals on the table in a breeze.
It's also a microwave oven and exhaust fan combo. Featuring a 3-speed, 400 CFM venting system, it will remove odor and smoke from your kitchen right away, and keep your kitchen clean and fresh all the time.
How to Open a Microwave Without Handle?
Most microwaves without handle on the market today come with a push button, so they are also called microwaves with push button or microwaves with push button door.
And generally speaking, the push button would locate in the bottom-right corner of the microwave oven, just beneath the control panel.
To open a microwave oven without handle, just press the push button, and the microwave door will pop open immediately.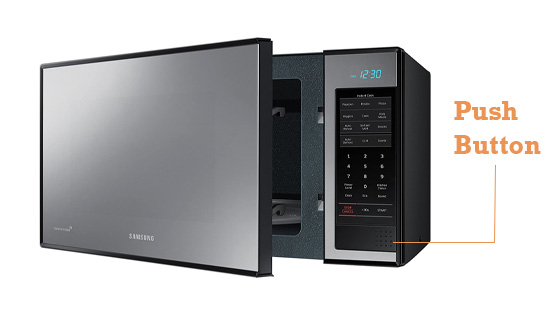 It's a Wrap
Microwaves without handle are definitely a convenient appliance to have in the kitchens. Also, many microwaves with push button doors these days are impressively priced while having rich features.
Hopefully, you've found the best microwave without handle for you and your family from the list of top 5 microwaves without handles.
If you have any questions concerning this topic, feel free to leave us a comment down below and we'll discuss further!