Want to set up your microwave with Alexa for plenty of cool tricks, but didn't know how to pick the best microwave that works with Alexa?
Having an Alexa compatible microwave in your kitchen, you can control the microwave and adjust the cooking setting simply via Alexa's voice control feature.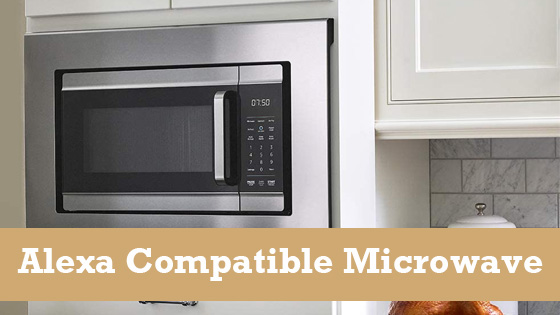 The smart microwave with Alexa that best suits your kitchen is going to depend on several factors. You need to consider your budget, the space meant for the microwave, and what kind of features you'll need.
Ahead are our top picks for microwaves that work with Alexa, and a detailed guide on how to connect a microwave with Alexa.
Contents:
Microwave with Alexa: 5 Best Alexa Compatible Microwaves
Having a microwave that works with Alexa in the kitchen is one of the simplest and most efficient ways of setting up a smart home.
There are many microwaves out there that are compatible with Alexa. So which ones are the best? See our top picks below.
Best Microwave with Alexa Overall: Amazon Smart Oven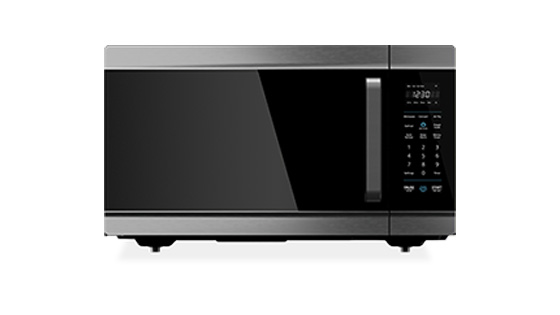 Nobody provides high-performing microwaves that work with Alexa quite like Amazon themselves.
The smart microwave oven with Alexa is high-quality and fully-functioned that will complement any kitchen.
This 1.5 Cu Ft. 4-in-1 appliance can work as a microwave, convection, oven, food warmer, and air fryer, so it can achieve versatile cooking results.
When paired with an Echo device, you will be able to enjoy the voice activation of the microwave with Alexa, and the convenient scan-to-cook feature.
Just say "Alexa, microwave 3 ounces of popcorn", and it will start the microwave with appropriate settings.
Featuring a smart sensor that detects temperature and humidity, and a detachable temperature probe, the Alexa compatible microwave can have your favorite food ready in a snap while taking the guesswork out of the kitchen for good.
Best Value Microwave with Alexa: AmazonBasics Microwave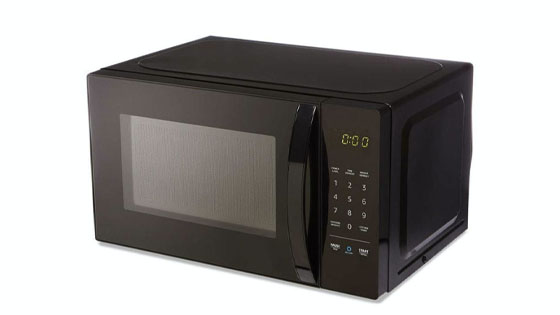 This AmazonBasics microwave works with Alexa is worth considering if you're on a budget.
Though it comes with a humble price tag, you can find all the standard features in this Alexa compatible microwave, including a child safety lock, a kitchen timer, and a turntable for even cooking results.
Having 10 power levels and a capacity of 0.7 cu. Ft, the microwave that works with Alexa can handle all your basic cooking requirements.
Some of the noteworthy features of the microwave with Alexa include voice control feature, quick-cook voice presets, and ask Alexa button, which will bring great convenience to home cooking.
When you pair the microwave with an Echo device, and voice command your Echo dot to start the microwave as needed, the microwave will start cooking by the command you gave.
The Ask Alexa Button of the microwave will save you the frustration of screaming "Alexa" to activate the Echo device in the living room.
Just press the button, say "frozen veggies", and the microwave with Alexa will start cooking with the optimal cooking settings.
Best Compact Microwave with Alexa: GE JES1097SMSS Smart Microwave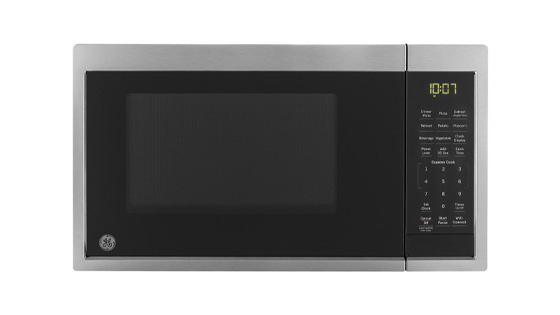 GE is another leading brand you should consider when you're on the hunt for a top-notch microwave with Alexa.
If you've got your eyes on a stylish, exceptional, and rich-feature microwave with Alexa, we recommend checking out GE's selection.
The smart microwave with Alexa has the scan-to-cook technology, taking the guesswork out of microwaving frozen foods. Just scan the barcode of the frozen food, and the microwave oven will prepare your food with the optimal cooking settings.
Supporting WiFi connection and being compatible with Amazon Alexa and Google Assistant, the smart microwave can provide you with real-time cooking feedback, optimized performance, alerts and so much more.
Equipped with convenience cook controls, the Alexa compatible microwave oven can automatically set the power level and cooking time for popular foods like pizza, popcorn, dinner plate, and more.
You'll find plenty of thoughtful features in the microwave oven that works with Alexa, including a child safety lock for peace of mind, a 10.5 in. turntable for well prepared dishes, and auto defrost for optimal results.
Best Microwave with Alexa for Families: Toshiba ML-EM34P(SS) Countertop Microwave Oven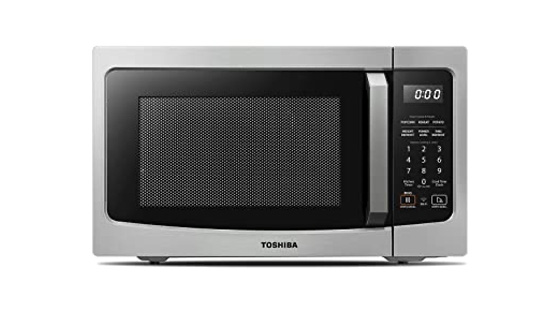 Toshiba is a brand that is commonly known for its high-quality appliances. For a smart, exceptionally functional microwave oven for families, check out the Toshiba ML-EM34P(SS) microwave oven.
With a capacity of 1.3 cu. Ft. and a power output of 1100W, you can depend on this Alexa compatible microwave to do an outstanding job of making big meals in a short time.
When paired with an Echo device, the microwave supports hands-free operation by voice command or remote control via App.
Featuring a built-in humidity sensor, the microwave with Alea will constantly detect the humidity emitted by the food item while cooking, then automatically adjust the cooking settings for perfect results.
What really distinguishes the microwave works with Alexa built in is a wide range of preset menus. Pre-programmed with 23 preset menus, it lets you effortlessly have popular foods on the table in a flash, including popcorn, pizza, vegetable, and more.
Best Over-the-Range Microwave with Alexa: Whirlpool WMH78019HZ Smart Over-the-Range Microwave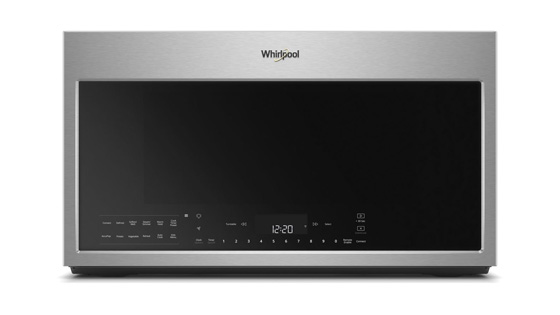 If you're looking for an over-the-range microwave with Alexa for your kitchen, this smart microwave by Whirlpool is a brilliant choice.
Available in black stainless steel and stainless steel finishes, the fingerprint-resistant steel makes it extremely easy to remove the spills and keep it clean.
When you get the microwave oven to communicate with Alexa or the smartphone app, you can enjoy controlling the microwave simply with your voice or remotely via the app.
Also, you can rely on the microwave oven and exhaust fan combo to keep your kitchen fresh and clean, given that it comes with a 4-speed 400 CFM venting system.
There's a special feature you're going to love about this microwave that works with Alexa. It's the turntable on/off option, allowing you to rotate the turntable for evenly cooked dishes or turn it off to accommodate a larger dinner plate.
Another interesting feature of the microwave for Alexa is the multi-step cooking technology, which allows you to achieve great results based on the multi-stage cooking intrusion you sent over the phone app.
How to Connect a Microwave with Alexa?
We all love the idea of having the ability to control the microwave with voice command, no matter what we have on the hands.
If you're trying to figure out how to connect your microwave with Amazon Alexa, there are a few things you need to do first:
Make sure the microwave oven you want to connect is compatible with Alexa.
Make sure you're in the country or district where your microwave can be paired with Alexa. Some manufacture limit this feature to certain countries and districts due to privacy policy or other reasons.
Download the Alexa app to your mobile device if you haven't yet.

Connecting a smart microwave to Alexa:
In this detailed guide on how to connect a microwave with Alexa, we'll take the AmazonBasics microwave as an example. The steps to connect other microwaves to Alexa won't be too different, but be sure to refer to the instructions if you find any difference involved.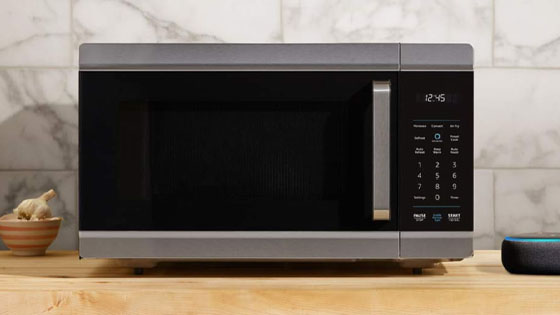 1. To connect a smart microwave to Alexa, you need to plug in the microwave oven and have the power on.
2. In the Alexa app, connect the microwave to the same WiFi network that your Echo device is currently on.
3. Also in the Alexa app, tap the Device tab, then choose Add Device.
4. Scroll down and select Microwave from the list.
5. Choose the brand of your microwave. In this case, choose AmazonBasics.
6. You'll see a pop-up message telling you that microwave connected.
Done and done! Now your microwave is connected to Alexa and you're free to enjoy the voice control feature.