A compact microwave for apartment is an essential basic. It's your go-to appliance for satisfying basic cooking needs.
Whether you're looking for a microwave for the very first time, or trying to step up the microwave cooking game, this article is for you.
We've compiled a list of the best microwaves for apartment, and some inspiring microwave storage ideas for apartments in this post.
CONTENTS:
1. Best Apartment Size Microwaves for Sale Today
2. Best Microwave Storage Ideas for Apartments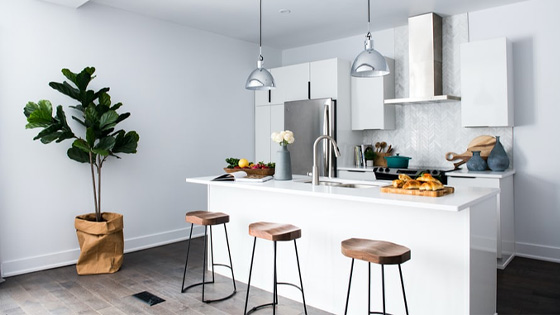 5 Best Microwaves for Apartment Available to Buy
No matter the reason, you're searching for a microwave for apartment use. Ever find it hard to figure out which option is right for you and worth the money?
We've rounded up our top picks of best microwaves for apartments based on their size, performance, and price tag. Read on to find the ideal one for your apartment.
Best Microwave for Apartments Overall: Panasonic NN-SB438S Compact Microwave Oven
Capacity: 0.9 cu. ft. | External Dimension(w*d*h): 19.1*14.8*11.5 inches |
The compact microwave oven is a full-featured microwave for more effective and better cooking results.
The Panasonic microwave oven for apartment comes with 900W high power for shorter cooking times, and 10 power level options for different cooking requirements.
Preprogrammed with 7 auto-cook menus, the microwave for small apartment lets you effortlessly cook simple meals like pizza, potatoes, frozen veggies and more.
Equipped with a capacity of 0.9 cu. Ft, the microwave for apartment can handle most cooking needs of singles and small families.
It delivers even cooking power through a non-inverter power supply, so you won't find any cold spots or overcooked edges in your dishes.
Thoughtful features, like delay start/timer, keep warm feature and 3-level popcorn button, make cooking even more convenient for people living in apartments.
Best Budget Microwave for Apartment: AmazonBasics Microwave
Capacity: 0.7 cu. ft. | External Dimension(w*d*h): 17.3*10.1*14.1 inches |
Going for an inexpensive microwave for apartment doesn't always mean settling for poor quality.
The compact microwave for apartment by AmazonBasics is an excellent choice if you're on a tight budget.
The small microwave saves space on the counter, but it's big enough for a regular-sized dinner plate. Therefore, it makes a perfect choice for a studio apartment and college apartment.
With 10 adjustable power levels, easy defrost by weight/time function, and a removable turntable, the compact microwave can meet all the basic cooking needs.
When combined with an Alexa device, the AmazonBasics microwave for apartments lets you control it with your voice.
RELATED READING: Microwave Oven with Voice Control
Just say, "Alexa, reheat 6 ounces of frozen veggies," and Alexa will run the microwave with the optimal cooking time and power levels.
Best Small Microwave for Apartment: COMFEE' EM720CPL-PMB Countertop Microwave Oven
Capacity: 0.7 cu. ft. | External Dimension(w*d*h): 17.3*13*10.2 inches |
If you don't have much room to spare, this microwave for small apartments by COMFEE' will be a solid option for you.
It's designed back stainless steel finish for a stylish and sleek look, so it will blend with most apartment styles.
The best size microwave for apartment allows you to turn off all the microwave beeps, thus, you can prepare food without making noises.
READ ALSO: Microwave with Sound On/Off Option
Featuring easy one-touch buttons, you can enjoy one-touch cooking for six popular food items as in frozen vegetables, potatoes, popcorn and more.
The small microwave for apartment has a bunch of thoughtful features. Child safety lock, energy-saving eco mode, and easy defrost by weight. All these features help to provide a safer and better cooking experience.
Easy-to-Use Microwave for Apartment: Nostalgia RMO7AQ Retro Countertop Microwave Oven
Capacity: 0.9 cu. ft. | External Dimension(w*d*h): 19 x 17.9 x 11 |
Ever find it difficult to remember how to operate an appliance? This small microwave for apartment is the fool-proof option for you.
The apartment size microwave by Nostalgia comes with a quick program dial knob, and hence it enables users to easily navigate cooking settings.
Featuring 12 pre-programed cooking settings, the microwave for apartment provides optimal heating results of popular food items like popcorn, pizza, potatoes, veggies and more.
It's truly a blessing function for those who are not good at evaluating cooking time.
All the convenient features aside, the retro microwave comes in 5 different colors, so you can choose one to match your apartment decor.
Best Quality Microwave for Apartment: GE Appliances JES1095BMTS Microwave Oven
Capacity: 0.9 cu. ft. | External Dimension(w*d*h): 19 x 14.5 x 11.5 inches |
It's safe to say that GE has been delivering second-to-none quality microwaves to their customers for decades.
If you're looking for a microwave that will last for years, this microwave for apartments made by GE is for you.
The small microwave for apartments has a timeless, compact design and a stainless steel finish. Therefore, it would perfectly fit in any apartment style and look great.
If you're living with apartment roommates and wish to reduce cooking noise to the maximal level, you definitely need to check out this unit.
It's super quiet when it runs and it allows you to easily turn on/off the buzzer of the microwave.
With 7 convenient cooking controls, the microwave enables you to prepare popular food like popcorn, pizza, potatoes, and frozen veggies, with one touch of the button.
Best Microwave Storage Ideas for Apartments
Apartments usually don't have much space in the kitchen to spare. That's why we've come up with a list of best microwave storage ideas for apartment kitchens.
Hopefully, these microwave storage ideas will give you an idea of how to organize and store your microwave in small apartment kitchens.
1. In a cabinet
Usually, this is a no-brainer option for most people who live in an apartment. Keeping microwaves in a spare cabinet can not only save counter space, but also makes the counter look tidy and organized.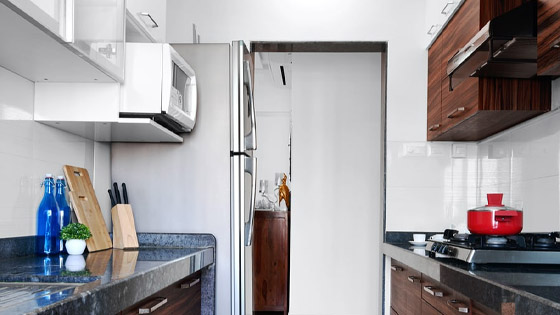 2. In an additional shelf
No counter space, no spare cabinets? No worries. An additional shelving DIY will help to bring convenience to microwave storage, and bring aesthetics to your living space.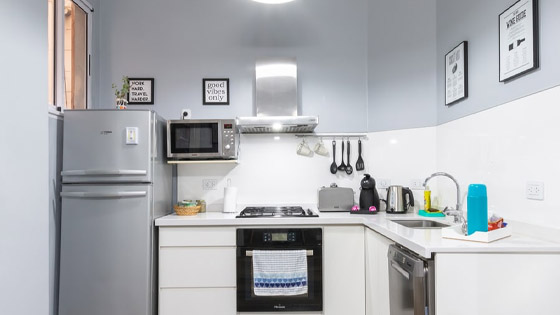 3. On a microwave rack
An expandable and height-adjustable microwave shelf and organizer give you the space to store the microwave oven for apartment, other small appliances, and more tools. Therefore, it will help to spare more counter space.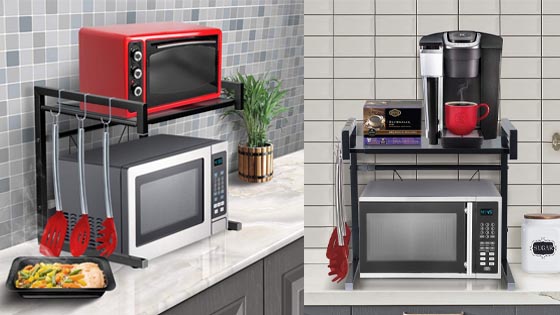 4. Under the counter
Keep the microwave for apartment under the counter, so it won't take up counter or cabinet space. It's also easier to access the microwave for apartment tucked under the counter than hidden in an enclosed cabinet.
Wrap Up
Our top picks of microwaves are compact in size to fit in small apartment size, yet powerful enough to satisfy all the basic cooking needs.
And hopefully the best microwave storage ideas listed could help you figure out the kitchen configuration for your apartment.
If you have any questions about choosing microwaves for apartment, let us know in the comment section!