One neat feature you'd want to seek when choosing a microwave oven is a lighted keypad.
A microwave with lighted keypad lets you clearly see the control panel even in dim natural light.
In 2023, a microwave with a lighted keypad is still rarely seen on the marketplace, even when looking at the top brands.
Here I have listed 3 best microwaves with backlit keypad that are worth considering. Read on the learn more!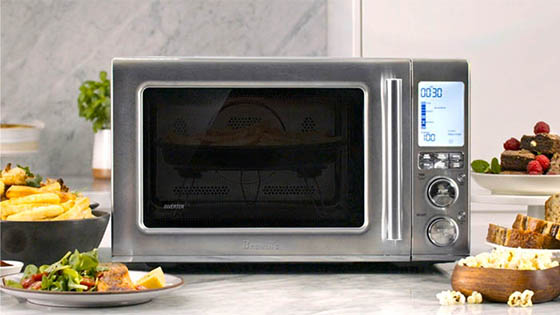 Contents:
1. Why do you need a microwave with a blacklist keypad?
2. Top 3 microwaves with lighted keypad
Advantages of Having a Microwave with Lighted Keypad
Owning a lighted keypad microwave is more than just owning a microwave oven with one more fancy feature.
Before we dive into the list of best microwaves with lighted keypad, we'll share a few advantages of having one:
1. See clearly in the dark.
Imagine this: you need some popcorn for a late-night movie or sports game, but don't want to wake your family by turning on a light. A microwave with lighted keypad can help you avoid this dilemma.
The backlit keypad lets you see the control buttons clearly even in dim light, and effortlessly have nacks ready for a fun night.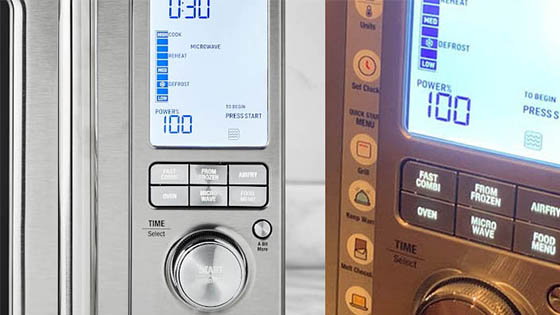 2. Accurate operation.
Even if you don't see yourself operating a microwave in the late night, the lighted keypad of the microwave can still improve your cooking experience during the daytime.
The backlit keypad will help you identify different control buttons, and hence making it easier for users to operate the appliance, especially users with vision problems.
3 Best Microwaves with Lighted Keypad
Breville BMO870BSS1BUC1 – the Combi Wave™ 3 in 1 Convection Microwave
DETAILS:
Capacity: 1.1 cubic feet
Wattage: 1400 Watts
Product Dimension: 12.45 inches (H) x 20.4 inches (W) x 21 inches (D)
KEY FEATURES:
Lighted Keypad
19 Auto-Cook Presets
3-in1 Appliance – Air Fryer, Convection Oven & Microwave Oven
Element IQ® System
Power Smoothing Inverter™ Technology
Fast Combi Function
The Breville microwave with lighted keypad is among the most premium models released by the brand.
This convection microwave has a notable backlit keyboard which will automatically light up when you press the buttons, so you can enjoy a pleasing cooking experience even in dim natural light.
The brushed stainless steel casing adds an appealing complement to your living space while providing durability.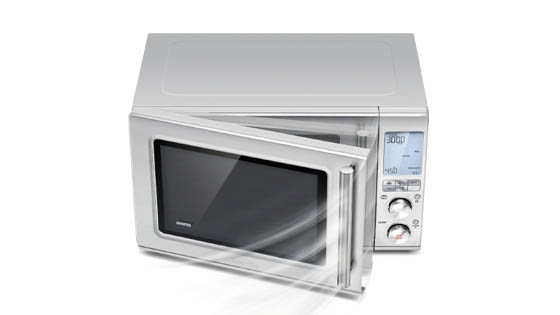 Underneath the stylish stainless steel casing, there is a 12.4 inches turntable. By rotating foods during cooking, the large turntable makes sure that your meals are well prepared, no cold spots or overcooked edges.
This convection microwave oven has a cooking power of 1400 Watts, which means it's powerful enough to have big meals ready in a snap.
The Breville microwave with lighted keypad comes with a lot of features, which aren't usually present in one microwave oven.
Want to make crunchy french fries, roast steak, or gooey chocolate brownies in your home kitchen? You can rely on this one appliance for all these.
Combining an air fryer, convection oven, and a microwave in one appliance, the convection microwave oven is always ready to bring you crispy, roast, and crunchy cooking results.
One notable feature that distinguishes this microwave with lighted keypad from other models on the market is its Element IQ® System, which can significantly boost the cooking results and create delicious meals when using the air fry and bake functions.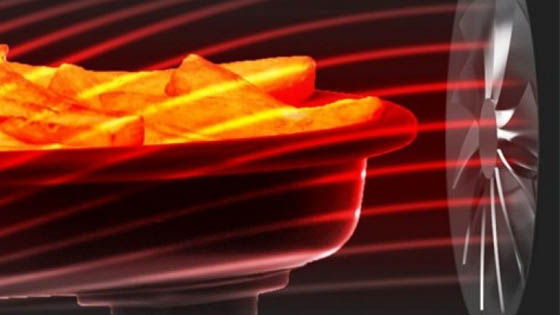 Another feature that makes this microwave with backlit keypad worth buying is the Power Smoothing Inverter technology.
By automatically adjusting power intensity, and delivering smooth even power, it will certainly perform well for delivering outstanding results and eliminating overheating edges.
The microwave oven is loaded with 19 built-in smart presets including Smart Cook, Smart Reheat, and Smart Defrost, helping users achieve delicious results effortlessly.
Whirlpool WMH78019HB – Smart Over the Range Convection Microwave with Lighted Keypad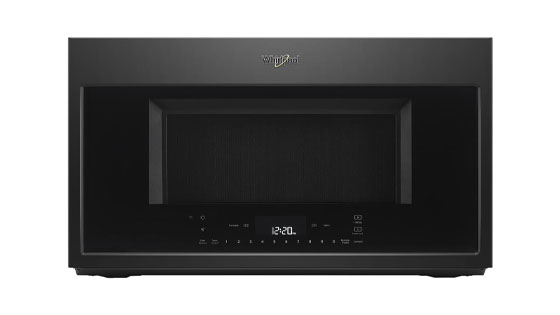 DETAILS:
Capacity: 1.9 cubic feet
Wattage: 1100 Watts
Product Dimension: 17.13 inches (H) x 29.94 inches (W) x 16 inches (D)
KEY FEATURES:
Touch Controls with Backlit Keypad
Compatible with Google Assistant and Amazon Alexa
Smart Sensor Cooking
4-Speed, 400CFM Vent Hood
Steam & Convection Cooking Options
If you're looking for a high-end, rich-featured microwave oven with lighted keypad, then you won't go wrong with this one.
The Whirlpool WMH78019HB is an over-the-range convection microwave oven that offers a premium build and polished look, backlit tap touch controls, and a powerful vent hood.
The stylish microwave comes with tap touch controls with a backlit menu, which only appear when you activate them.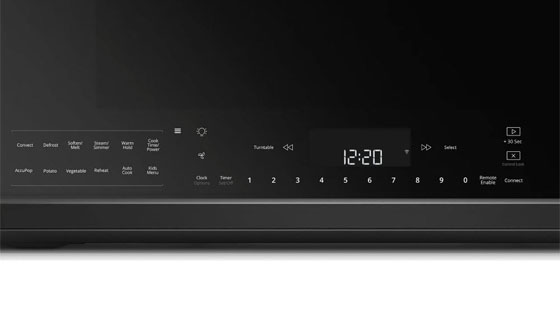 With adjustable cooktop lighting and a powerful 4-speed venting system, the sleek microwave can quickly remove cooking odors from your kitchen, and shed lights on your cooking range.
Compatible with Google Assistant and Amazon Alexa, the smart microwave oven allows you to send cooking instructions using your voice when it's paired with a smart speaker.
For more information about voice control microwaves, read this post.
One of the best things about this microwave is its true convection cooking setting, so you could bake with the microwave oven and get crisp and golden brown results.
To add greater convenience to your cooking process, the microwave features a smart sensor, aiming to take the guesswork out of your kitchen.
Haier QVM7167RNSS – Smart Over the Range Microwave with Lighted Keypad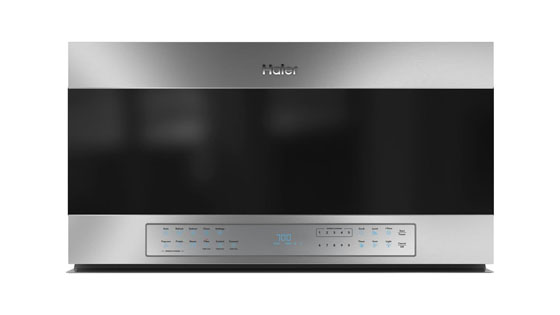 DETAILS:
Capacity: 1.6 cubic feet
Wattage: 1000 Watts
Product Dimension: 16-7/16 inches (H) x 29-7/8 inches (W) x 15-7/8 inches (D)
KEY FEATURES:
Backlit LED Controls
Smart Sensor Cooking
Scan-to-Cook Technology
Steam Clean Control
Compatible with Google Assistant and Amazon Alexa
This one is a perfect fit for people who are looking for the best bang for their buck. It's a higher-end microwave oven in Haier's lineup and offers excellent performance for a modest price.
With a capacity of 1.6 cu. Ft. and 1000 Watts of cooking power, this range hood is good for families and small professional kitchens as well.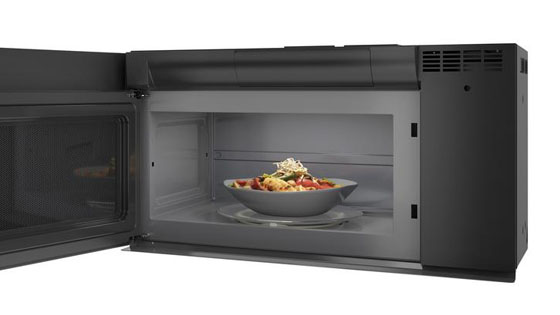 The backlit LED controls make controlling the unit simple, and with no knobs or dials on the surface, it's extremely easy to keep it clean.
Also, it's a smart microwave oven. Being compatible with both Google Assistant and Amazon Alexa, it will bring you personalized cooking experience.
Supporting Wi-Fi connection and scan-to-cook technology, an enjoyable and simplified cooking process is guaranteed, so it will help you prepare favorite dishes with ease.
Featuring an auto (sensor) cook button, the microwave with lighted keypad enables you to have foods perfectly prepared without any guesswork.
If you hate cleanups like I do, then you're going to love this microwave. It features a steam clean control, which lets you clean the interior easily.