Today, microwaves are smarter than they've ever been before. Thanks to the rise of the smart home industry, there are some smart microwave models that can easily work with the Google Assistant.
If you want to know what you can achieve by having a microwave that supports Google Assistant, then you've come to the right place.
Here, we will show you what your Google Home can help to upgrade your cooking experiences, and we will also share some best microwave models that have Google Home/Assistant integrations.
How Can Your Google Assistant Help Your Microwave?
Tell Your Microwave What to Do Directly with Google Assistant
If you microwave supports google assistant, you can use voice commands with Google Assistant to function such as starting, pausing, stopping, and setting time clock.
You don't have to be in front of the microwave and push the buttons manually. Having Google Home/Assistant integration will give you hands-free navigation. And it also provides comfortable cooking experience.
Even when you are in the bedroom, you can ask your microwave to cook your meal without getting up.
Monitor The Microwave Status with Google Assistant
You don't need to go back and forth anymore when you have a microwave that supports google home.
For example, to check if your food is ready, you can just say: "Hello Google, how much time is left on the microwave timer?"
This is a life savior for people who want to simplify their cooking experience. And you can ask your google assistant if your microwave is working when it should not to avoid safety concerns.
The 3 Best Microwaves That Work with Google Assistant
GE Smart Countertop Microwave – 0.9 Cu. – Support Google Assistant & Alexa
When it comes to the best google assistant microwave, this GE smart countertop microwave is definitely something to consider. Its retail price is only $144 while you can get the perfect voice command integration.
You can just follow the steps in both GE's Kitchen Appliances app and the Google Home app. Then you will have a microwave working with Alexa & Google Assistant in minutes.
READ ALSO: Microwave with Alexa Buying Guide
The Ge microwave is wifi-connected. Hence, it can communicate with your Google assistant without any problems. Besides, the microwave itself is powerful as well.
The Scan-to-cook technology used by the microwave is going to automatically defrost and prepare your meal. And you just need to scan the barcode of the frozen food before you put it in the microwave.
What's more, there are 10 power levels and 7 types of microwave convenience cooking control presets that allow you to get your food ready as simple as possible.
Briefly speaking, the microwave is one of the cheapest model that comes with Google Assistant integration. And it is the most competitive model for homes.
Whirlpool WMH78019HZ Convection Over-the-Range Microwave Oven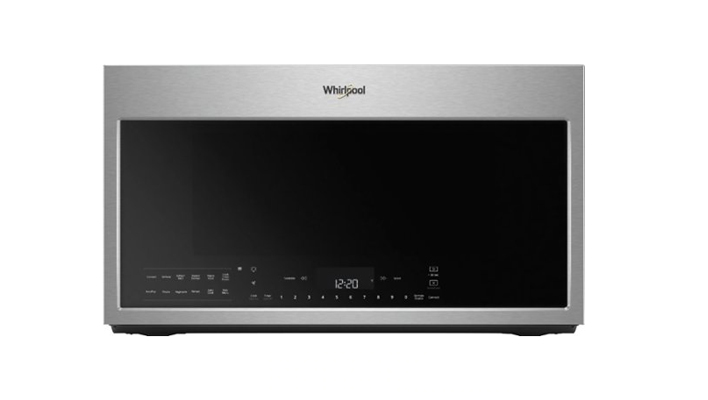 Whirlpool is a trusted brand that continually provides high-quality appliances that are also good performers.
This smart Google Home microwave offers a large capacity of 1.9 cu. ft., and a bunch of thoughtful features that adds to the convenience of making big-batch meals.
It has a powerful cooking power of 1100W. Therefore, you can expect it to defrost, reheat or cook your favorite foods in a snap. The turntable is at an impressive size of 14 inches, which means you can easily fit in a large dinner plate or a giant bowl.
Sensor cooking is featured to take the guesswork out of your kitchen by automatically setting the power level and cooking time, according to the humidity emitted by the food.
You'll also love the true convection and steam cooking functions. You can conveniently achieve different cooking results with one of the cooking methods.
The microwave that works with google home is equipped with a 400 CFM venting system. It helps remove the smoke and odor from the kitchen.
Cafe CEB515P2NSS Smart Countertop Microwave Oven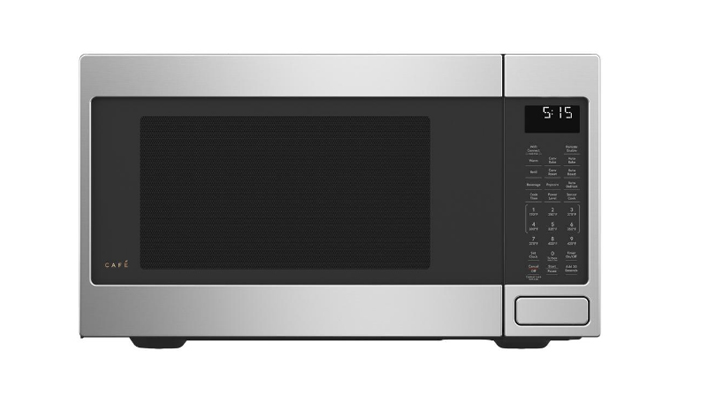 Supporting WiFi connection, the Cafe CEB515P2NSS is one of the best smart microwaves for families, office break rooms and studio apartments.
Compatible with Google Home Assistant, the microwave oven lets you send your commands simply via the voice control feature.
It has a tough stainless steel case that is easy-to-clean and durable. The smart Google Home microwave boasts a capacity of 1.5 cu. ft, making it capable of fitting in large plates and containers.
You will enjoy its convection cooking function with a special rack. The convection cooking method lets you achieve crispy, gooey brown results. And the rack ensures the hot air evenly applied around the food for evenly cooked results.
With the scan-to-cook feature, all you need to do is scan the barcode on the food package, then the microwave with Google Assistant will set the cooking power and time, according to the package instructions.
The sensor cooking controls are pleasing to have as they allow you to say goodbye to guesswork. Put the popular foods in, and the microwave oven will automatically adjust the cooking settings for optimal results.