If you're trying to make your home child-proof, a microwave with lock is a must-have for your fully-functioning kitchen.
Microwaves with lock, also known as microwaves with electronic child safety lock, allow you to lock the control panel to prevent accidental operation.
Smart microwaves with safety lock have a great diversity of features as well as options in the way of cooking systems, capacity and more.
In this post, we're bringing you our top picks for microwave with lock, and more info about microwave with safety lock that you need to know before making a purchase.
Let's get right into it!
CONTENTS:
Microwave with Lock: Reviews & Our Top Picks
A microwave with lock that's worth investment should be able to handle all basic cooking tasks. Also, it should offer a good value in its price range and remain a good shape in long term use.
What follows is the list of 6 best microwave with lock available to buy, and the insights on each one's performance.
Best Microwave with Lock Overall: Panasonic NN-SN686S Countertop Microwave Oven
Key features:
1.2 Cu. Ft, 1200 Watts of High Power
Patented Inverter Technology
Sensor Cooking/Reheat
14 Preset Menus & Keep Warm Feature
Infused with a variety of advanced technology, Panasonic Microwave oven with lock is the model that will cover all your cooking needs. As a result, it will add great convenience to your daily cooking.
The patented Inverter Technology of the microwave with safety lock ensures the food item to be evenly cooked or defrosted from the inside out.
Along with the Inverter Technology, you can expect a shorter cooking time. It also helps retain food's color, texture, and nutrients.
With the built-in smart sensors, the microwave oven saves you the time and effort to set power levels and cooking time. It will measure the steam emitted by the food item and automatically adjust the cooking settings accordingly.
The microwave includes 14 preset menu items, and hence it helps you effortlessly prepare popular dishes, such as pizza, popcorn, pasta and more!
Best Compact Microwave with Lock: Panasonic NN-SB458S Compact Microwave Oven
Key features:
900 watts of power with a 0.9 cubic foot capacity
10 power levels
3 power level options for perfect popping
7 preset auto-cook menu items
Panasonic is one of the brands on the market that provide the finest microwaves, and this microwave with child lock is a top performer from Panasonic.
The countertop microwave oven with child safety lock provides 900 watts of high cooking power, and it fits compactly on any kitchen counter.
Designed with a spacious interior and a compact body, the compact microwave can handle most of the meal preps while occupying less space on your countertop.
Programmed with 7 auto cook menus, the microwave with lock lets you cook certain food items simply by choosing the preset menu, push start and that's it – no guessing!
Best Mid-Size Microwave with Child Lock: Toshiba EM131A5C-SS Microwave Oven with Lock
Key features:
1100 watts of high power with a 1.2 cubic foot capacity
Smart sensor with 6 auto menus
Soften/Melt Function
Energy-saving Eco Mode
The Toshiba microwave with child protection is equipped with power-saving eco mode, sound on/off option and auto defrost function, making it the ideal easy-to-use microwave for your kitchen.
It boats with pre-programmed sensor menu for optimum cooking results of popular dishes like pizza, potato, rice and more!
At 1100 watts with 10 power settings, the microwave with safety lock enables you to easily cook a full-scale meal for the family.
Excellent functional cooking versatility aside, the stainless steel microwave with lock looks as nice as it works. The stainless steel finish makes it look great in any kitchens.
And for daily home use, the hard-wearing material with easy-to-clean coating could save you from the frustration of scrubbing or rubbing while cleaning. A few wipes with a damp cloth is all you need to keep things clean and neat.
Best Budget Microwave with Lock: AmazonBasics Microwave with Child Safety Lock
Key features:
Voice-control function with Echo devices
Ask Alexa button
10 power levels
Auto popcorn replenishment
AmazonBasics won't be the first brand that comes to your mind when searching for microwaves on the market. However, it provides high-quality microwaves with an insanely modest price tag.
In spite of the low cost, the AmazonBasics microwave with child lock has the coolest feature that most microwaves don't – voices control (with Echo device)!
The affordable microwave with safety lock lets you effortlessly cook or reheat food with your voice. Just say, "Alexa, reheat the dinner plate," and Alexa will start the microwave with the appropriate power and time settings.
Packed with quick-cook voice presets and 10 power levels, the low-cost microwave with lock certainly can handle most of the basic cooking tasks of dorms, homes and offices.
However, 700 watts is a relatively low-end microwave power so you might have to expect a bit longer cooking time.
With that being said, AmazonBasics Microwave is still the best value microwave with child lock out there.
Best Microwave with Lock for Family: GE PEB9159SJSS Microwave with Safety Lock
Key features:
1000 watts of high power with a 1.5 cubic foot capacity
Convection cooking
Sensor cooking/reheating
Keep warm feature
With a capacity of 1.5 cu. ft. and a high power of 1000 Watts, the microwave with lock can work perfectly for pretty large amounts of meal preps. That means it allows you to cook different generously-sized meals for the family.
Featuring convection cooking method and a convection rack, you can easily achieve golden-brown results.
It also features advanced sensor cooking controls which will continuously detect the humidity emitted by the food items, so it could automatically adjust the cooking time and power level for better cooking results.
What's more, it can be installed with a trim kit to achieve a built-in look. It's a great option for those who seek a reliable and enduring microwave oven with lock.
Best Safety Lock Microwave with Convection: Toshiba EC042A5C-SS Countertop Microwave oven with Convection
Key features:
1000 watts of high power with a 1.5 cubic foot capacity
Combines microwave and convection cooking function
13 preset auto menus & warm hold function
Energy-saving eco mode
If you're looking for a microwave with child lock that delivers exceptional baking and roasting cooking experience, we'd highly recommend the Toshiba microwave oven with convection.
Combining microwave and convection cooking into one compact body, the microwave with safety lock is able to reheat, bake, crisp and roast for versatile cooking results. Therefore, it allows you to create restaurant-quality dishes right in your kitchen.
The microwave oven with safety lock features a smart sensor with 13 auto menus, taking the guesswork out of cooking, as well as providing optimum results.
Built with hard-wearing materials with stainless steel cavity, the microwave with lock feature is incredibly stain and scratch-resistant. Just a few wipes with a cloth will complete the maintaining job.
Microwave with Lock: Benefits of Using One
The child-lock feature for microwaves is no doubt an important feature to look for when choosing microwaves, especially for families with kids or vulnerable people.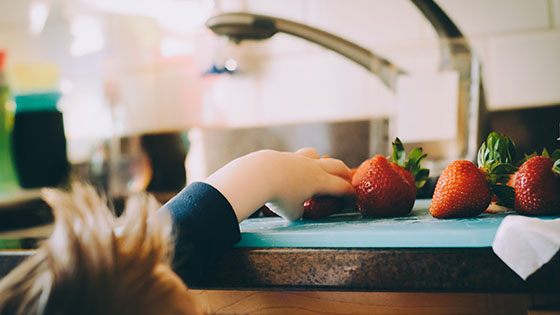 First and foremost, child lock on microwave is created to prevent toddlers access and operate the microwave when they shouldn't, so it will prevent kids from getting hurt or burnt.
The safety lock feature for microwaves will also prevent the appliance to be unintentionally activated.
It should help to prevent food items inside getting tempered. And most importantly, it can prevent accidents.
How to Turn on/off the Microwave Child Safety Lock?
Most of the safety-lock feature of microwaves are designed to be activated manually.
However, for some models, if the panel buttons are being pressed for too many times, it could activate the child safety lock on microwave.
The way to turn on/off the child safety lock varies for different microwave models. Today, we're going take one model as an example.
If you have a different model, please refer to your user manual or talk to support for detailed steps.
Here's how to put the child lock on Panasonic microwave:
If your model doesn't have a lock symbol on the control panel, press the start button three times, and you'll see "LOCK" appear on the display screen. Voila, it's locked.
And pressing the Stop/Cancel button three times will inactivate the child safety lock.
When you see the button for safety lock function on the control panel, simply press the button for 3 seconds. By doing this, it will activate the child safety lock. And to clear the lock, just repeat the same step.
Sum Up
Hopefully, this post has provided you with all the info you want to know about microwave with lock.
If not, please leave a comment down below, and we'll have more info included accordingly.