What is a microwave with barcode scanner?
What is a barcode scanning microwave? What's in it for you?
A microwave with barcode scanner is a microwave that can be linked to a smartphone application, with which you can scan a frozen food barcode and start cooking with the recommended instructions.
When using a microwave that scans barcodes, you can always get the right setting for certain frozen food without any guessing work.
Additionally, these smart microwaves with barcode scanner usually can be controlled through your smartphone via an app or your smart home assistants, like Google Assistant and Alexa.
Therefore, a barcode scanning microwave can save you time and effort in the kitchen like never before.
Here are the best microwaves with barcode scanner available today.
Best Microwaves with Barcode Scanner at Every Price Point
We've reviewed various barcode scanning microwaves on the market, and our pick for the best barcode scanning microwave is the Panasonic NN-SV79MS. It offers multiple advanced features and the best cooking experience overall.
Also, we've put together a list of the best microwaves that scan barcodes below. Read on to help you decide which model to get.
Best Overall: GE JES1097SMSS Countertop Microwave Oven
Capacity: 0.9 cu. ft.
Power output: 900 Watts
Smart control: Works with Alexa and Google Assistant
Key features:
Scan-to-cook Technology
Add 30s button
The GE-JES1097SMSS is the best barcode microwave for most households. It's a smart microwave oven. When paired with an Alexa device, it works like a charm. And the pairing process is not complicated at all.
You'll just need to plug in the microwave, log in your Amazon account then scan the 2D barcode of the microwave. Then you just need to follow prompts to get started.
After you pair the microwave with your phone, you can enjoy the convenience that the scan-to-cook technology has to offer.
All you need to do is to scan the barcode on the frozen food package, and the microwave will prepare it exactly how the manufacturer intended.
With built-in WiFi, the smart microwave can work with Alexa, Google Assistant, and SONOS. That is to say, you can control the microwave with a barcode scanner via voice commands or smartphones.
With multiple convenience cooking controls, it can automatically defrost and reheat food. It also quickly and easily cooks a wide range of foods with one touch of the buttons.
Whirlpool WMH78019HZ Smart Over the Range Convection Microwave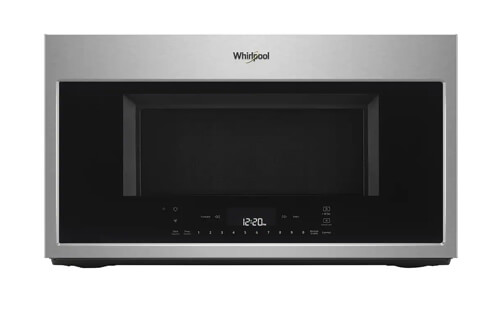 Capacity: 1.9 cu. ft.
Power output: 1550 Watts
Smart control: Works with Alexa and Google Assistant
Key features:
Scan-to-cook Technology
Voice commands
400 CFM Exhaust Fan
Keep warm feature
If you're looking for an over-the-range microwave with a barcode scanner, look no further!
This smart barcode scanning microwave is perfect for medium to large families for its spacious and powerful.
Being compatible with Hey Google and Alexa, you'll appreciate the ability to control this microwave remotely via voice control or a smart device. Also, you could enjoy the great convenience that the scan-to-cook technology brings.
The barcode scanning microwave boasts a 4-speed, 400 CFM exhaust fan. It can remove smoke and odor from your kitchen in a flash.
Well-thought-out features like the keep warm feature, steam cooking feature and control lock are definitely desirable for every household.
Furthermore, the smart sensor cooking feature would take the guesswork out of your kitchen. Just put the food in, activate sensor cooking mode, and the microwave would decide the time and power for optimal results.
Cleaning a kitchen appliance could be a headache, but not with this one. The microwave that scans barcodes is built with the CLEANRELEASE non-stick interior. It helps keep spills from sticking in. Hence, you can remove the spills with a simple wipe of a damp cloth.
LG MVEL2033D Smart Wi-Fi Enabled Over-the-Range Microwave Oven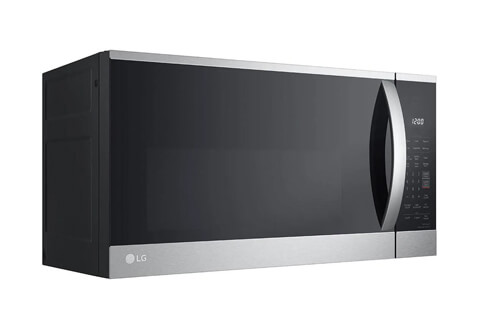 Capacity: 2.0 cu. ft.
Power output: 1800 Watts
Smart control: ThinQ®
Key features:
Scan-to-cook Technology
Smart sensor cooking
4-speed venting system
Child safety lock
The LG MVEL2033D smart microwave has a large, 2.0 cu. Ft. cooking capacity, making it ideal for larger families. It features Convenient Control with ThinQ®, you can enjoy remote monitoring, automatically sync your microwave vent fans, adjust settings, set timers and more.
Moreover, the scan-to-cook feature lets you get frozen food prepared with the ideal cooking settings with one scan.
For convenience, the microwave with a barcode scanner features a smart sensor. It could automatically set cooking time and power for different foods, aiming for tasty and evenly-cooked results.
The easy-upkeep PrintProof™ Finish on the exterior and EasyClean® Interior makes cleaning the unit an absolute breeze. It requires minimal effort to keep the appliance clean and in good shape for years to come.
RELATED READING: How to clean a microwave oven with baking soda?
Featuring a large cooking capacity of 2.0 cu. Ft. and a powerful output of 1800 watts, the barcode scanning microwave can put feed-a-crowd dinner on the table in a matter of minutes.