You can get a lot of microwaves for a modest price these days. It's 2021, the age when microwaves are no longer a luxury home electronic for most of the families.
As time goes, more and more budget-friendly home microwaves are coming into the market.
You know what? These cheap microwaves that are under 50 bucks can perfectly fulfill your needs and you don't have to sacrifice the performance.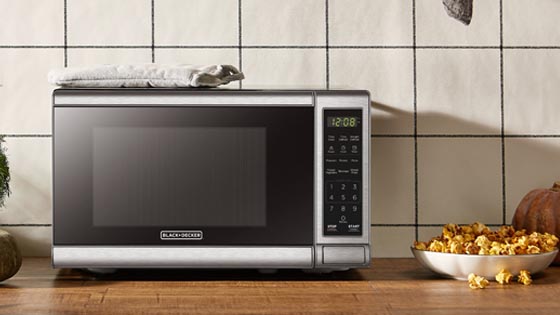 Contents:
Top 5 Cheap Microwaves Under $50 in 2023
There are various cheap microwaves available to suit the need of the customers on different retail platforms. Most importantly, you don't have to break the bank for one!
AmazonBasics Microwave 0.7 Cu. Ft. Smart Microwave
If you're willing to spend a few more bucks, there's no doubt that the AmazonBasics smart microwave will be the best option out there, especially for its $59.99 retail price.
With 0.7 Cu. Ft. capacity and 700 Watts of cooking power, this unit is not smaller or less powerful than any models on this list, but it offers helpful features you could hardly find in this price range.
It's not only a budget friendly microwave that gets the job done, but also a smart microwave oven that works with Alexa.
When paired with an Echo device, you can control the microwave with your voice. Just say, "microwave 8 ounces of frozen vegetables," and the microwave will automatically start cooking with the appropriate cooking settings.
Its glass turntable, 10 power levels, child safety lock, and kitchen timer function help you complete all kinds of cooking tasks.
In all, whether you want a smart microwave or just want to keep things simple, the AmazonBasics microwave won't disappoint. There's some give and take, but you won't find a cheaper fully-featured microwave han this.
Proctor Silex 0.7 Cu.ft Black Digital Microwave Oven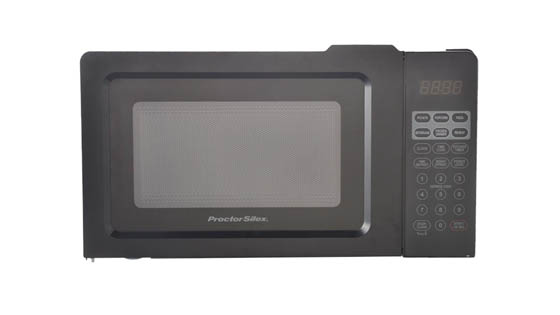 Designed for users who hate to spend hours getting familiar with a new appliance, the Proctor Silex countertop microwave under $50 is a powerful, yet easy-to-use model.
It offers a 0.7 cu. ft. capacity in a compact body size, and has a power output of 700W.
With a digital time display, the microwave oven will work great at night, and let you see the current settings clearly in dim natural light.
This attractive microwave oven provides 6 one-touch preset menus, allowing you to cook or reheat popular foods with one press of the buttons.
Mainstays 0.7 Cu. Ft. 700W Red Microwave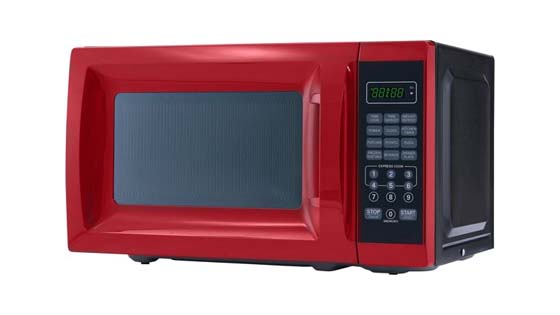 Equipped with a sleek design, the Mainstays is a smart choice, especially when you are looking for a microwave model that is under $50.
To put it simply, the polished black exterior is beautiful and stylish, and you can coordinate it easily with your existing kitchenware.
As one of the best microwaves under $50, the microwave from Mainstays is a decent kitchen electronic as it comes with a 700-watt design that features 10 power levers.
The door handle and big buttons make it an easy-to-use unit for every one in the family, even for the senior citizens.
Besides, you will have an LED display that is made for users' convenience, ensuring everything is also clear at night.
The microwave has everything that you need for making meal prep. If you are searching for a low-cost microwave with quality, don't miss this Mainstays microwave.
Insignia™ NS-MW09SS8 Compact Microwave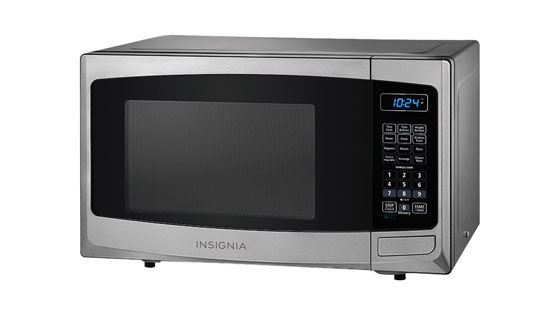 A solid winner when it comes to cheap microwaves under $50 is the Insignia™ NS-MW09SS8 compact microwave oven.
This model comes in with over 1,900 customer reviews on Best Buy, and is highly recommended to check out by most users.
With a cooking power of 900W which is higher than most models on this list, you can expect it to cook frozen meals or heat beverages in a snap.
The microwave oven comes with stainless casing, which is not that common for microwaves under $50, adding a pleasing complement to your existing kitchen decor.
It boasts a turntable for even cooking results and a 0.9 cu. ft. interior to fit large dinner plates, so you can rely on it for all your cooking requirements.
There is a wide range of auto-cook programs to fit your needs as well, including beverage, popcorn, pizza, vegetables, potato, weight defrost, express cook, time defrost and dinner plate.
RCA RMW733-BLACK Countertop Microwave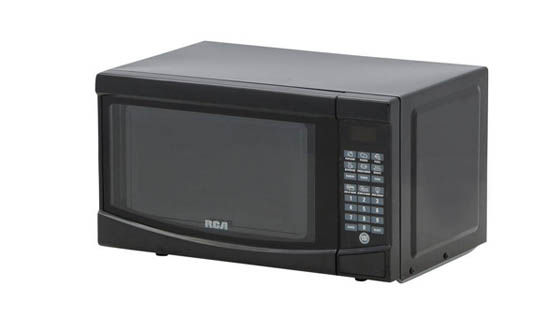 If you are pressed for countertop space and you are looking for a decent microwave oven for easy cooking, then check out the RCA countertop microwave.
The assembled dimensions of this product are 12.75(D) x 10(H) x 18(W) inches. This compact microwave oven under $50 is perfect for dorm rooms, apartments, condos, and other small spaces.
It has an overall capacity of 0.7 cu. ft. with 700 Watts of cooking power. It also features express cooking, a removable glass turntable and the defrost by weight/time function, making it capable of delivering efficient and even cooking results.
The small microwave oven also has a digital lock if you want to lock the microwave to avoid accidental access and operation. This is a great feature if you're living with children or seniors.
Insignia™ NS-MW07BK0 Compact Microwave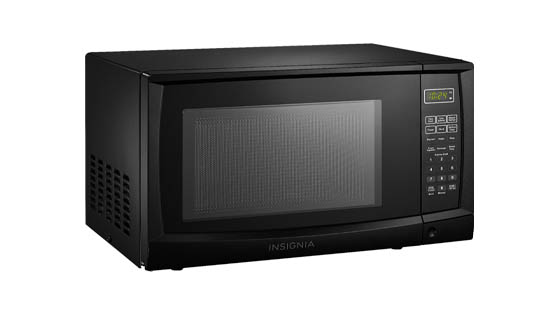 A great unit for getting the job done and has a solid star rating is the Insignia™ NS-MW07BK0.
Based on customer reviews of over 900 on Best Buy and a great rating of 4.5/5 stars, this unit is an amazing deal for the price.
It is designed with a classic black finish to match with most of the kitchen decor. There is also a LED display that offers a clear view of settings.
It boasts a capacity of 0.7 cu. ft and 700 watts of cooking power, which is able to cope with singles' or a small family's basic cooking needs.
Moreover, this affordable microwave has 6 auto-cook presets, featuring 6 popular menus to make microwave cooking even easier. It includes a turntable, helping deliver properly prepared, delicious dishes.
What to Look For When Buying A Cheap Microwave Under $50
Picking a microwave oven that is high-quality, durable, and has neat features, is not an easy task, especially when the budget is limited to $50.
Also, the product page is always full of major and minor specifications and details, thus you'd not be so sure about what to focus on.
To help you pick the best microwave under $50, read this detailed guide, and learn what to look for in a cheap microwave oven:
1. Basic Features
Having some basic features is a must in modern homes. Basic features like multiple power levels, easy defrost by weight, express cooking, a turntable and more, are what you should look for in a decent microwave oven.
Multiple power levels will offer you flexibility when cooking different foods, and the easy defrost by weight feature and express cooking feature will simplify your cooking process and enhance your cooking experience.
2. Buy From Legit Brands & Reliable Resellers
When buying a microwave that is under $50, you should be careful with the brand since $50 is a low budget. I highly recommend you buy from reputable electronics brands such as Insignia™ and BLACK+DECKER.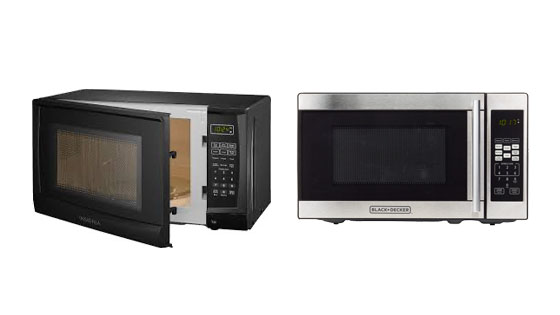 Don't let merchants fool you by selling you inferior microwaves that are from unknown brands. Otherwise, you may encounter unexpected product flaws & safety problems.
Another advice that I want to share is that you should always buy from reputable resellers. You can always find reviews on a product from purchased customers, this helps you to buy your microwave smartly. Additionally, big resellers provide support services as well and it is more convenient to contact them for after-safe services.
3. Trusted Warranty
Nobody wants a microwave that is easy to break, even though it is only worth less than $50. That's why you should look for a warranty while shopping.
If the reseller tells you there is no warranty for a cheap microwave, don't buy it! You have plenty of more options to choose from, and all of our top picks have a trusted warranty that allows you to return the product when it goes wrong.