I think it's safe to say that many of us hate it when the microwave starts to beep after cooking is finished.
And what's more annoying than that? The intermittent beeping sound from the microwaves, when you didn't retrieve the prepared food immediately after cooking.
Before I get a microwave with mute button, I would just wait in the kitchen and stop the microwave before the cooking time ends, just to avoid hearing the beeping noise.
The microwave beep sound reminds me of the old telephone from the 80s and 90s, and they would make me feel anxious every time they ring. The modern microwaves with mute button truly bail me out from this.
What is a microwave with mute button? How to choose the best microwave with mute function? How to set your microwave on silent mode?
Read on to find out!
Top Picks of Microwaves with Mute Button

Jump to:
1. What is microwave with mute feature?
2. Best microwaves with mute button to buy today
3. How to silence your microwave?
What is Microwave with Mute Button?
The microwave makes a beeping alarm when cooking or reheating process is done. Some microwaves also make an intermittent beep sound until you go retrieve the food.
If you have children sleeping in the house or you share an apartment with roommates, the beeping noise could be a real problem.
A microwave with mute button, also known as microwave with silent mode, is a microwave with the function that allows user to turn off the end-cooking alert and beep noise.
Microwaves with mute function also allows you to turn off the silent mode and bring back the alert and beep sound anytime you want.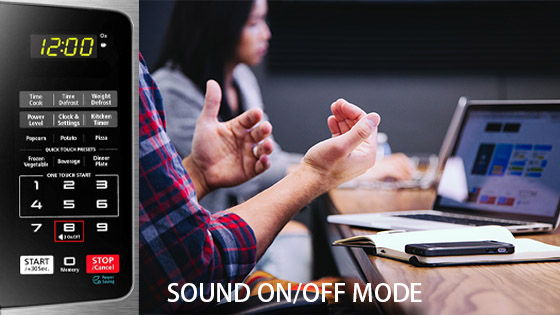 Top 3 Microwaves with Mute Button on the Market Today
Choosing the appropriate microwave with mute feature amongst all the modern microwaves can be a struggle.
Hence we've reviewed dozens of microwaves with silent mode available to buy today, and rounded up a list of our top picks.
The following microwaves with mute function are must-haves if you're in the market for a microwave with silent mode.
Toshiba EM131A5C-SS Microwave Oven with Silent Mode
BEST MICROWAVE WITH MUTE FEATURE OVERALL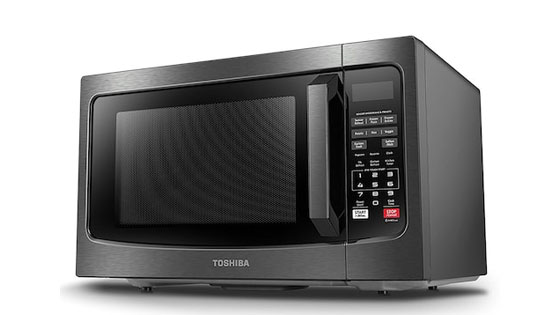 If you've been searching for a microwave with mute option on the martket, you must be very with the Toshiba manufacturer.
Toshiba is well-known for making reliable microwaves that offer great value and performance. And the model Toshiba EM131A5C-SS microwave with mute feature is a shining example of it.
Design-wise, the stainless steel finish makes it look great for most kitchen styles, and it seldom shows fingerprints on the stainless handle.
And functionality-wise, the microwave with silent mode features sensor reheat and 6 useful preset menus, making it utterly practical for most cooking scenarios.
Moreover, you'd be amazed by how quiet it could be while operating. You'd barely hear it running even when standing beside it.
Not to mention, the microwave with silent mode lets you turn off the beeping of the buttons and alarm simply by pressing one button.
COMFEE' EM720CPL-PMB Countertop Microwave with Mute Button
BEST BUDGET MICROWAVE WITH SILENT MODE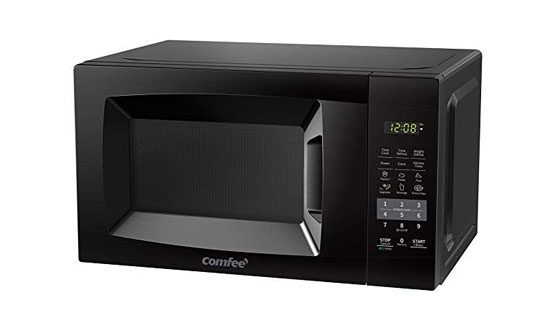 If you are on a limited budget, the COMFEE' microwave with silent mode is a solid option especially when you're looking to cut down the cost on the electronic bills as well.
Featuring energy-saving function, the silent mode microwave is able to minimize 50% standby power consumption when the eco mode is on.
The microwave with mute button has a lot of thoughtful functions, as in child safety lock, multiple heat settings, one-touch express cooking, kitchen timer, easy defrost by weight or time, and more!
Preprogrammed with 6 most popular menus, the microwave with mute function enables you to easily make popcorn, potato, pizza, frozen vegetables, or reheat a beverage or dinner plate simply by pressing one button.
The microwave allows you to mute all the microwave beeps simply by pressing the sound on/off button.
The downside of this microwave with silent mode is its output power of 700W. If you frequently cook large meals, this unit is probably not what you're looking for.
Toshiba EM925A5A-SS Microwave Oven with Mute Option
BEST COMPACT MICROWAVE OVEN WITH SILENT MODE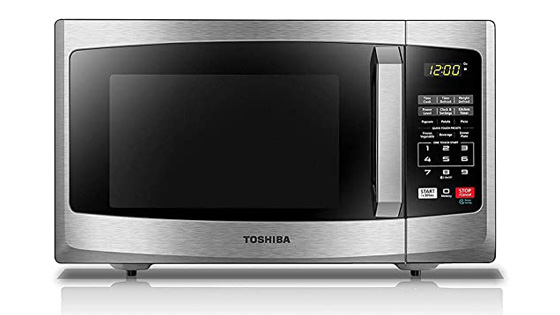 Compact in size and economical in cost, the microwave with mute feature is undoubtedly the best model for individuals, students and small families.
With a capacity of 0.9 cu. ft. and external dimensions of 19.2 '' x 15.9 '' x 11.5 '', the microwave with silent mode is small enough to fit in a closed cabinet, but spacious enough to fit an average size dinner plate.
All the practical functions, like one-touch start, 10 power settings, and easy defrost by weight, make the microwave with mute button capable of satisfying all your heating and cooking requirements.
A big plus of the countertop microwave with mute function is its bright LED cavity light. The microwave oven offers a crystal-clear interior view when cooking, allowing you to monitor the dishes clearly.
And not just for cooking, the interior LED light of the microwave with sound off option comes on when you open the door, so you can clearly see the interior space during cleaning.
How to Turn the Sound off on Your Microwave with Mute Option?
Most microwaves on the market today will make beep sounds when you press buttons, cooking time expires, or even when food is not retrieved right away.
Having the ability to turn it off is truly a blessing, so you won't wake up babies when you cook popcorns for late-night snacks, or get caught by your partner when preparing late-night drunk munchies.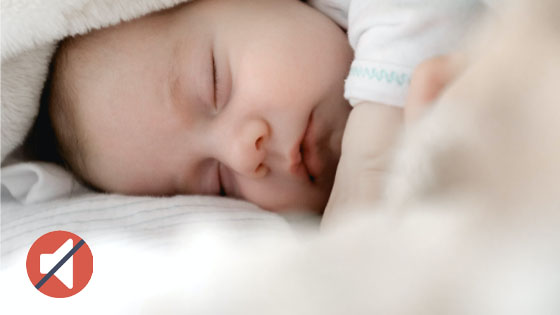 In this post, we'll take Toshiba microwaves with silent mode as an example, and show you how to turn the sound off on your microwave with silent mode:
Long press the "8" button on the panel for about 3-5 seconds.
The microwave is muted when you hear a long beep.
That's it! If you want to turn the sound back on, simply repeat the same steps and you will have the buzzer activated on your microwave with mute button.
Having no mute button on the microwave doesn't necessarily mean the mute option doesn't exist for your microwave.
Some microwaves have hidden the mute option and allow you to turn on/off the silent mode by long pressing "0", "1" or "Star", "Cancel".
These are the buttons commonly used for mute feature and child safety lock, but it varies for different models.
If you're not sure whether your microwave has the sound off option or not, please refer to the manual or talk to the after-sale support team for detailed instructions.
Bottom Line
Hopefully, you've found the way to turn off the beeps on your microwave, or have succeed to spot the perfect microwave with mute option for you and your famlily.
Let us know in the comment below if you have any questions or thoughts about microwaves with mute button.