If there's one thing that can make your microwave more convenient to use, it's a metal rack that helps to defrost or cook your food more evenly.
Having a metal rack that holds frozen meat means the energy wave of your microwave can flow around the food, giving you a perfect energy wave circulation so that the food won't be unevenly cooked.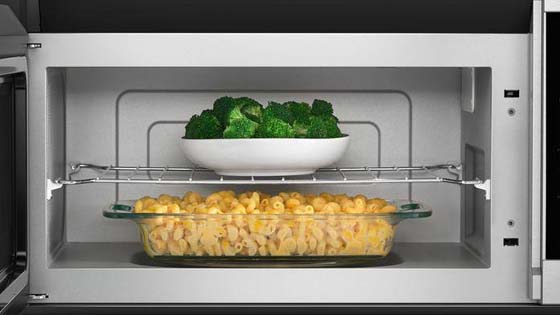 We reviewed many microwaves with a metal rack included to identify the best of the best.
And you will see various microwave oven types from countertop to over-the-range microwaves in this post.
Moreover, we will also show you what's good about having a metal rack in your microwave.
CONTENTS:
3 Best Countertop Microwaves with Metal Rack
Samsung MG14H3020CM Countertop Grill Microwave Oven
If you're seeking a microwave oven with a metal rack and a wide range of features, we highly recommend the Samsung MG14H3020CM grill microwave.
Design
The very first thing you'd notice about this unit is its shiny mirror design and asymmetric shape.
Together they'll add a touch of class to your living space. The interior was easy to clean, too, because of the scratch-resistant Ceramic Enamel Interior.
With a 1.4 cu. ft. capacity, the Samsung MG14H3020CM is an ideal family-size microwave oven that can cope with all cooking tasks.
Key Features
With 950 watts of cooking power, it heats up pretty quickly and effectively.
Aside from the traditional microwave cooking option for easy defrosting and reheating, the microwave oven also includes the grilling element to prepare crispy foods.
It lets you combine the traditional microwave heating with a grilling element to cook sandwiches, bacon, pizzas, and other foods for a crispy finish.
The grill microwave oven comes with a grill rack that can be used both in the grill mode and combination cooking mode. It will significantly improve your cooking experience with the grill and combi cooking mode.
The microwave with rack features auto-cook presets for easy microwave cooking. Therefore, you can cook, reheat, and defrost a wide range of foods with one touch of the button.
Emerson MWG9115SB Griller Microwave

This Emerson MWG9115SB is a smart choice if you're looking for a griller microwave with an affordable price tag.
Design
And the 1.2 cu. ft. capacity makes it an ideal medium-size model for families.
Impressively,  the microwave with metal rack has a brushed metal front and black cabinet, making it easy to maintain and look good in any kitchen.
Key Features
With 1100 watts of output power, the microwave oven is able to heat up quickly, getting your meals to the table in a snap.
Most importantly, this microwave oven has a grill feature and comes with a metal grill accessory, so you can prepare salmons, chicken breast, and more foods that are improved by a crispy finish.
There are 9 pre-programmed recipes included to take the guesswork out of your kitchen.
They allow you to cook or reheat popcorn, potato, frozen pizza, frozen vegetable, beverage, dinner plate, meat/chicken, meat/beef, and meat/pork with one simple press of the preset button.
Farberware Black FMO10AHDBKC Microwave Oven

The Farberware Black FMO10AHDBKC is a 4-in-1 microwave oven that can do easy microwave cooking, but it also has 3 more ways to cook, including grill, air fry, and convection cooking.
Design
At 1.0 cubic foot in volume, it's relatively compact in size, but it's still large enough to fit a regular-sized dinner plate.
Key Features
It allows you to choose between microwave, grill, air fry, and convection cooking to achieve different textures and flavors in foods.
The unique air fry technology enables you to make deep-fried foods in a healthier way.
The grill function can be used alone to achieve brown and crisp cooking results, or in combination with microwave cooking to ensure faster cooking process and better results.
There's a pan and metal grill rack included in the package, which is nice as you need these accessories to use the air fry and grilling cooking function.
With 3 different wattage outputs (1000W-1150W-1800W), it will deliver convenience to any kitchen.
Not to mention, there are 11 auto-cook programs to further simplify your microwave cooking process.
These preset buttons let you conveniently cook or reheat a wide range of popular foods without any guesswork.
Best 3 Over-The-Range Microwaves with Metal Rack
Whirlpool WMH32519HZ Over the Range Microwave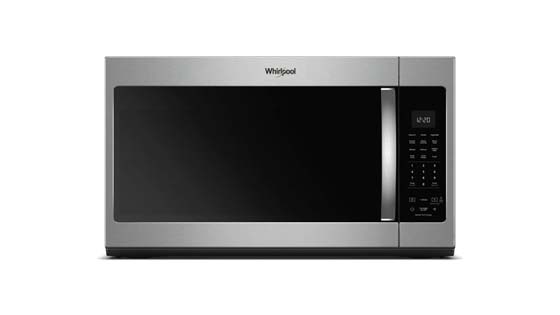 The Whirlpool WMH32519HZ is ideal for families of more than 4 members, especially those who are looking for an over-the-range microwave for their kitchen.
Design
With a spacious 1.9 cubic-foot capacity, the microwave with metal rack allows you to make easy, big-batch meals for your family.
And you could freely choose whether the turntable rotates or not to accommodate a dinner plate of large size or irregular shape.
We appreciated the Whirlpool microwave's fingerprint-resistant stainless steel finish, hidden venting system, and the CleanRelease non-stick interior.
The CleanRelease non-stick interior allows for easy cleaning with a damp wipe – no chemical needed.
Key Features
The microwave oven features a steam cooking option to help you steam rice, vegetables, fish, and more foods right in the microwave. Moreover, there's a steam accessory included in the package.
Not only does it include a steam accessory, but it's also packed with a metal rack. You'll definitely love the rack for double-stack cooking.
We also love the fact that the microwave has a built-in smart sensor. It can detect the humidity emitted by the food and automatically adjusts the cooking time for optimal results.
LG LMV2031ST Over the Range Microwave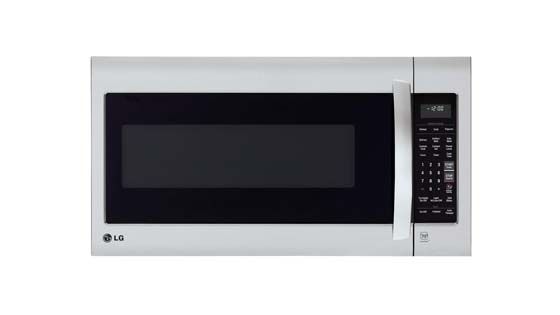 The LG LMV2031ST  is currently one of the best-rated over-the-range microwaves with metal rack on the market. If you don't mind paying for quality, this unit won't disappoint you.
Design
With a spacious 2.0 cu. ft. capacity, the microwave can handle a lot at once, making it a perfect choice for big families.
Also, the stainless steel finish will add an updated look to your living space.
Key Features
The stylish microwave oven has many features without being overwhelming to use.
The features include a melt-and-soften feature, auto defrost function, cooktop lights, and the turntable on/off function.
There's a QuietPower ventilation that features a 400 CFM exhaust fan with 3 power levels.
It will help efficiently remove odor and smoke from your kitchen.
The over-the-range microwave oven comes with a metal rack, and the Bi-level metal rack lets you cook more than 1 item at a time.
For your further convenience, it features sensor cooking options to automatically adjust cooking time and power level for the optimum results.
Samsung ME21R7051SS  Over-the-Range Microwave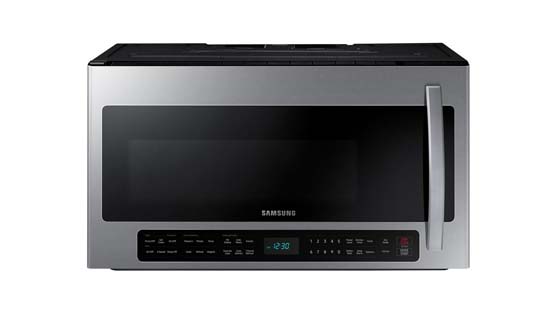 If you're looking for a microwave with metal rack that can cook in big batches, and willing to spend a little more, we recommend the Samsung ME21R7051SS.
Design
It will age beautifully thanks to its fingerprint-resistant stainless steel fish.
This makes sure that it'll be durable and easy-to-clean as well. The Ceramic Enamel Interior makes it a breeze to remove grease or oil.
Compared with other options on the list, this model offers the most spacious capacity. It has a 2.1 cu. ft. capacity, so it'll make things a lot easier when you need to cook a feed-a-crowd meal.
Key Features
With 1000W of cooking power and 10 power levels, it provides you with great flexibility and greatly improve your cooking experience.
To make microwave cooking even easier, the microwave with metal rack features a Sensor Cook option and a wide range of presets.
Moreover, it has a powerful venting system. The strong 400 CFM ventilation power makes sure it can effectively remove odor and steam from your kitchen.
READ ALSO: 6 Best Microwave with Exhaust Fan
There's a microwave rack that comes along with the unit. You can install it inside the microwave, so you could cook or reheat more than one item at once. Or you could simply remove it to accommodate a large container.
Why Do You Need a Metal Rack in Your Microwave?
Metal Rack Allows You To Cook More Dishes
For over-the-range microwaves, the large space sometimes is wasted if you don't have a metal rack inside.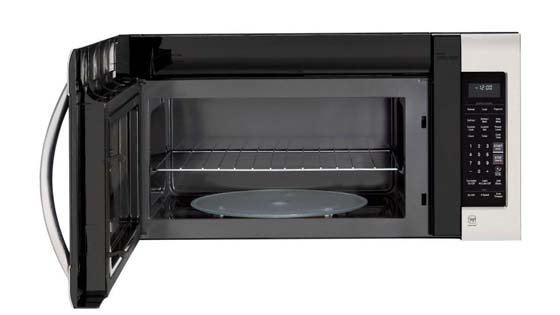 A metal rack doubles the cooking surface when you need to cook two dishes at a time.
By having the metal rack in your microwave, you can get your pizza grilled on the rack while defrosting your ribs on the second level.
This saves you more cooking time and is also an energy-saving way to prepare your meal as you don't need to get your food cooked one by one.
It Helps Microwave Cook Your Food More Evenly
If your microwave comes with a grill function, having a metal rack in place is going to help the meat become juicy and evenly-cooked.
When we are roasting, toasting, and grilling meat, the worst thing is that the meat is burned on top while it is still raw and cold at the bottom.
When you place the ribs, steak, or a whole chicken on a hollow metal rack instead of putting them on the bottom of the microwave, the microwave can deliver the energy from all angles and the energy can flow around the food more evenly.
This ensures your food can be well-cooked, and it is very important for large pieces of frozen meat.