Are you in the market for a microwave with long power cord? Then you've come to the right place because we've reviewed the best-rated options and see what the marketplace has to offer.
We have listed our top picks for microwave with long cord available to buy today. Therefore, you'll be able to find the best microwave with long cord that suits your lifestyle.
We have also provided a helpful solution that can be used to extend the power cord of your current microwave oven.
Contents:
Microwave with Long Cord: Our 3 Top Picks & Reviews
After researching the power cord length of dozens of microwave ovens, I've found that microwave ovens made by big brands tend to have longer cords than those by smaller brands.
Therefore, you should check out options by big brands first when you're in search of a microwave with longer power cord.
Within those options with long cords, I've also realized that most of them have a power cord of about 3 feet in length and that's it.
Don't fret already! We'll show you how to extend the length of your microwave power cord in this post. Keep reading.
Here are the 3 best microwaves with long cords:
Toshiba EM131A5C-BS Microwave Oven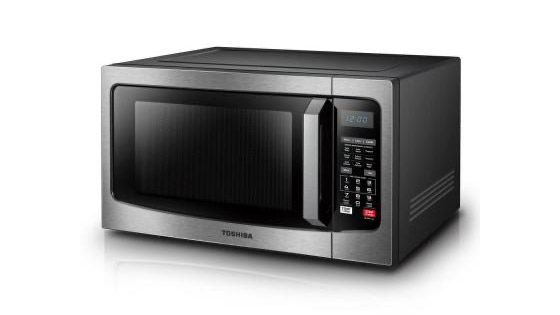 This Toshiba EM131A5C-BS microwave oven has a 3-foot power cord. You probably won't find anything longer than that for such a high-quality, modest-rated option.
It is an 1100-watt microwave oven with a capacity of 1.2 cu. ft., and it will let you fit a large dinner plate with its 12.4'' turntable.
Built with a black stainless steel exterior, it will be an eye-pleasing appliance in your living space, while being durable and easy to maintain.
Combining a large digital display and an easy-to-read control panel, a more enjoyable cooking experience will be the result.
This microwave oven with long cord features a smart sensor with 6 auto menus, which means it can automatically adjust time and power level, when cooking the popular foods, for optimal results.
There is also an auto-defrost function and soften/melt function in a convenient manner. The easy-to-clean cavity makes the interior scratch and stain-resistant, and also allows for easy maintenance.
Panasonic NN-SN686S Microwave Oven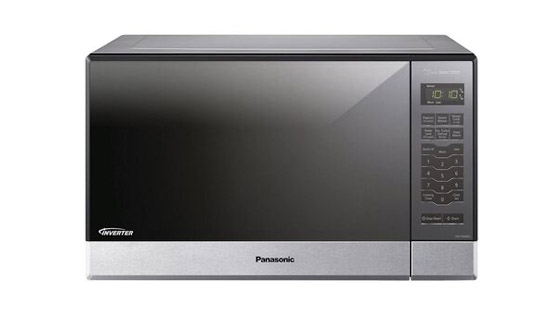 If you desire a microwave oven that is easy-to-use and powerful, you'll be pleased with the Panasonic NN-SN686S microwave.
Of course, it has a long power cord that measures approximately 3 feet long. The other good thing about this microwave with long cord is its stainless steel finish.
You can feel that it is a sturdy and durable unit compared to cheap plastic models. You can expect it to remain in good shape even after years of use.
It has a capacity of 1.2 cu. Ft, and a cooking power of 900 Watts, so it can handle the cooking needs of a family and deliver even and delicious results in a short time.
Infused with the Inverter technologies, it generates constant cooking power to shorten cooking time and achieve even cooking results.
The other fascinating thing about this microwave with long cord is that you get 14 auto cook options, including frozen entrees and vegetables, soup, pizza, oatmeal and more.
Panasonic NN-SB458S Compact Microwave Oven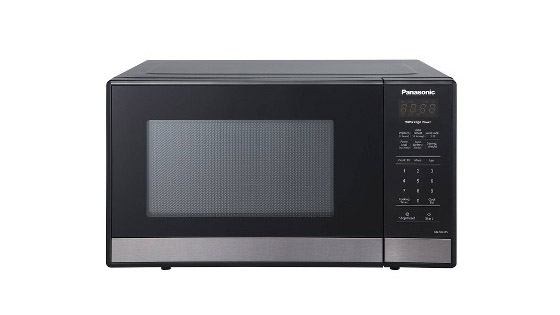 Are you after budget microwaves that have a long cord and rich features? Then the Panasonic NN-SB458S compact microwave oven won't disappoint you.
The microwave has a power cord that measures about 3 feet long, which will bring you great flexibility.
A 10.6 Inches turntable is included to deliver evenly cooked dishes. Also, you'll enjoy the high power output of 900 Watts, and the clever design to offer more interior space in a compact size.
The 7 pre-programmed preset menus mean they allow you to have 7 popular foods ready, simply with one press of the button.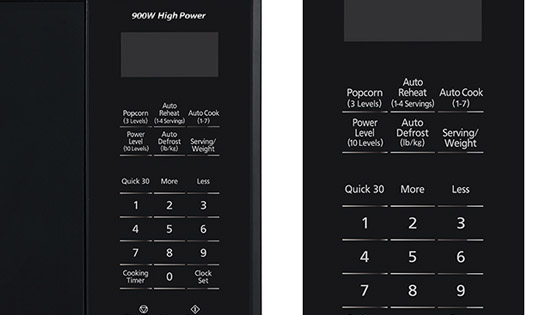 You'll also love the auto-cook options for popcorn. Therefore, you can choose from power levels to cook your popcorn, depending on the size of the microwave popcorn bag.
Also, the well-thought-out features, like child safety lock, delay start function, and keep warm feature, can make your cooking experience easier and safer.
To conclude, the Panasonic NN-SB458S microwave is a solid choice for the budget buyer that wants a long power cable and a small counter footprint. You'll definitely love the quality built case and the thoughtful features of the microwave oven with long cord.
How to extend a microwave power cord?
Already got a microwave oven and wanted to extend the power cable? Have your eyes on a certain microwave model, but it has a short power cord?
Follow the simplest method below to extend your microwave power cord:
Material:
A power extension cable. All you need is a heavy-duty AC power extension cord. The power extension cord will help extend the length of the existing power cord of your microwave, and will not affect the performance of the microwave.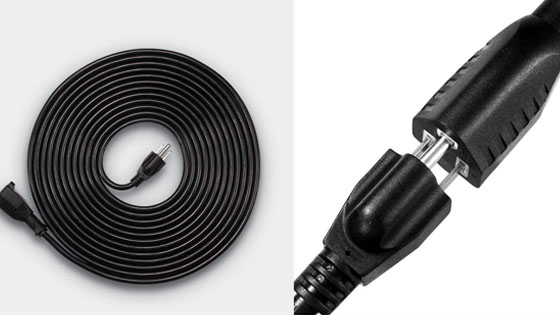 Make sure to get a power extension cable that has a good connector, so you won't suffer from bad connections or other issues.
Also, we wouldn't recommend getting an extension cord that is longer than needed, because it will require more effort to store and energy to maintain.
Simple steps to extend your microwave cable:
1. Have the 3 prong power cord connected to a matched heavy-duty extension cable.
2. Make sure they're safely and well connected, then run the microwave to see if it can operate properly.
Done! That's how easy it is. Now you can enjoy the flexibility of a microwave with long cord without hassle or worries.