Want to eat healthy? Find it difficult to make perfect rice? You need a microwave with steam cooking option – and you need it in your kitchen now.
They'll allow you to steam rice, fish, dumplings, and more with ease. Also, they enable you to preserve more nutrients when cooking vegetables, and thus you can eat healthier.
In this guide, we've picked the best microwaves with steam cooking function at a range of different prices. Read on to find the right one for you!
Top 5 Microwaves with Steam Cooking Function
Panasonic NN-SD975S Countertop Microwave Oven
Panasonic NN-SD975S is currently the best countertop microwave with steam function.
If making healthy meals and steaming perfect foods are your main goal, this unit won't disappoint.
With the Cyclonic Wave and Inverter Technology, the microwave oven is able to steam, poach, and braise delicate foods like vegetables, aiming to retain more color, texture and nutrients.
The microwave oven boasts a capacity of 2.2 cu. Ft. to fit an oversized dinner plate, along with a 1250-Watt cooking power to heat up effectively.
It features a smart sensor cook and sensor reheat function—meaning it can automatically adjust cooking time and power according to different food types.
There are 20 auto-cook options for popcorn, pizza, soup, and more. They allow you to cook these popular foods with one press of the button.
Panasonic NN-SN936B Microwave Oven
On a budget? Then you may want to consider a relatively affordable option, such as the Panasonic NN-SN936B, which also comes with a steam cooking function.
The Inverter Technology will also save you some time and effort in steaming foods to perfection. It allows for faster cooking, and perfect steaming, poaching and braising, so the food's nutrients will be retained.
This microwave oven comes in a large family size and has an impressive 2.2 cu. Ft. capacity. And it has 1250 Watts of high cooking power to help you cook effectively.
It has a touch panel with touch button controls that are easy-to-understand and easy-to-use for everyone.
The Keep Warm Feature of the microwave lets you keep prepared dishes warm and delicious until they're ready to serve.
With one-touch sensor cook and reheat, the microwave oven with steam cooking can automatically adjust the power level and cooking time for optimal results. Thus, you don't have to worry about the cooking settings anymore.
And, it's effortless to cook or reheat a wide range of popular foods, too. There are 9 auto-cook presets for vegetables, frozen entrees, pasta, potatoes, and more.
Whirlpool WMH53521HZ Over-the-Range Microwave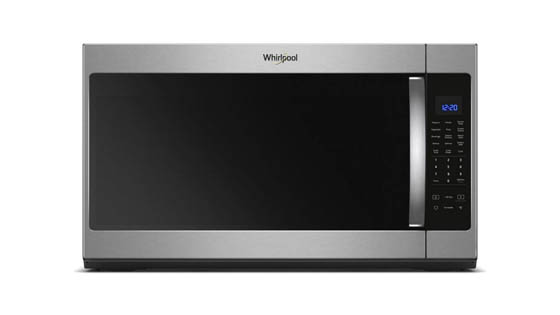 This Whirlpool WMH53521HZ is a great option for anyone looking for an over-the-range microwave that offers a steam cooking option.
With a steam/simmer cooking capability, steaming fresh veggies, rice, and fish has never been easier.
Featuring a 400CFM, 4-speed exhaust fan, this over-the-range shines at keeping your kitchen fresh and clean.
Designed with a CLEANRELEASE non-stick interior and stainless steel exterior, the microwave oven is going to be long-lasting and easy-to-clean.
It boasts a roomy capacity of 2.1 cubic foot oven, so you can cook large meals for your family with this microwave oven.
This microwave has a smart sensor built-in for easier microwave cooking. It will detect the humidity emitted by the food item and adjust the cooking settings accordingly for delicious results.
One big selling point of this microwave with steam cooking is its turntable on/off option. You can freely choose whether the turntable rotates or not while cooking, so you can fit a larger plate and prevent spills.
KitchenAid KMHC319ESS Over-the-Range Convection Microwave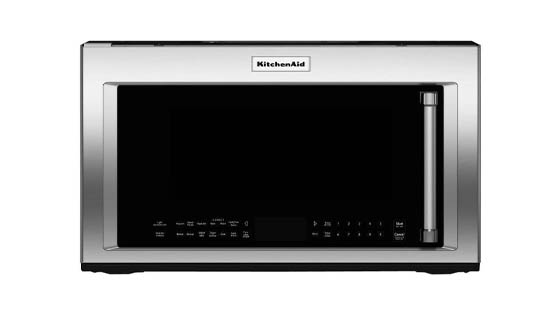 This KitchenAid KMHC319ESS is one of the most popular microwaves with steam cooking on the market—thanks to its combination of value, features, and quality.
The microwave oven includes a steamer container. And with a Sensor Steam/Simmer function, it will steam or simmer food items to perfection while eliminating the guesswork.
The modern stainless steel interior and exterior are not only nice-looking, but also durable and easy-to-clean.
And it has a 1.9 cubic foot capacity that is enough to cook some great meals.
To learn more about microwaves with stainless steel interiors, read this.
The microwave steam oven combo is pretty functional too. It has convection cooking capability, which allows for baking at up to 425F in the microwave.
Therefore, you can effortlessly bake pizza, potato, casseroles, and more for dinner.
There's a 6-speed, 400CFM exhaust fan to effectively remove smoke and odor from your kitchen.
Considering that it combines a venting system, microwave, steamer, and convection oven into one, it makes a good deal at such a price point.
Cafe CWB713P2NS1 Built-In Microwave with Steam Cooking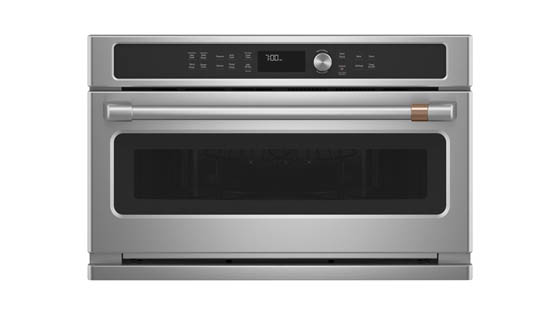 Perhaps you want to save on space and get a built-in microwave with steam cooking, and in that case, the Cafe CWB713P2NS1 is probably your best bet.
This built-in microwave with steam function offers a cooking capacity of 1.7 cu. Ft., making it an ideal choice for medium to large families.
For sure, there's a steam cooking function to help you perfectly prepare entries, fresh veggies, and rice.
It offers great versatility in cooking. You can use the convection cooking mode alone to achieve professional oven-like cooking results, or combine the convection and microwave cooking technology for various flavors and textures.
This unit has a special metal rack that can be used to ensure even heat distribution.
Also, the stainless steel interior allows for easy cleaning and will remain in a good shape after years of use.
How to Use Steam Function on Microwaves?
How to steam foods in the microwave? And how to make tender vegetables and fluffy rice with the steam cook function of a microwave?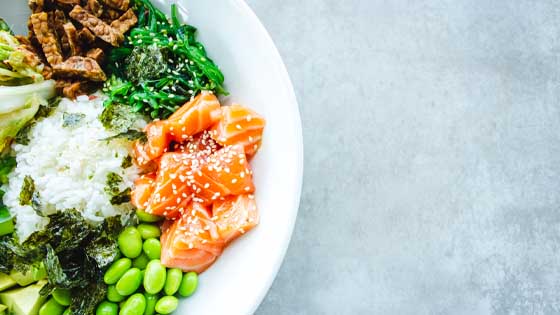 Many microwaves with steam cooking feature a steam sensor that greatly simplify the steam cooking process.
And the steps to use the steam function vary depending on different models.
In today's post, we'll take the Whirlpool microwave as an example, and show you how to use the steam function on Whirlpool microwaves:
Put the food into the microwave oven.
Press the Steam Cook button.
Select the steam recipes or use customized settings.
Press the "Start" button.
Easy peasy, right? The best part is the essential vitamins and nutrients will be retained in the food items. Thus, you can enjoy delicious, healthy meals every day.