Want to tell your microwave what to do with a remote control? That is not impossible! Although remote-controlled microwaves are still not a trending topic in the industry, it is still a good feature that brings you more comfort and convenience.
If you want to buy the latest microwave oven with remote control but don't know which model is the best one, fortunately, this post is going to solve your problem.
In this compilation, we've listed 5 microwaves that allow you to give commands to them with a remote control. If you want to upgrade your old microwave immediately, let's dive right into it!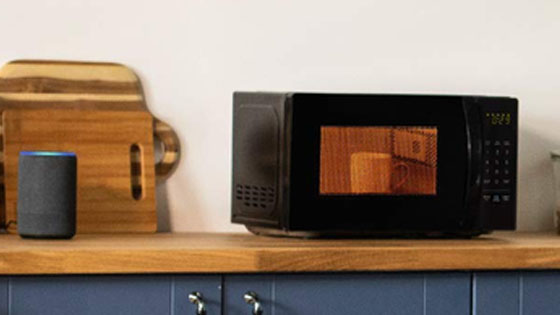 Types of Remote Controlled Microwaves
When we are talking about microwaves with remote control, we are not really focusing on a microwave that has a remote clicker like the TVs.
Nobody wants a real controller to click right in front of the microwave oven, that would be a stupid design.
So, what kind of remote-controlled microwave ovens are worth-considering in 2022? There are two types of microwaves you should know.
The first type of microwave with remote control is controlled by your smartphone. The microwaves with this feature are usually WiFi-enabled, so you can download the app and give instructions to the microwave.
The second type of remote-controlled microwave is based on voice commands. You can control a smart microwave by using your voice. The most popular voice assistants are Amazon Alexa and Google Assistant.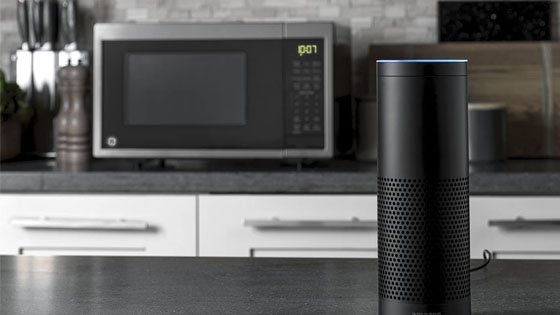 If the microwave supports Alexa or Google Assistant, you can simply tell the microwave what to do with your phone or a smart speaker.
Read On:
Microwaves Work with Amazon Alexa
Microwaves Support Google Assistant
Currently, most of the smart microwaves on the market don't have standard criteria when it comes to smart home integration. Since the brands and models are various, what you can achieve is actually different.
For example, the most advanced smart microwave models have voice control & app control both and they support Google Home and Alexa perfectly. While some microwaves only has one type of integration.
If you have already had an Amazon Dot or Google Home at hand, don't forget to choose the right microwave so you don't have to purchase another speaker separately.
Best 5 Microwaves with Remote Control in 2020 that You Can Buy
A microwave oven is usually a major purchase for any kitchen, especially when you rely on the microwave oven for most simple cooking needs.
See our top picks for microwaves with remote control below, and find yourself and your family the microwave oven that best suits your lifestyle.
Toshiba ML-EM34P(SS) Smart Countertop Microwave Oven
BEST MICROWAVE WITH REMOTE CONTROL OVERALL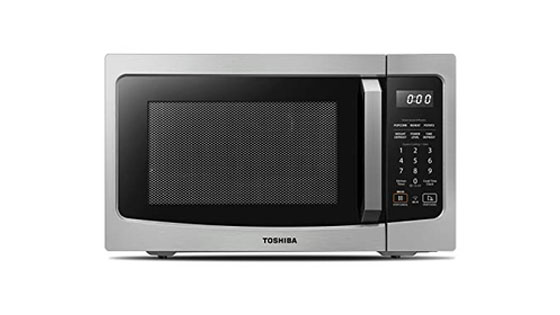 Ever wanted to start your microwave with hands-free operation? This Toshiba smart microwave oven is compatible with Alexa and allows you to send commands by voice control feature or app control.
Just pair the microwave with an Echo device and tell it to heat 6 ounces of popcorn, and it'll start the microwave with optimal cooking settings — and you can enjoy delicious popcorn in a flash.
The microwave with smart remote control also helps you effortlessly prepare 23 foods with its presets, letting you have popcorn, pizza, vegetables, and more ready on the table without any guesswork.
You can expect it to cook large meals quickly because it has a microwave power of 1100W. You'll also enjoy the 10 power levels, sound on/off function, energy-saving feature, and defrost by time/weight function.
Of course, one notable selling point here is the built-in smart sensor. You'll never have to worry about ruining your favorite food by putting it under the wrong cooking settings.
The smart sensor will automatically adjust the power level and cooking time to achieve optimum cooking results.
GE JES1097SMSS Countertop Microwave Oven
BEST COMPACT MICROWAVE WITH REMOTE CONTROL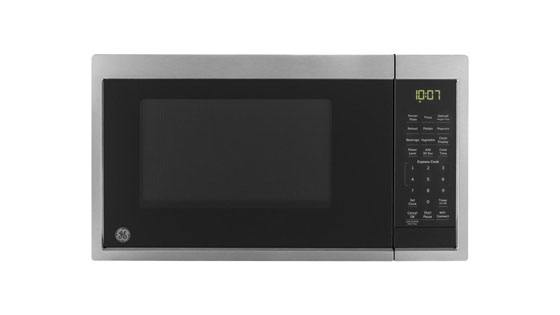 If you're looking for an option that is compact in size and works with Google Assistant and Alexa, look no further than this smart microwave from GE.
When paired with an Echo device or Google Home device, you can enjoy hands-free operation from any room in the house! Simply send commands via the voice control feature, and the microwave will start cooking accordingly.
The microwave also has the scan-to-cook technology, so the recommended instructions can be directly applied to the microwave oven when you scan the frozen food barcode.
Convenience cooking controls are included to help take the guesswork out of your kitchen. Put your favorite food in, and you can effortlessly get the premium results with one press of the preset button.
Add in a turntable, child safety lock, kitchen timer, express cook, and more, this is no double a wonderful option for home kitchens, offices, and dorm rooms.
AmazonBasics Microwave bundle with Echo Dot (3rd Gen)
BEST VALUE MICROWAVE WITH REMOTE CONTROL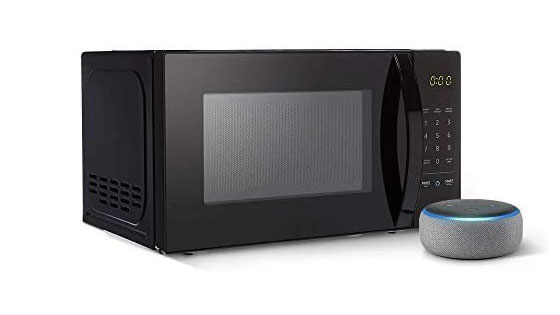 The AmazonBasics microwave is compatible with Alexa, and it's also one of the best microwave ovens with remote control.
When paired with an Echo device, you can use the voice control feature to start the microwave or to give cooking setting commands, and you can do this just from another room.
The compact size makes it easy to fit in a countertop corner, meaning you can save considerable counter space, and the nice modern design makes cleaning fast and easy.
The 0.7 cu. ft. capacity is enough to fit a regular-sized dinner plate. Also, the cooking power goes up to 700W, it can cope with all the basic cooking tasks you'd have.
With an Ask Alexa Button, 10 power levels, a child safety lock and other well-thought-out features, an enjoyable and safe cooking experience is guaranteed.
Whirlpool WMH78019HW Smart Over-the-Range Microwave
BEST MICROWAVE WITH REMOTE CONTROL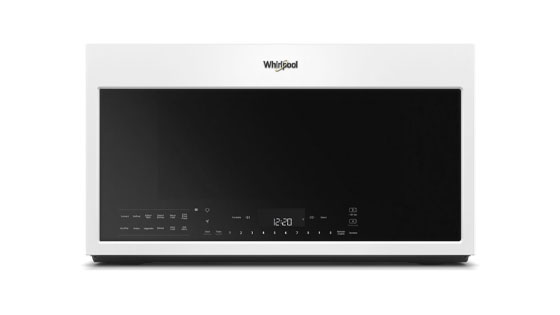 If you're looking for an over-the-range microwave oven with remote control, you can't go wrong with this one by Whirlpool.
With a capacity of 0.9 cu. ft, it's big enough to fit huge plates and containers so that you can make feed-a-crowd meals for a big family.
The microwave oven offers two ways of remote control. You can have it connected to the Google Assistant or Alexa-enabled device for voice control feature, or simply send instructions remotely via smartphone apps.
It also boasts the scan-to-cook technology that lets you scan a frozen food barcode for recommended cooking settings directly sent to the microwave oven, no guesswork needed.
The multi-step cooking function offers an easy way to make multi-step meals. Remotely send multiple cooking instructions to the microwave all at once, and the microwave will start cooking with optimal cooking settings based on the recipe you enter.
Though the microwave with remote control comes with a high price tag, it's still something worth considering given that it's a microwave and 4-speed venting system combo and rich-featured.
Cafe CEB515P2NSS Countertop Convection Microwave Oven
BEST CONVECTION MICROWAVE WITH REMOTE CONTROL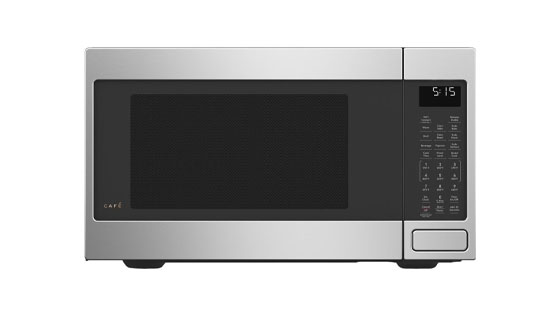 We were impressed by the microwave oven with smart remote control by Cafe. At its core, it's a microwave oven with convection cooking, including HDR, so you can count on it to achieve crisp and golden brown results.
Packed with a special rack, this means it can allow hot air to circulate around the food and achieve even and delicious cooking results.
Compatible with Alexa and Google Assistant, it lets you enjoy absolute control in the kitchen and beyond.
The smart microwave oven also features sensor cooking controls, allowing for waving goodbye to guesswork and having well-prepared meals.
Better yet, the auto bake and auto roast function will come in handy when you're after crispy or roast results, making it perfect for versatile meal preps.
The best part is that you get to make big meals in a very short time, too. With a cooking power of 1200W and a capacity of 1.5 cu. ft., you will be able to have big meals ready in no time.