Can I use a microwave on my boat? Yes! Using a microwave on a boat is actually possible!
Can I use any microwave onboard? No! Using the wrong microwaves that are not suitable for boats may cause serious hazards.
So, how to buy the right marine microwave oven for boats? And what things should I look for when searching for a microwave model that I would take on a boat?
We will give you the answers in the next 5 minutes!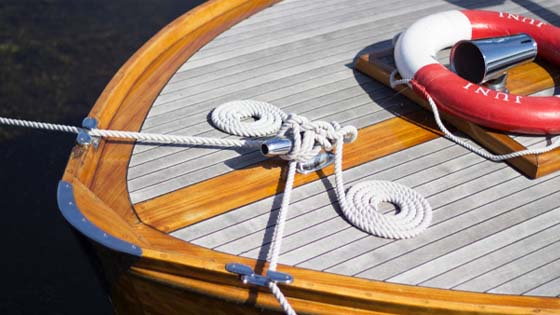 Best Overall – Microwave for Boat:
Sale
Farberware Classic FMO07AHTBKJ 0.7 Cu
Quick & easy: 700 Watts of output power
LED display with kitchen timer
Convenient: defrost by weight or by time settings
Style & function: Stainless Steel front and handle, child safety lock
Cook easy & powerful: 10 power levels and multi-stage cooking
How to Pick A Microwave Oven for Boats?
1. Check The Microwave's Power & Wattage First
We don't expect the microwave that we are going to use on the boat to be very powerful since the capacity of our battery bank is limited.
Although there are many more portable power stations that can handle large load devices and have solar panels to charge the battery effectively, we should always play it safe.
So, besides using a large battery power station & a good-quality inverter, you should not pick a microwave that is a crazy power consumer.
The wattage of a regular family microwave is around 1200 watts, and I suggest you go for low wattage microwaves.
More specifically, we'd recommend you to consider the models with a wattage that is under 1000 watts.
2. Pick A Mini Size Microwave for Boats
Why do you need a small-sized microwave on your boat?
We have mentioned above that keeping your battery bank running is vital when you're living on the high seas.
The first reason is that portable microwaves are not going to drain your battery quickly.
Basically, when we are looking for microwaves for boats, we just need some basic features.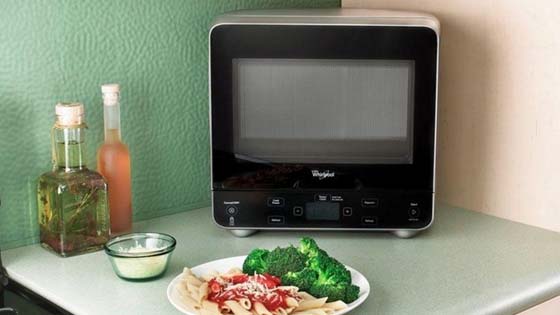 And mini microwaves these days can get the job done perfectly without charging you a huge amount of money.
Moreover, the space on a boat is usually crowded, even messy. Instead of bringing you more convenience, a large microwave can be a trouble as it takes up so much room on the boat. From my experience, a microwave with 0. 7 cubic-foot capacity is the ideal choice.
3. The Materials Should Be Corrosion-Resistant
To make sure your microwave can last in a salty environment, the outside material of the microwave should be water-resistant.
Luckily, most microwaves of today come with stainless steel materials that are not easily corroded by seawater.
If you want to add more security to the microwave on your boat, buying a heavy-duty heat-resistant waterproof cover is also a smart choice.
Best Microwave Models for Boats in 2020
Farberware Classic FMO07AHTBKJ 0.7 Cu. Ft. Microwave Oven
BEST MICROWAVE FOR BOATS OVERALL
First up on our list of the best microwaves for boats is the Farberware Classic FMO07AHTBKJ. With 700 Watts of output power and a compact size, this microwave oven should certainly work like a dream on boats.
The small microwave for boats has 10 power levels, so it could easily handle your defrosting, cooking or reheating needs.
A stylish brushed stainless steel front and handle will complete the stylish and classic look of your cabin.
Pre-programmed with 6 cooking presets, this compact microwave for boats provides you the easiest way to have popular foods ready, including popcorn, potato, pizza, frozen vegetable, and more.
With a safety lock feature, you will be able to prevent accidental access and operation. This feature will bring you peace of mind on the boat, especially when you're aboard with children.
READ ALSO: Buyer's Guide for Microwaves with Safety Lock
BLACK+DECKER EM720CB7 0.7 Cu. ft. Digital Microwave Oven
BEST VALUE MICROWAVE FOR BOATS
The BLACK+DECKER EM720CB7 is one of the brand's best selling products for years. It offers excellent quality for a fairly modest price tag, making it a perfect choice for those who are on a budget.
The external dimensions of the microwave measure 17.3" x 13.0" x 10.2" (W x D x H), which is a great size for boat use.
Also, the microwave has a cooking power of 700W, which is ideal for a boat trip. It won't consume crazy energy, and could still get the job done pretty soon.
Few compact microwaves for boats are beautifully designed in a stainless steel finish like this one, not for models at this price range at least.
The sleek design and stainless steel finish are not only easy on the eyes, but also makes the microwave easy to clean and effortless to maintain.
With 6 pre-programmed cooking buttons, this microwave can cook the popular foods for premium cooking results with the touch of one button.
10 cooking power settings and a removable turntable come together to offer flexibility in cooking and allow food to cook more evenly.
Whirlpool 0.5 cu. ft. countertop microwave
BEST MINI MICROWAVE FOR BOATS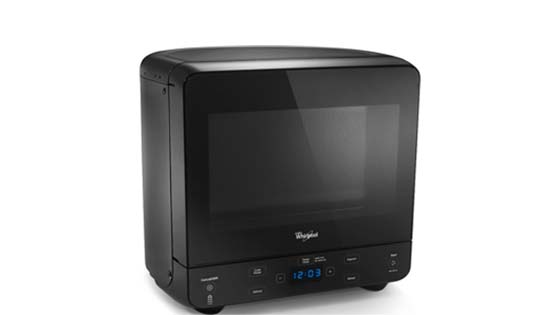 No conversation about the best microwaves for boats would be complete without this Whirlpool mini microwave oven.
The model is probably the smallest microwave for boats you could find on the marketplace. The compact size makes it extremely portable. Just fit it in any corner, or store it in a cabinet until you need it for cooking.
Though being compact in size, it can easily fit a full dinner plate. The small microwave for boats has 10 power levels and 1-touch popcorn preset, which allows for easy boiling, reheating, defrosting, and popcorn making.
With a power output of 750W, you can expect it to have foods prepared shortly, but only consume a small amount of power.
Another selling point of this model is its tap touch controls. The touch controls are easy to use and easy to clean.
Emerson MW7302B 0.7 CU. FT. 700 Watt Microwave
Looking for an ultra-affordable microwave oven for boats? The Emerson MW7302B would be a solid option for you.
It's a 700-Watt compact microwave, with 10 power levels, and all the basic features you'll need for cooking on the boat. It measures around 17.3 inches wide, which makes it suitable for boat use.
With a straightforward control panel, this small microwave for boats is really easy to use, so you won't have to spend hours trying to figure out how to function it.
The budget-friendly microwave offers 6 preset menus, allowing you to cook or reheat popular foods with one press of the button.
Cuisinart CMW-70 Stainless Steel Microwave Oven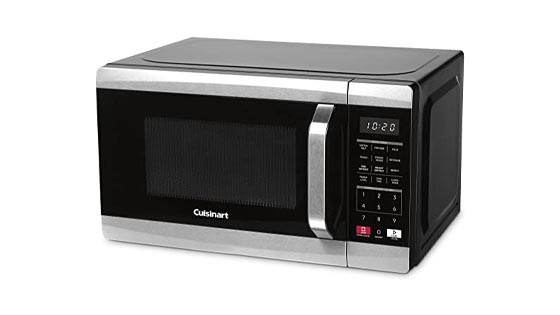 The Cuisinart CMW-70 is another good option if you want a compact, low-wattage microwave for boats.
This microwave for boats has a simple structure and stainless steel accents, which means it will be easy to clean, and look great in your current decor style.
The control panel is easy to understand, and the digital display ensures a clear view of the cooking settings. Therefore, it makes a perfect choice for those who love easy operation, and those who travel with the elderly.
It's pre-programmed with 6 preset menus, helping reheat or cook foods with one touch, without the need to set power level or cooking time.
Plus, with the memory function to save your favorite cooking settings, and the two-stage cooking feature, it allows you to customize your cooking and achieve versatile cooking results.