I know the control placement might not be a huge factor that determines a microwave's value. However, it is a basic thing that you do need to consider when buying a new microwave for your kitchen.
For people who are shopping for a microwave with top controls, this article is perfect for you! We'll list the 5 best microwaves with buttons on top. Hopefully, it will help you decide which is right for you.
And we will also be exploring the differences between top controls and front controls of microwaves so that you will know if a microwave with top control is really a great fit for you.
Top-Rated 5 Microwaves with Controls on Top of 2021
Best Microwave with Controls on Top Overall: Galanz GTWHG12S1SA10 4-in-1 Microwave Oven
Reasons to Buy:
4-in-1 Microwave + Toaster Oven + Air Fryer + True Convection Oven
Sensor Cook & Sensor Reheat
The Patented Inverter Technology
Thoughtful Accessories Included
The Galanz GTWHG12S1SA10 is the best-performing microwave with controls on top we reviewed, making it our top pick.
What makes the Galanz microwave oven our top choice is that it's very cost-effective, feature-packed, and it comes with a spacious cooking capacity of 1.2 Cu. Ft. that can make family-sized meals.
Designed with a real stainless steel finish, the 4-in-1 microwave oven will match any kitchen decor, and ensure easy cleanup. Also, the express cooking kob and smooth touch panel allow for easy operation.
For $299.99 (MSRP), you're getting an appliance that combines a microwave, a toaster oven, an air fryer and a convection oven into one, which gives you all the versatility you'll need for daily cooking.
You can use the microwave cooking method to reheat leftovers, the TotalFry 360 Technology for healthier fried foods, the 3-level toaster oven for your bread, and the truce convection cooking method for oven-baked food textures.
This microwave features the Patented Inverter Technology which generates seamless, constant heat to the food item during the whole cooking process, and thus you can have evenly and perfectly prepared dishes.
To make microwave cooking even easier, the microwave with top controls features the sensor cook and sensor reheat function. Therefore, you can reheat and cook a wide range of foods without any guesswork.
There are thoughtful accessories included, as well. It comes with a silicone cooking mat, an air fry kit, and a non-stick turntable for baking, roasting & toasting.
If you cook at home a lot and enjoy making foods of different textures, we think the Galanz GTWHG12S1SA10 is definitely worth the investment.
Best Microwave Drawer with Controls on Top: Sharp KB-6524PS 24-Inch Microwave Drawer
Reasons to Buy:
Stainless Steel Housing
Auto-Touch™ Control Panel
11 Sensor Cook Programs
Keep Warm Feature
The Sharp KB-6524PS is another microwave with controls on top that's worth considering. Thanks to its low-profile design and stainless steel housing, the Sharp KB-6524PS is one of the classiest-looking microwave ovens on the market.
It won't take up any of your precious counter space, for it can be installed below an island, peninsula, or under the counter.
With a cooking capacity that is roomy enough to fit a 4-quart casserole dish or a 20-oz. tall coffee cup, it can cope with all the cooking requirements of an average-sized family.
In addition to a spacious capacity, it has an easy-to-read LCD display, easy-to-grip door handle, and a straightforward Auto-Touch™ control panel, which makes it easy to navigate. That said, you don't have to spend hours trying to get familiar with it.
With the 11 sensor programs, you get to cook or prepare a variety of popular foods with just one press of the button – no hassles, no guesswork!
The child safety lock makes it an ideal option for families, as it can prevent accidental access and unwanted operations. And the keep warm feature allows you to hold cooked dishes warm for up to 30 mins.
Best Value Microwave with Controls on Top: Samsung MC12J8035CT PowerGrill Duo Countertop Microwave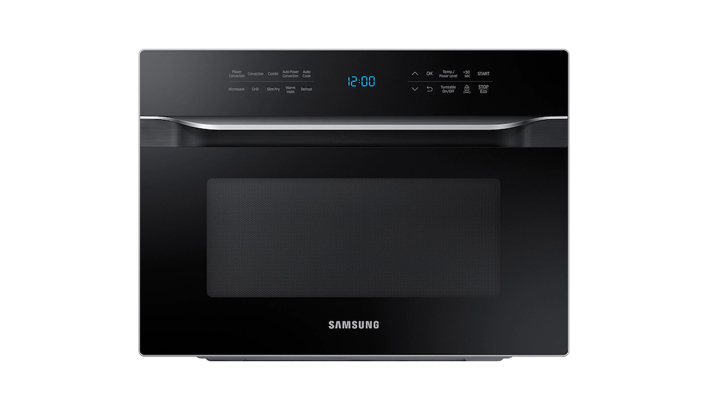 Buy at Home Depot Samsung Official Store
Reasons to Buy:
Power Convection Technology
PowerGrill Duo™ Feature
Slim Fry™ technology
Ceramic Enamel Interior
Thoughtful Accessories
The Samsung MC12J8035CT proves you don't have to break the bank for a high-quality microwave with controls on top. Whether you're using it to warm beverages or to make family-sized dinners, this microwave oven is up to the task.
The roomy cooking capacity of 1.2 cu. ft. and 1000 Watts of power make it a powerful microwave for family use.
The drop-down door allows for loading convenience, and the all-black design with glass touch controls completes a premium look. It boasts a Ceramic Enamel Interior that is scratch-resistant and easy to maintain.
While it comes with an inexpensive price tag, it offers you great cooking versatility. It features the Power Convection technology, PowerGrill Duo™ function and Slim Fry™ technology, so you can achieve all sorts of cooking results with one single appliance.
The microwave uses a round metal rack and Ceramic plate, which are included in the package, to evenly cook foods and perfectly bake pizza. Plus, the ceramic plate is ridiculously easy to clean.
You'll also find some well-thought-out features in this model, such as preset menus, Eco Mode, mute button, child safety lock and more.
Best 24″ Microwave with Controls on Top: Sharp SMD2470AH 24″ Microwave Drawer
Reasons to Buy:
Easy-Touch Automatic Drawer
24″ Deep Cooking Capacity
45° Angle Control Panel
Sensor Cook & Sensor Reheat
This contemporary black stainless steel microwave with top controls from Sharp is a durable, pro-style model that would look perfect in any high-end setting.
It can be installed adjacent to the layout of your kitchen, in islands, peninsulas or under the counter.
The hidden control panel can be positioned to an easy-to-read and operate 45° angle without requiring bending. The easy-touch automatic drawer works smoothly, not just for easy opens but also for hands-free close.
The microwave is 24″ deep so it can fit 4 qt. casserole dish, meaning it'd be trouble-free to make big-batch meals for your family.
With sensor cook, reheat and popcorn settings, the microwave with controls on top brings great ability to achieve perfect cooking results without any guesswork.
The 6 auto defrost settings, as well as the melt, soften and warm settings provide you with great convenience during your daily meal prep process. In addition, you get a keep warm feature to hold your dishes warm until they're ready to serve.
Best Budget-Friendly Microwave with Controls on Top: Frigidaire FGMO3067UDn1.6 cu. ft. Built-in Microwave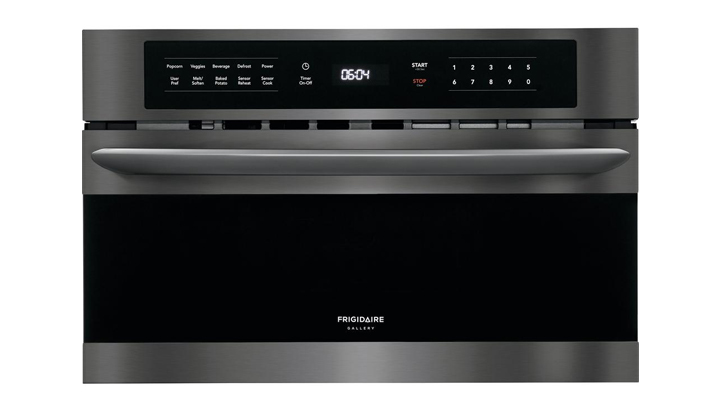 Reasons to Buy:
Relatively Affordable
1,6 Cu. Ft. Capacity
Stainless Steel Exterior & Interior
Sensor Cooking Options
If you are looking for a budget-friendly model microwave that will give you everything you want and more, then Frigidaire FGMO3067UD is the microwave you have been looking for.
In shiny black stainless steel, it will easily become the talk of the kitchen. This microwave comes with easy-to-understand top controls and an easy-to-read display.
Easily access the 1.6 cu. ft. capacity through the drop-down door that allows for convenient loading. The microwave has a scratch-resistant stainless steel interior, which makes cleanup a breeze, too.
Featuring an extra-large 14 in. 3/16 diameter glass turntable and 1000 Watts of cooking power, it's going to be an ideal option for big families.
Designed with interior LED lighting, it gives you a clear view of the cooking area, so you can check on the dishes while cooking.
With sensor cooking options, you can effortlessly cook a wide range of foods—no guesswork is needed—and the results are bound to be perfect.
Advantages of Microwaves' Top Controls? Why People Need Front Control?
Top Control Microwaves Have More Accuracy
Compared to regular microwaves that have control panels on the right side of the door, a microwave with control on top usually has a pretty long control panel.
This makes the panel is very roomy and the distance between two buttons is usually wide enough.
Regular microwaves' right-sided panels are relatively crowded. As a result, you may mistouch the buttons that you don't want to touch.
The advantage of the top control design is that you are not likely to press the wrong button unless the buttons are extremely small.
Top Controls Will Not Sacrifice The Microwaves' Capacity
We all know that traditional microwaves are trying to make their control panels as compact as possible is because they don't want to lose their inner capacity.
If the buttons are very large and they want to make sure the capacity is not sacrificed, traditional microwaves will become bulky.
Luckily, with controls on top, microwaves today will have a roomy interior without losing any functions. That's why commercial microwaves usually have buttons on top or at the bottom.
For Microwave Drawers, Top Controls Are Easy to Maneuver
For people who need a microwave drawer or people who would like to put their countertop microwaves on a lower surface. A microwave with top controls is very useful.
Imagine you have to get down on your knees every time to adjust the settings. This is super annoying, right? A microwave with top controls is probably the best way to solve this problem.
Whenever you want to change the cooking time or adjust the presets, the controls on the top allows you to get the job done just by bending over a little bit.