A drop-down door is usually used in ovens that are expensive & huge. But do you know some microwave models also utilize the drop-down door design?
In this post, we are going to guide you through why some microwaves have a drop down door while others have swinging doors.
Besides, we will list some best drop-down door microwaves that are considered to be top-notch in 2020.
Drop Down Door Microwave vs. Swinging Door Microwave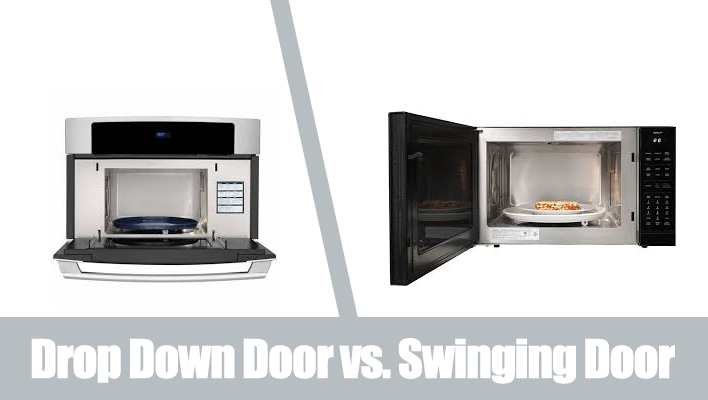 The traditional mechanic side pull swinging door is great when your microwave does not have a large size.
And a microwave with regular swinging door allows you to take out of your food conveniently as there is no distance between you and the microwave.
On the other hand, the microwaves with drop down door usually come in a big size (larger than 1.2 cu).
When it comes to the drop down door design, many advanced microwave use it because a drop down door is very helpful for saving room's space when you open the microwave's door.
A large microwave door is easier to open with the design of a pull down door.
What makes it even better is that the pull down door is made of heavy materials, making the door a great area that you can place your hot dishes temporarily.
6 Best Microwaves with Drop Down Door for 2023
Best Microwave with Drop Down Door Overall: SAMSUNG PowerGrill Countertop Microwave Oven
The SAMSUNG MC11K7035CG/AA is the best microwave with drop down door for the money today. It covers pretty much anything from cooking versatility to quality build.
The 1.1 cu. ft. capacity and 1000 watts of cooking power will work perfectly for a family.
Thanks to its rich features, this is a quality microwave that is perfect for everyday cooking.
Enjoy multi-textured food? Then you will love the Power Convection Technology of this unit. It can keep food crispy on the outside without drying inside by combining the traditional convection cooking with powerful hot air.
For additional cooking possibilities, the PowerGill function allows you to brown and crisp your food on the outside while maintaining a juicy inside.
Plus, the smart sensor cooking allows for no-brainer food preps. Just place whatever you need to prepare in the microwave, and it will automatically set the cooking time and power for optimal results.
Countertop Microwave with Drop Down Door: Samsung MC12J8035CT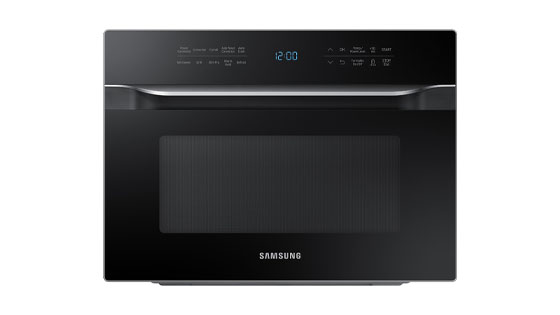 Looking for a high-quality countertop microwave with drop door for your kitchen? If so, well, this is one of the best options for you.
The Samsung MC12J8035CT is a premium quality microwave that is built to last.
The drop-down door design ensures loading convenience, and the premium look adds a touch of glamour to your living space.
This interior is made of Ceramic Enamel, which makes it scratch-resistant and easy to clean.
Moreover, you also get multiple cooking methods to achieve versatile cooking results.
It's an air fryer, convection oven, grilling element, and microwave combo, making it a perfect one-stop appliance for home kitchen.
The 1.2 cu. ft. capacity also is efficient to prepare large meals for your family. The turntable off mode lets you fit in a large container, and prevent spills.
Other standout features include cooking presets, the preheat function, the eco mode, and a child safety lock.
Built-in Microwave with Drop Down Door: KitchenAid KMBS104ESS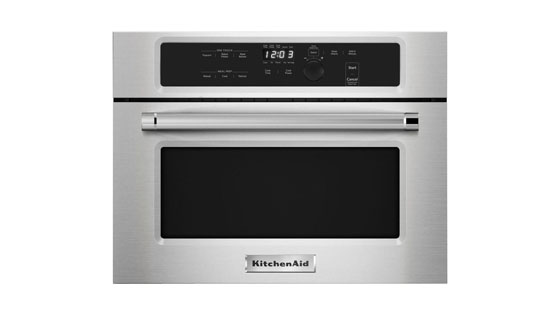 Searching for a built-in microwave with pull down door for your kitchen? The nice-looking KitchenAid KMBS104ESS would be a pleasing addition to any kitchen.
It has the stainless steel cavity from the inside out, which makes it a breeze to clean and long-lasting.
The microwave oven comes with 27 in. and 30 in. trim kits, allowing you to fit it into existing cabinet openings and achieve a built-in look.
With a capacity of 1.4 cu. ft., the microwave provides a full family-sized cooking capacity, so you can easily cook in big batches.
It offers a high cooking power of 1000 Watts, which is powerful enough for a home to cook foods quickly and thoroughly.
The specialty auto-cook settings bring you extra convenience by taking the guesswork out of your kitchen. They enable you to effortlessly bake potato, popcorn, and reheat meals with one touch.
Microwave Oven with Drop Down Door for Big Families: FRIGIDAIRE GALLERY FGMO3067UF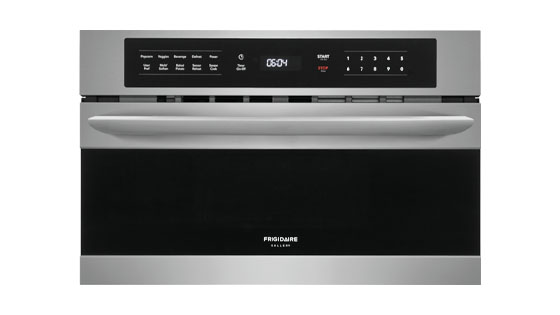 This one is a good fit for people who are looking for an extra-large cooking space for their kitchen. Providing a capacity of 1.6 cu. ft, this microwave with pull down door is designed for feed-a-crowd meals and party meal preps.
With an extra-large 14 in. 3/16 diameter glass turntable, this microwave is ready for heavy duties, so it will be a welcome addition to small professional kitchens or small businesses.
Also, it's built with smudge-proof stainless steel, which makes it easy-to-clean and remains in good shape after years of use.
The interior LED lighting gives you a clear view of the inside while cooking, so you can keep an eye on your favorite dishes all along.
The sensor cooking options make microwave cooking extremely simple. It lets you cook a variety of foods, without the need to adjust the power level and cooking time.
For greater convenience, it also features the sensor reheat function that enables you to reheat almost everything with one press of the button.
Convection Microwave with Pull Down Door: Cafe CWB713P2NS1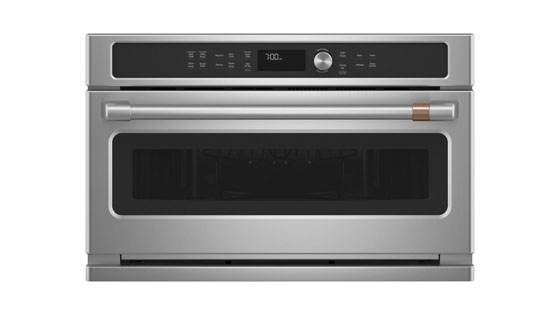 If your main mission is to find a drop down door microwave oven that has a convection cooking option, this model by Cafe kitchen is going to be your best bet.
It offers fast bake cooking settings—meaning it can achieve oven-quality crisp, golden brown cooking results.
It also allows you to combine convection and microwave cooking methods for delicious results.
For even more versatile cooking results, it features a steam cook button. The steam cook functionality lets you prepare healthy vegetables and rice perfectly.
This convection microwave with pull down door is a unit that features a large cooking capacity of 1.7 cu. ft, helping prepare a great amount of foods at once.
With no dials or buttons, a simple wipe is all you need to clean up the surface. The glass touch controls look great and are easy to navigate.
Another thing we love about this model is its stainless steel interior, which doesn't absorb odors and is scratch and rust-resistant.
Microwave with Drop Down Door for Commercial Use: GE PSB9240SFSS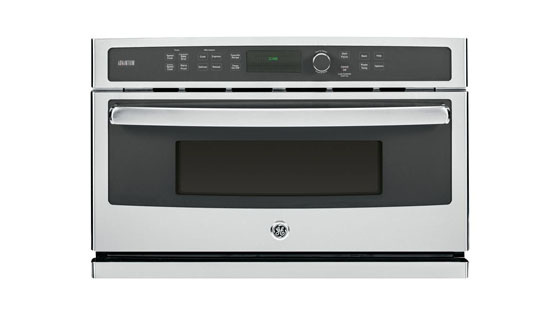 This microwave oven with pull down door from GE offers a large capacity and a wide range of features that are perfect for commercial use.
The cooking capacity is capable of up to 1.7 cu. ft., which is suitable for extra-heavy-duty and big-batch cooking.
It combines 4 ovens in 1 appliance. With Speedcook, Microwave, Convection, and broiling capabilities, it offers unbeatable flexibility in achieving all-round cooking results.
It's more than just one random convection oven. The speedcook oven (240V) delivers a cooking speed that is 2 to 8 times faster than a conventional oven, making it perfect for commercial use.
The microwave oven boasts over 175 preprogrammed menu selections, so you can effortlessly have a great deal of dishes prepared in a snap.
The Halogen Heat is going to save you considerable time by eliminating the need to preheat.
The turntable on/off mode will come in handy for thorough cooking results, or for accommodating large or irregular dishes that may not fully rotate.
The microwave interior is built with stainless steel, so a simple wipe with a damp cloth is all that is needed to clean up spills.