Over-the-range microwave ovens have truly entered the mainstream over recent years. However, not every over-the-range microwave comes with an exhaust fan and light.
Here we've compiled a list of the best microwaves with exhaust fan and light available to buy today.
Also, we list out what to look for in a quality microwave oven with an exhaust fan and light which will significantly improve your cooking experience.
5 Best Microwaves with Exhaust Fan and Light
Frigidaire FFMV1645TS 30″ Over the Range Microwave
BEST VALUE MICROWAVE WITH EXHAUST FAN AND LIGHT
Key Features:
2-Speed, 220 CFM Venting System
Cooktop LED Lighting
1.6 Cu. Ft. Capacity
Multi-Stage Cooking Option
If you want to get the best bang for the buck, the Frigidaire FFMV1645TS won't disappoint. The over-the-range microwave with exhaust fan and light is inexpensive and also comes with everything you need.
The stainless steel body and black door deliver a timeless design, which promises your kitchen a touch of class.
Its two-speed, 220 CFM ventilation system works so perfectly that it gets rid of the smoke and fumes as you cook.
It also packs a cooktop LED light which will give you a clear, bright view of the cooking area, and thus make cooking and meal prep easy.
There's also a LED light inside of the microwave to let you clearly see what's happening while your dish cooks.
Furthermore, the microwave with exhaust fan and light has a cooking capacity of 1.6 cu. Ft. and an extra-large 12-1/2″ Diameter Glass Turntable, which means it can effectively serve a medium to large family.
For your further convenience, it features easy-to-use one-touch options and auto-reheat options so you can reheat or make your favorite dishes without any guesswork.
GE JVM3162RJSS Over-the-Range Microwave
BEST MICROWAVE WITH EXHAUST FAN AND LIGHT OVERALL
Key Features:
300 CFM, 2-Speed Venting System
Cooktop Light
1.6 Cu. Ft. Capacity
Turntable On/Off Function
One-Touch Cooking Controls
The GE microwave with exhaust fan and light, as we can see, has a seamless design, and the build feels sturdy. It comes with a stainless steel finish that makes the unit durable and easy-to-clean.
It features a 300-CFM exhaust fan, capable of operating at 2 speeds. It's quite a powerful ventilation system, especially when you take the affordable price tag into consideration.
There's a replaceable charcoal filter included, to help remove grease and other impurities while cooking, so your kitchen can stay fresh all the time.
This microwave oven also comes with a cooktop light to illuminate the stovetop range, and to help you make late-night snacks without disturbing your family.
With a cooking capacity of 1.6 cu. Ft., the microwave with fan and light is big enough to comfortably fit a whole frozen pizza or a large dinner plate. It can cook at 1000 Watts and 10 different power levels, so you can put a variety of foods in it quickly and evenly done cooking.
Thoughtful features like easy defrost, one-touch cooking settings, and turntable on/off function, are included to significantly improve your cooking experience.
Sharp R1874T Over-the-Range Convection Microwave
BEST CONVECTION MICROWAVE WITH EXHAUST FAN AND LIGHT
Key Feature:
2-Speed, 300 CFM Ventilation System
Cooktop Light with High/Low Settings
Convection Cooking Option
Smart Sensor Cooking
Do you fancy baking pizzas and browning some cakes with your microwave? Make that a reality with the Sharp R1874T convection microwave with fan and light.
Coming from the brand Sharp, you can expect a high-end look and solid build. With a built-in 2-speed, 300 CFM ventilation fan, odor and smoke cannot escape its draw.
It also has a cooktop light with high/low settings, aiming to provide you with perfect lighting as you cook.
While you get a relatively limited cooking capacity of 1.1 cu. Ft., which is still good enough to cook for a small to medium family, this is quite a powerful and versatile microwave oven.
It offers you a turntable, a smart sensor for easy reheating and cooking, and an easy defrost function. However, what really sets the Sharp R1874T apart is its convection cooking capability.
Featuring 12 Compucook and Compudefrost convection programs, the microwave with fan and light gives you the ability to achieve different food textures with the roast, bake, and broil modes.
Amana AMV2307PFS Over the Range Microwave in Stainless Steel
BEST BUDGET MICROWAVE WITH EXHAUST FAN AND LIGHT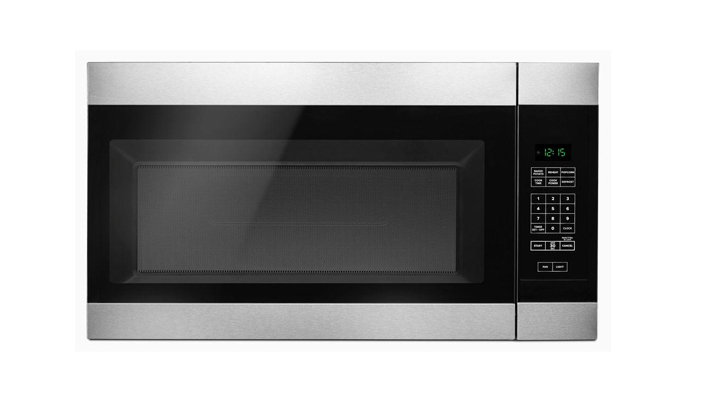 Key Feature:
2-Speed, 300 CFM Venting System
Cooktop Surface Light
1.6 Cu. Ft. Capacity
1000 Watts of Cooking Power with 10 Power Levels
Auto Defrost & Auto Reheat
Here's a microwave oven with a fan and light that's easy on the eyes and easy on your wallet.
While it's an inexpensive model, it offers a spacious capacity of 1.6 cu. Ft. that is capable of serving a family with 3-5 members.
The 1,000-Watt of cooking power and 10 cooking levels are able to cope with all sorts of cooking tasks. The included Popcorn allows for getting perfect popcorn with one press of the button.
It features a powerful, 2-speed 300 CFM exhaust fan that helps filter out smoke and steam. Also, there's a charcoal filter included to collect and neutralize odors.
With a cooktop surface light, it lets you clearly see the cooking area even at night. The large LED display and big buttons are both easy to read and easy to navigate.
The easy reheat function is one of the most convenient features of the unit. Just select the food item and quantity, you'll get your food warmed to precision throughout.
Whirlpool WMH32519HZ Over the Range Microwave
BEST MICROWAVE WITH EXHAUST FAN AND LIGHT FOR FAMILY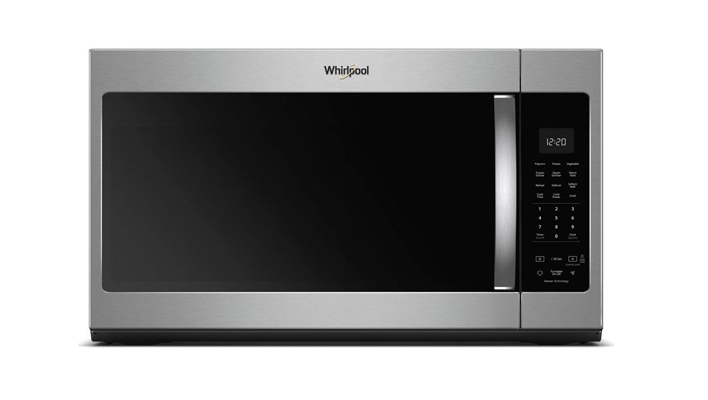 Key Features:
3-Speed, 300 CFM Exhaust Fan
Cooktop Light with 2 Settings
1.9 Cu. Ft. Capacity
CLEANRELEASE non-stick interior
Turntable On/Off Option
The Whirlpool WMH32519HZ is a powerful over-the-range microwave with fan and light, and a great improvement to any kitchen.
The fingerprint-resistant stainless steel finish is a guarantee of a high-end look and premium quality. It boasts a 3-speed, 300 CFM exhaust fan, which is the most powerful one on this list, so it will draw most smoke and steam from your cooking.
The microwave with fan and light comes with an adjustable cooktop light, meaning it allows you to keep an eye on the cooking area even at night.
With a roomy capacity of 1.9 cu. Ft., your family will have the flexibility to fit large containers and have all kinds of cooking tasks completed.
Additionally, this microwave oven has a CLEANRELEASE non-stick interior that allows for extremely easy cleanup, thus no chemicals are required when cleaning.
Featuring a steam cooking function, preset menus and smart sensor cooking, making easy microwave meals of different textures would be a cinch.
The turntable on/off function lets you choose whether the turntable rotates or not to accommodate a wide range of dish sizes, and to prevent spills when cooking soups.
The metal rack included is one of the major selling points of the microwave with fan and light. It makes double stack warming and cooking possible, and thus significantly shorten your cooking time.
What to Consider When Buying a Microwave with Fan and Light?
Besides the common specifications like cooking capacity, power output, and power levels, there are certain things you need to take into consideration before investing in a microwave oven with fan and light.
The buying guide below will help you find the best microwave with fan and light for your home, so read along and make sure to check those boxes before you place an order.
Exhaust Maximum CFM
The exhaust maximum CFM decides how powerful the exhaust fan would be. If you have a lot of heavy cooking tasks, a powerful exhaust fan will save you unnecessary cleanup chores, as it can draw all the steam and odor while cooking.
Most microwave with an exhaust fan in the marketplace today offers an exhaust maximum CFM between 150 and 400 CFM. We recommend purchasing a microwave with a fan that is more powerful than 200 CFM, at least.
Exhaust Fan Speeds
Exhaust fan speeds are just as important as the maximum CFM. One single fan speed may not be able to cope with your different cooking tasks, so look for an exhaust fan with 2-3 speeds.
Charcoal Filter
If you frequently do heavy cooking tasks, look for a venting system with a charcoal filter. A charcoal filter is an absolutely wonderful accessory to have because it can collect and neutralize the grease and odor produced while you cook.
Neutralizing grease and odor is an important step to keep your kitchen fresh, especially when the venting system is not exhausting the grease, odor, and other contaminants outdoors.
Lighting Settings
If you like to cook at night or regularly make late-night snacks, you want to have a cooktop light with different settings.
Therefore, you can use the high-level lighting to illuminate the whole cooking area, and use the low-level one when you're secretly making nacks in the middle of the night.