What is a microwave with built-in toaster? What are the best microwaves with a toaster to buy in 2021?
We reviewed the top-rated microwaves with a toaster for their features and overall performance, and to see if it's a worthwhile device. Hence, we've compiled a list of the best microwaves with a toaster worthy of your consideration.
This article will also give you an insight into what is so special about a microwave with toaster oven combo, including the pros and cons.
CONTENTS:
Microwave with a Toaster: Top Editor's Choice & Detailed Review
Best Microwave with a Toaster Overal: Galanz GTWHG12S1SA10 4-in-1 Microwave OVen
Key Features:
4-in-1 multi-functional oven – microwave + toaster oven + air fryer + convection
Thoughtful accessories included
Inverter Technology
Sensor cook & sensor reheat
Stainless steel cavity
We believe any people who love to cook at home will appreciate the versatility of the microwave with built-in toaster oven.
Especially given that it's a 4-in-1 multi-functional appliance, it's probably the most worthwhile microwave with a toaster you can buy today.
It boasts a capacity of 1.2 cu. Ft., so it's large enough to serve a small family. For the size, it's fairly powerful, with 1000 Watts of cooking power.
The unit combines 4 appliances into one, which includes a microwave, a toaster oven, a true convection oven and an air fryer. Therefore, you can microwave, toast, bake, roast, and air fry with the unit to achieve all sorts of cooking results.
It can toast up to 6 slices of bread at one. The ToastWave Technology also allows you to choose the darkness level for your bread, so you can easily toast your bread to golden-brown perfection.
Offering ultimate cooking versatility doesn't mean it'd compromise its main function. The microwave oven features patented Inverter Technology and a smart sensor, which ensures evenly prepared meals and the simplest cooking process.
What's more, the microwave with a toast also comes with helpful accessories to further improve your cooking experience, including a silicone cooking mat, an air fry kit and a non-stick turntable.
Best Compact Microwave with a Toaster: Panasonic NN-GN68K Countertop Oven
Key Features:
FlashXpress Broiler
Inverter Technology
Sensor Cook & Sensor Reheat
7 preset auto cook menus
The Panasonic NN-GN68K microwave and toaster combo is a great all-rounder which is great for any home, apartment, and college dorm.
If you yearn for the flavor and texture of crisp and browned foods, FlashXpress broiler helps you achieve that quickly and effortlessly. There is the Broil (High) setting, which is perfect for toasting bread, muffins and more.
The microwave oven also allows you to combine microwave cooking and instant broiling for faster results.
The microwave with a toaster comes with an exclusive broiling rack, and it will further improve your broiling and grilling cooking results.
We think most people will be happy with the 1000 Watts of cooking power and the Inverter Technology, which ensures a quick cooking process and evenly prepared dishes.
Besides, it features a smart sensor to take the guesswork out of your kitchen. You can use the Sensor Cook or Sensor Reheat function to prepare a wide range of foods with a touch of the button.
Best Microwave with a Toaster for Family: Toshiba EC042A5C-SS Countertop Microwave Oven with Convection
Key Features:
Convection Cooking with Auto Bake and Auto Roast menus
1.5 cu. Ft. Capacity
Smart Sensor with 13 Preset Menus
Big families will appreciate this microwave with built-in toaster that is capacious and powerful.
It has a sleek design with modern accents. With a stainless steel finish, the unit is durable and easy to clean.
The microwave and toaster oven combo boasts a large display and big buttons that are easy to read, even for senior citizens.
It's a capacious microwave, with a cooking capacity of 1.5 cu. Ft., making it an ideal choice for families.
Most importantly, it combines microwave and convection cooking in one appliance, with 4 auto bake menus and 4 auto roast menus. It also roasts bread gently with no over-cooked spots.
Featuring a smart sensor with 13 auto menus, the microwave oven can consistently detect the humidity of the food items as it cooks, and automatically adjust the cooking settings for optimal cooking results.
The stainless steel cavity is one of the main selling points. It makes the interior scratch and rust-resistant and extremely easy to clean.
Well-thought-out functions like warm hold function, mute button, and child safety lock are included for your convenience.
Best Over-the-Range Microwave with a Toaster: Samsung MC17T8000CS Over the Range Convection Microwave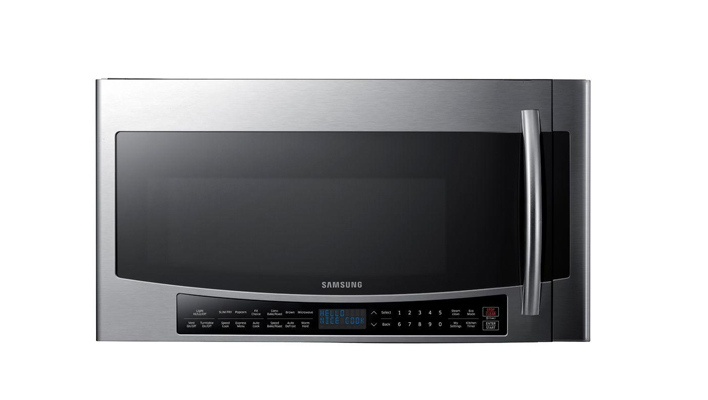 Key Features:
Convection Cooking Method
Slim Fry Technology
Voice Control & Remote Control
3-Speed/300 CFM Exhaust Fan
When it comes to over-the-range microwaves with built-in toaster, the Samsung MC17T8000CS is our top pick.
It can produce crispy and delicious toast with its broil function. Besides, the convection microwave provides you with ultimate cooking flexibility, allowing you to microwave, bake, broil and roast.
You'd be happy with the slim fry function as well, for it helps prepare delicious, deep-fried foods with a reduction in fat.
The 1.7 cu. Ft. capacity is roomy enough to serve a big family. In addition, the turntable on/off function allows you to choose not to rotate the turntable, in order to fit a larger or awkwardly shaped container.
The external shell is built with a fingerprint-resistant stainless steel finish, which matches most kitchen decor nowadays and is easy to maintain.
It's also smarter than other microwaves with a toaster on this list, because it supports voice control with a leading brand assistant and remote control via the SmartThings App.
Moreover, there's a 3-speed, 300 CFM ventilation system to effectively remove smoke and odor from your kitchen while you cook.
Best Built-In Microwave with a Toaster: BOSCH HMC54151UC Built-in Convection Speed Microwave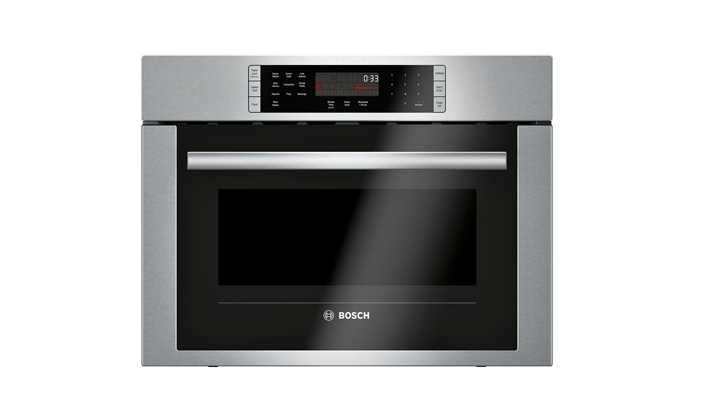 Key Features:
1750 Watts Broil Element
1700 Watts Convection Element
SpeedChef™ Cooking Cycles
Stainless Steel Interior
The BOSCH HMC54151UC is a powerful, full-sized microwave oven that allows you to serve 5-6 people in one go. It's comparable in size with the previous one on the list, but it has a more powerful convection oven — which could be a huge plus if you're interested in baking and browning.
The 24″ speed oven can achieve conventional oven-like cooking qualities with the speed of a microwave, and the 9 SpeedChef cycles also help you prepare big-batch meals in a snap.
With 1750 Watts of broil element, it can make perfect toast in a short time, and produce better broiling results.
It comes with touch controls, stainless steel exterior, and a stainless steel cavity all for quick cleaning of the appliance.
It has a drop-down door rather than a swing door, and hence it's easy to open and offers you loading convenience.
The built-in microwave toaster combo also comes with useful accessories, including metal and ceramic turntable, metal rack, to further improve your cooking experience.
You can find some other thoughtful features in this unit, such as sensor cook, a popcorn button, auto defrost, and control lock. In all, It is so wonderful to have one appliance that excels at many things.
What Is a Microwave with a Toaster?
So as the name suggests, microwaves with built-in toaster oven are standard microwaves with the capability of making toast.
Generally speaking, there are two kinds of microwaves and toaster combo in today's marketplace.
One is those come with a toaster function, like the Galanz GTWHG12BKSA10 we mentioned above. It can toast your favorite bread, bagels and rolls to golden-brown perfection.
The other kind is microwaves with grill or broil function. They will not toast bread like a traditional toaster oven that toast both sides of the bread at the same time.
However, the broiler or griller function can work just like a toaster oven. If you want to toast both sides of your bread, you'll just need to turn the bread over once. And you'll get the crispy texture and darkness you want.
What Are the Pros & Cons of a Microwave with a Toaster?
Surely there must be some good and bad about the microwave with a built-in toaster. Here are the pros and cons you should know about microwaves with a toaster before you make a purchase.
Pros
For sure, money is saved since this one appliance can the work of both microwave and toaster oven for the cost of one.
If you're looking to save some money, getting a microwave and toaster oven combo would be a great idea.
And no doubt, space is also saved since you only need the space for a microwave oven. Therefore, a microwave with built-in toaster is going to be an excellent choice for dorm rooms, apartments, and other small spaces.
Many microwaves with multiple cooking methods let you combine different cooking methods to achieve all sorts of textures and flavors.
Therefore, with a microwave with a toaster function, you can use either one or both functions for versatile cooking results.
Cons
The cons of a microwave with a toaster generally revolve around the fact that it doesn't toast like a traditional toaster oven. And hence, you might get better results with a dedicated toaster oven.