Toshiba kitchen appliances are generally high-quality and more affordable than many other devices with the same specs and features.
The Toshiba 6-in-1 microwave oven seems to be another good example of it. With a modest price tag and well-thought-out features, it interests many, including us.
However, is it really the microwave that will suit your needs? Is it worth buying?
Check out the Toshiba 6-in-1 microwave review below to see if it's a good idea to buy the Toshiba AC028A2CA.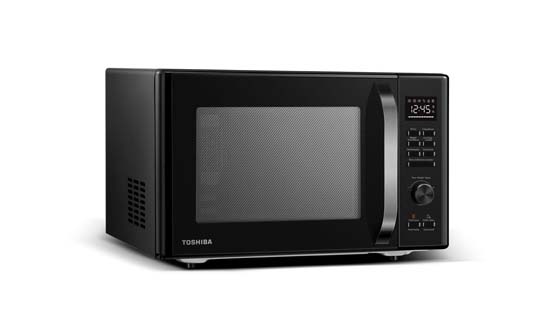 Jump to:
Toshiba 6-in-1 Microwave Review: What to Expect?
Before you actually invest in the microwave oven, you definitely want to know what you can expect from it.
Also, it's a good idea to consider if you'll actually use all of the features, or if you should just get a more basic device instead.
Here's what you can expect from the Toshiba 6-in-1 microwave oven:
Nice-Looking Design with Easy-to-Clean Stainless Steel Interior
The Toshiba 6-in-1 microwave oven has a black stainless steel finish and a timeless design, making it easy to go with any kitchen decor.
It boasts a smooth control panel that includes buttons and a dial turn knob. It takes a little time to play with the control panel and to figure out different settings for each cooking function, but the instructions are pretty thorough.
One of our favorite parts of this microwave oven is its stainless steel cavity.
The stainless steel interior provides a polished surface that's scratch-resistant and easy-to-clean. It lets you effortlessly remove grease or oil from the surface when spills happen.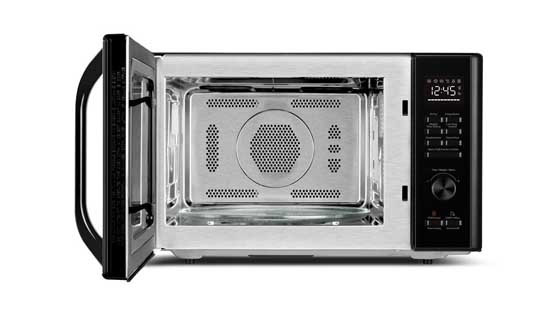 Compact Size for Individuals & Small Families
The 6-in-1 microwave oven boasts a cooking capacity of 1.0 cu. Ft., and I would say this is a great size for individuals and small families.
The microwave measures 12.83" H x 20" W x 20.47" D. It's quite a compact size for a convection microwave oven, so it makes the perfect option for small spaces like apartments, office break rooms, and dorm rooms.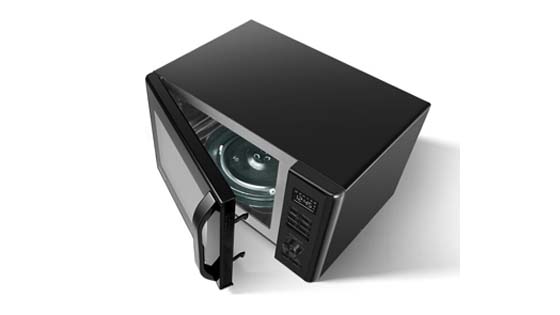 Useful Accessories Included
As a plus, the Toshiba 6-in-1 microwave oven comes with several useful accessories, including a glass turntable, a grilling pan, and a grilling rack.
The 12.4-inch turntable allows for thorough cooking, so you won't find cold spots or overcooked edges in your dishes.
Even if you have to make dinner for a small family, it can fit a regular-sized dinner plate and handle pretty large food items and.
The unit also comes with a grilling rack and pan for the use of the convection and air fry cooking mode, so you'd have no hassle to develop different textures of foods.
Multi-Function Capabilities
One major selling point of the microwave oven is its multi-function capabilities. Being able to perform as a microwave oven, air fryer, convection oven, meal warmer compartment, dehydrator, yogurt maker, it simply combines 6 appliances into one.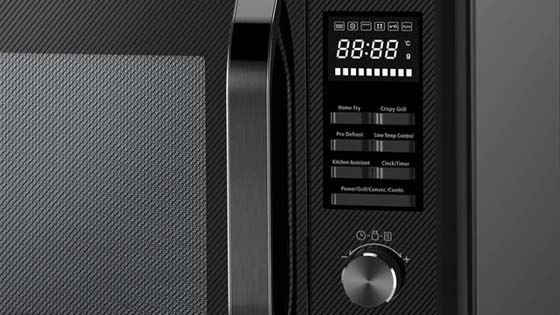 All these cooking options make it possible to cook a whole host of different dishes, and make it a perfect kitchen companion for any household.
Aside from all the cooking capabilities mentioned, it even features a Crispy Grill function.
The grill function lets you effortlessly achieve crisping and browning results, so use the grill feature to make toasted sandwiches, brown cheese on lasagne and crispy skin salmon.
If you want to try different cooking techniques in your daily cooking process, this unit would be an exceptional choice for you.
Smart Sensor Cooking
Another selling point of this microwave oven is it comes with a smart sensor which is something that you would definitely want your microwave to have.
With a built-in smart sensor, the microwave can constantly detect the humidity emitted by the food items while cooking, and automatically adjust the cooking settings for best cooking results.
That is to say, the Toshiba 6-in-1 microwave oven lets you cook a wide range of foods for optimal results with one press of the button – no more guesswork!
Toshiba 6-in-1 Microwave Review: Pros & Cons
As this Toshiba 6-in-1 microwave review was to help you decide if it's the best option for you, we believe a simple pros & cons list will help.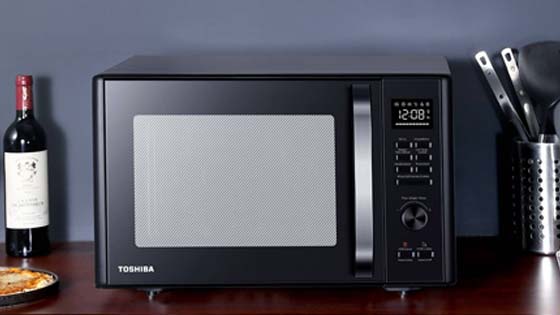 Pros:
It can perform as a microwave oven, air fryer, convection oven, meal warmer compartment, dehydrator, and yogurt maker.
The stainless steel allows for extremely easy cleaning.
The accessories help in distributing heat evenly and cooking foods for different textures.
It is easy to cook a wide range of foods with the smart sensor cooking.
The 1000 Watts of cooking power ensures a fast cooking process.
Cons:
It has some limitations as in the small size and 1.0 cu. Ft. capacity.
It will take some time to get familiar with different settings for each cooking method.
The air fryer and convection cooking option require more time to thoroughly cook the foods than standalone air fryers and convection ovens.
Verdict: Top Performer at a Budget Price
Rating: 93%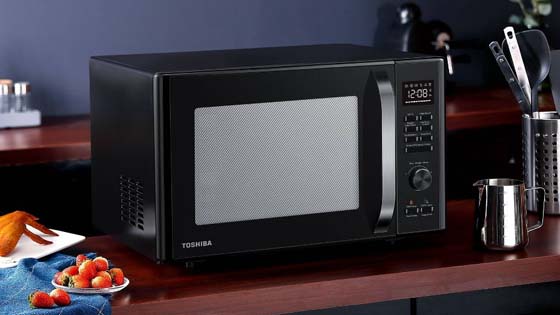 Shop at Home Depot Shop at Walmart
The Toshiba 6-in-1 microwave is an impressive microwave oven with a favorable price point. However, it seems to be unavailable on most popular platform. If you're looking for an alternative, I'd highly recommend Galanz GSWWA16S1SA10.
Related Reading: Galanz 3-in-1 Microwave Oven Review
It is also a powerful device that is spacious enough to serve a small family. And it's built with a stainless steel interior that allows for easy cleaning.
It provides multiple cooking methods, so you can rely on it to achieve various different textures and flavors of foods. It has a turntable, grilling pan, and grilling rack to further improve your cooking experience.
This unit also has other impressive features like sensor cooking, child safety lock, power-saving mode, and more.
All in all, we'd definitely recommend this unit if you're looking for a microwave oven with multi-functional capabilities for small spaces!