The marketplace is replete with all kinds of microwave oven options at a variety of price points, and things can be tricky when it comes to finding the best one for you and your family.
The Galanz manufacturer is one of the rising stars in the microwave industry. And the Galanz 3-in-1 microwave oven is one of their best-selling models.
Retailing for $299.99, it's definitely not a cheap option. Is it really worth the money though? Is it going to be a welcome addition to your kitchen?
In today's Galanz 3-in-1 microwave review, we'll look into every minute detail of the Galanz GSWWA16S1SA10, and decide if it's worth buying.
Let's dive right in…
Jump to:
Galanz 3 in 1 Microwave Review
1. Design
On the design side, the Galanz 3 in 1 Microwave has classic styling with a real stainless steel finish.
The mixture of premium stainless steel finish and the smooth black surfaces makes the whole unit graceful and stylish. The sleek modern design blends in with any kitchen decor.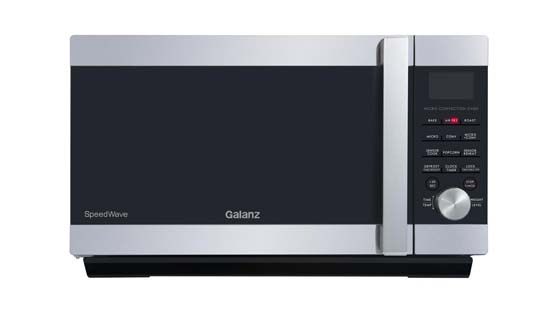 Its heavy-duty handle easily stands out because it's ergonomically designed. The ergonomic handle not only completes the premium look, but also makes it easy to open the microwave door, even for senior citizens.
There are touch control pads and a time/temp knob on the front, which are easy to operate, and further perfect the modern look of the unit.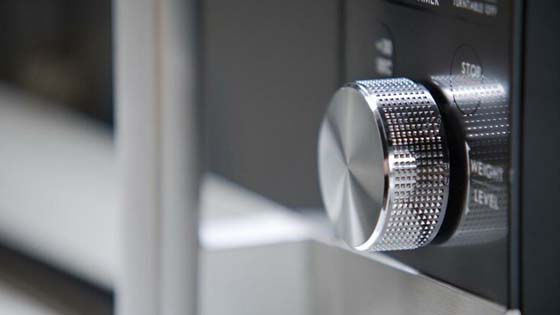 However, Galanz 3 in 1 Microwave does have quite a large footprint so it's going to take up some countertop space – it's 22.93 inches in length and 21.75 inches in wide.
If you're looking for a microwave oven for dorm rooms, small apartments, or other small spaces, this one won't be your best bet.
2. Capacity
Generally speaking, with a large footprint comes a large capacity, so you can expect a large cooking capacity from this model.
You'll find a 1.6 Cubic Feet capacity in this microwave oven, allowing you to prepare big-batch meals for your family.
3. Cooking Power
The Galanz SpeedWave 3-in-1 can operate at 1000 Watts of cooking power, which is high enough for most foods.
You can expect it to cook quickly and efficiently. With 10 power levels, it can handle all kinds of cooking tasks as well.
4. Ultimate Cooking Versatility
The microwave oven's big selling point is its multiple cooking methods. The Galanz 3 in 1 microwave combines 3 appliances in one, microwave oven, convection oven, and air fryers.
The microwave cooking option can help reheat leftovers and make easy microwave meals, while the true convection cooking method lets you broil and bake foods with direct heat.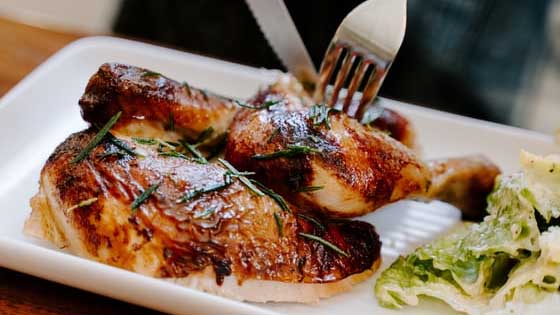 The Air Fryer with TotalFry 360 Technology enables you to achieve healthier and crunchy cooking results with little or no oil at all. Therefore, you can rely on this to make french fries, wings, and nuggets for movie nights.
Furthermore, the 3-in-1 microwave oven lets you combine the True Convection and microwave cooking method to create delicious dishes, which can significantly reduce the cooking time as well.
With 3 different cooking methods, and the combi-speed cooking feature, this 3-in-1 microwave oven offers you ultimate cooking versatility and helps you effortlessly get optimum texture and taste.
With a wide range of cooking programs available, including bake, air fry, roast, microwave, convection, micro+convection, the powerful microwave oven is going to bring your home cooking to the next level.
5. Thoughtful Accessories Included
There are 3 thoughtful accessories included in the package, an air fry kit, a glass turntable, and a baking & roasting pan.
The removable 12.4'' turntable lets easily fit in a large dinner plate and achieve even cooking results, so you don't need to deal with cold spots and overcooked edges anymore.
Meanwhile, the 10.6″ Air Fry kit and 12.5″ baking & roasting pan will come in handy for cooking tasks like making French fries, roasted salmon, baked sweet potato, and more.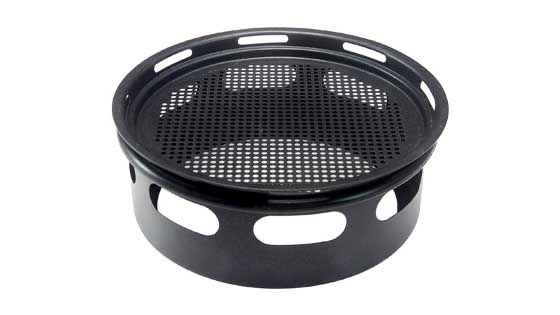 6. Smart Sensor Cooking
We loved the fact that the Galanz 3 in 1 microwave oven has a built-in smart sensor for sensor cooking and sensor reheat.
The built-in sensor will constantly detect the humidity emitted by the food item, and automatically adjust the cooking time and power, to make sure that the food won't be overcooked or undercooked.
The sensor cooking and sensor reheat feature means you can have your favorite foods cooked or reheated to the best results, with one simple press of the button. No more guesswork in your kitchen!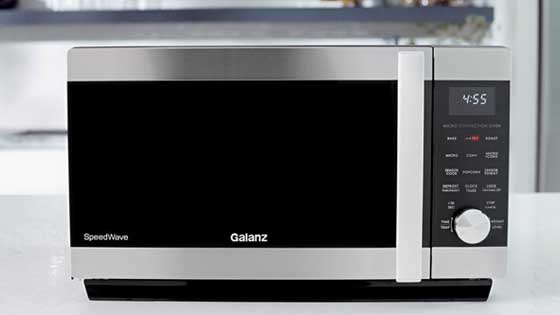 Galanz 3 in 1 Microwave Review: Pros & Cons
What we like about Galanz 3-in-1 microwave oven:
The Galanz 3-in-1 microwave is large enough to cope with a big family's cooking requirements.
The stainless steel exterior and interior make the appliance durable and easy to clean.
This microwave oven offers the options of air frying, convection oven, and microwave. The 3 cooking options allow for a variety of ways to cook meals.
The combi-speed cooking feature lets you combine true convection and microwave cooking methods, to cook meals faster and achieve better results.
It features a sensor cooking feature and a sensor reheat feature, to further simplify your daily cooking process.
What we don't like about Galanz 3-in-1 microwave oven:
It's somewhat pricey.
It's a bit noisy when the convection mode is on.
It takes some time to learn how to navigate the control panel and to get familiar with different features and cooking methods.
Verdict: Powerful & Versatile
RATING: 87%
We are big fans of the Galanz 3-in-1 microwave oven. It is large and offers a high wattage for faster cooking time.
Most importantly, it offers the ultimate cooking versatility by providing 3 different cooking methods. It also brings great convenience to your daily cooking process by taking the guesswork out of your kitchen.
The quality of the microwave impressed us too. The microwave has a stainless steel finish on the outside, and a stainless steel cavity, too, so you can expect it to stay in good shape after years of use, and the stainless steel material makes it super easy to clean.
All we have to complain about the Galanz 3-in-1 microwave oven is the price. The retail price is $299.99, which is somewhat pricey.
If you're mainly looking for a high-quality, powerful microwave oven, and the cost won't be a matter, I'd highly recommend buying this one by Galanz.