Whether you want to reheat leftovers, to warm up beverages or even to cook dinners, there is one kitchen helper that will help you achieve all in the easiest way – a microwave with knob.
Today's microwaves with knobs are equipped with rich features, from easy defrost function to adjusting cooking settings automatically. However, choosing a reliable microwave with dial knob amongst hundreds of options is not an easy task.
Read on to find the best microwave with knob for you, depending on your space, budget and cooking requirements.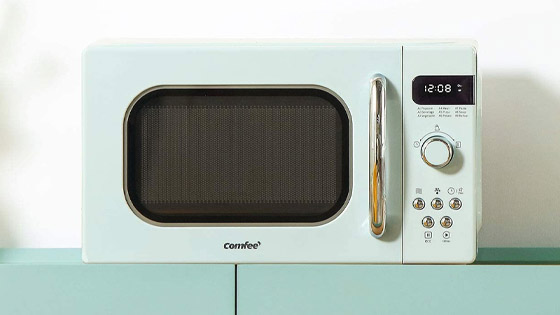 CONTENTS:
1. Best Microwaves with Knob Control
2. FAQs About Microwaves with Knob
5 Best Microwaves with Knob to Buy Today
To ease up your purchasing process, we've reviewed the top-rated microwaves with knob on the market, and compiled the list of our top 5 picks.
All these selected microwaves with dial knob will live up to your expectations, and offer great value in a reasonable price range.
Best Microwave with Knob Overall: Panasonic NN-SD975S Microwave Oven
Inverter Technology
20 preset auto cook menus
Sensor inverter turbo defrost
No matter what your cooking needs are, you absolutely want your food to be cooked evenly. The microwave with knob can achieve that with its built-in Inverter Technology.
The inverter technology produces a constant stream of power while cooking, to ensure shorter cooking time and even results.
Navigating cooking settings has never been easier with the dial knob controls of the microwave.
With 2.2-cubic-foot cooking capacity and 1250W power output, the microwave with knob has the ability to make feed-a-crowd meals, and satisfy the cooking needs of a big family.
What's perhaps most exciting about this microwave, though, is it's equipped with smart cooking sensor.
The built-in smart sensor of the microwave can automatically adjust power levels and cooking time based on different foods, which is truly a blessing to those who are struggling with cooking settings.
Best Budget-Friendly Microwave with Knob: Commercial Chef Counter Top Rotary Microwave Oven
Two mechanical dial knobs
Easy-to-grip door handle
Compact in size
9.5-inch turntable
If you're looking for a budget-friendly microwave oven with knob that can cope with basic cooking requirements, this one by Commercial Chef fits the bill.
This microwave oven with dial knob with a modest price tag takes up less countertop space, but still can fit a regular size plate or a fairly large bowl.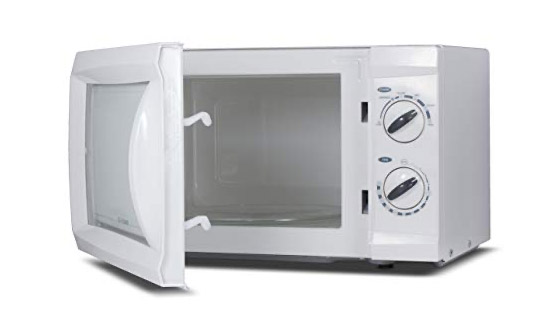 The mechanical dial controls and easy-to-grasp door handle of the microwave makes it the ideal option for those seeking simple, basic operation.
The microwave with knob can also handle all the basic cooking needs and has six power levels for different cooking tasks.
One more thing you'll love about this microwave with dial knob is that the unit is surprisingly easy to clean up, and it requires minimal upkeep.
The removable turntable can go directly into the dishwasher, and a few wipes will do the cleaning job.
Best Compact Microwave with Knob: COMFEE' Retro Countertop Microwave Oven
10 power levels
9 easy preset menus
Position-memory turntable
Retro design with compact size
Great for small spaces, this COMFEE' microwave with turn knob helps to spare countertop spaces.
It has a unique retro design with vibrant colors that will look beautiful in any living space.
The microwave with turn knob offers 0 power levels for various cooking tasks, so it can deliver more cooking flexibility than most compact microwaves does.
Though being compact in size, the microwave with knob features a variety of preset menus including popcorn, beverage, vegetable, meat, pizza, potato, pasta and more. Also, it has helpful functions like mute function, child safety lock and eco mode.
The innovative position-memory technique resets the turntable to the initial position, which allows you to easily retrieve the mug or dish without getting burnt accidentally.
Easiest-to-Use Microwave with Knob: Impecca CM0674 Countertop Microwave Oven
700 Watts power with 6 power levels
2 mechanical dial controls
Easy defrost function
9.65-inch turntable
Looking for something simple and easy to navigate? This small microwave with knobs is the one for you. No buttons, no touchpads, the microwave is the ideal model for those who hate to figure out what buttons to use when.
With two large dial knobs, a microwave timer knob and a power level setting knob, the microwave is extremely easy to use, so it would be a perfect choice for senior citizens and those with poor eyesight.
READ ALSO: Best Microwaves for Seniors
The white-and-black elegant design of the microwave with knob control makes it match any kitchen style. Meanwhile, its humble size makes it ideal for small spaces.
We think it's the best microwave with knob controls for people who just want to complete basic cooking tasks, like reheating leftovers, heat up drinks, or defrosting frozen veggies.
If you want more features or more cooking methods, consider something else on the list.
Best Microwave with Knob For Baking: Galanz GSWWA12S1SA10 3-in-1 Microwave Oven
3 in 1 appliance – microwave oven, convection oven, air fryer
1.2 cu. ft. capacity
Combination cooking of convection and microwave cooking
Sensor cook & sensor reheat
For accomplishing complicated cooking tasks, like baking and air frying, opt for a microwave with various cooking functions – like this Galanz 3-in-1 microwave oven.
The microwave oven with knob offers you great cooking flexibility by providing you with 3 ways to cook – microwave, air fry, and convection cooking.
With all these cooking functions, the microwave oven with turn knob excels at baking English muffins, broiling steaks and air frying chips.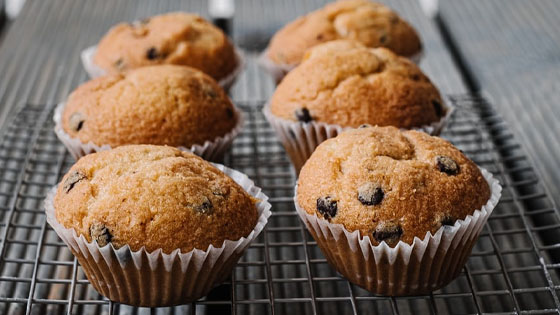 Besides that, the most exciting part of the microwave oven with knob is that it even allows you to combine the microwave and convection cooking functions to cook meals to perfection.
Impressively, the microwave with dial turn knob has a built-in smart sensor. Therefore, it helps you cook a wide range of foods with convenient controls and avoid guesswork.
FAQs About Microwaves with Knob
1. How to use microwave with knob?
Some microwaves have two knob controls, one for adjusting the cooking time and one for power settings.
Simply turn the dial knob to set the timer, and turn the other one to choose the power level. That's it!
And some microwaves have combination controls of a turn knob and buttons. If that's the case, you'll need to hit the button for cooking settings, then turn the dial knob for the time.
2. What to do if the microwave knob not working?
If your microwave timer knob is not working, we'd highly recommend you to contact after-sale support for a repair. You'd probably get a free repair or even replacement if your unit is in warranty.
The common reason why a timer knob is not working lies in that it might have gone loose, or the knob is broken.
If your device is out of warranty, refer to the video and learn the tricks for fixing broken timer knob:
3. Microwaves with knob vs microwaves with buttons/touchpads, which is better?
When it comes to picking between microwaves with knob and microwaves with buttons or touchpads, I'm afraid there won't be a one-size-fits-all answer for everyone.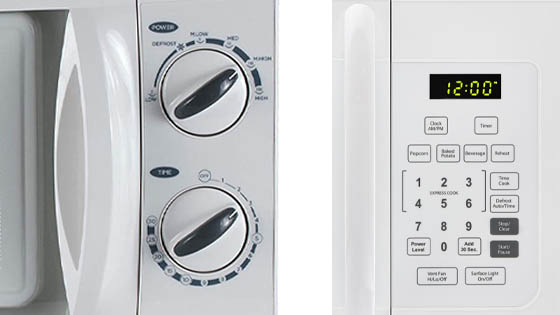 Microwaves with knob are always a better choice for seniors, as it's easier to understand and easier to navigate than microwaves with buttons.
However, if not for senior citizens, you will only need to decide which better suits your cooking situations.