Looking for a Rotisserie microwave, but fail to find one on the market? Here's what you need to know about Rotisserie microwaves in 2020!
CONTENTS:
What Is A Rotisserie Microwave?
As the name suggests, microwaves with Rotisserie function provide a long solid rod inside the microwave.
With a Rotisserie microwave, you can get meat cooked just like roasting and grilling meat over a campfire. But the difference is that a Rotisserie microwave uses electromagnetic energy to get the job done instead of direct fire.
Most importantly, a Rotisserie Microwave can rotate the skewers automatically. So you won't have to worry if your skewered meat is unevenly cooked.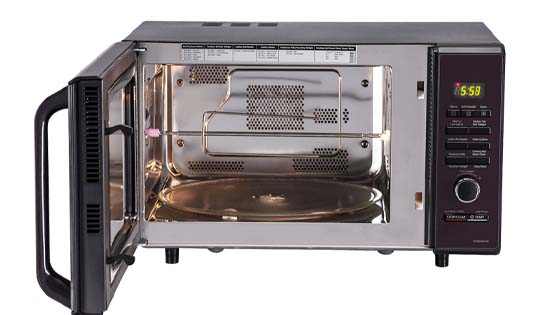 Where Can I Buy A Rotisserie Microwave?
Unfortunately, it is pretty hard to find a real rotisserie microwave in the states. According to the searches we've done online, GE used to have a rotisserie microwave that was manufactured in May, 2005 and it was available in the USA until February 2007.
In 2020, the rotisserie microwaves can only be found in India. And there are few models that still have the rotisserie function on the market.
For example, the LG's rotisserie microwave is a popular rotisserie microwave. You can see how the rotisserie function works in the video below.
Let's get back to the topic. Although we can not find a rotisserie microwave in the US right now, is there any way to roast a whole chicken with another type of microwave?
Yes! In the next part, you can see why microwave ovens with grills are great alternatives to rotisserie microwaves.
Best Alternatives to Rotisserie Microwave – Microwave with Grills
As the best alternatives to rotisserie microwaves, grill microwaves can help you achieve the brown, crisp results as well. The best part is, they will give you the gill-like results while cooking the inside evenly.
In this post, we've brought together the best alternatives to Rotisserie Microwave available today. Read on to find the best grill microwave for your style and needs!
Emerson MWG9115SB Griller Microwave Oven

We adore this Emerson Griller Microwave, so do 400+ users on Amazon.  It receives consistently strong consumer ratings.
Delicately and subtly designed, this microwave has a brushed metal front and black cabinet, so it would be a sharp-looking and functional addition to your kitchen.
The alternative to rotisserie microwave offers a capacity of 1.2 cu. ft., making it a perfect choice for medium-sized families.
The cooking power is 1100W with 11 microwave power levels and 1 pure grill power level, so it can heat up quickly and effectively.
One big selling point of the microwave is its grill feature with a removable grill rack. It provides you with a healthy way to fry and brown foods perfectly.
There are 9 preset recipes for popcorn, potato, frozen pizza, frozen vegetable, beverage, Dinner plate, Meat/chicken, Meat/beef, and Meat/pork to help you cook these foods with one press of the button.
Samsung MG14H3020CM Countertop Grill Microwave Oven
For all-around exceptional cooking and grilling experience, you can't beat the fully-featured Samsung MG14H3020CM.
This grill microwave oven is beautifully designed. With a shiny mirror design and asymmetric shape, it will add a touch of class and elegance to your living space. The scratch-resistant and easy-to-clean Ceramic Enamel Interior makes the chores simpler.
With 950 Watts of cooking power, it will have your dishes ready in a snap. Also, the 1.4-cubic-foot cavity can easily handle a family's cooking needs.
Most importantly, It features a grilling element with a ceramic plate, allowing you to cook sandwiches, bacon, fish, and other foods for a crispy finish.
There are auto-cook presets which include popcorn, potato, pizza, veggies, and more, so you can prepare these foods without any guesswork. Overall, this is one of the best alternatives to rotisserie microwaves you can buy today.
Farberware Black FMO10AHDBKC Microwave Oven

This microwave oven from Farberware Black would be the best option for people who love to grill, bake, and air fry.
The microwave oven offers 4 cooking functions to air fry, grill/combination, microwave, and low-temp cook, so you can achieve versatile cooking results with one appliance.
The air fry technology provides a healthier way to make deep-fried foods. You can use the air fry function to easily make yourself some snacks for the movie night.
The grill function allows you to crisp salmon fillets, grill some bread, or bake a chicken for dinner. You'll also love the fact that the grill function can be used in combination with the microwave. They will give you the speed of the microwave and the crust from a convection oven.
RELATED READING: Microwave Ovens for Baking (Top Picks, Pros & Cons)
There's a low-temp cooking control included as well. It offers five levels of low-temp cooking that lets you slow cook, dehydrate foods or just keep foods warm.
Featuring 11 auto-cooking programs, the alternative to rotisserie microwave enables you to cook your favorite foods with one push of a preset button.
Farberware Black FMO12AHTBSG Microwave Oven with Grill
This countertop grill microwave by Farberware Black is extremely popular because it adds convenience and style to your kitchen at a more affordable price.
The very first thing you'd notice about this grill microwave is its premium black stainless steel finish. It's not only nice looking, but also helps reduce fingerprints and smudges.
The microwave oven boasts a 1.2 cu. ft capacity to accommodate a big batch of foods, and the impressive 1100-Watt cooking power for fast cooking.
It has thaw and sensor options, so you can reheat or cook certain food items with one press of the button, and no guesswork needed!
Most Crucially, it comes with a unique grill function, so it will do a good job on the tasks of achieving a perfect crispy crust and outdoor grill-like texture.
A few nice features on this alternative to rotisserie microwave include multi-stage cooking functionality, energy-saving mode, Interior LED lighting, and more.
Samsung ME21K7010DS Over-the-Range PowerGrill Microwave

The Samsung ME21K7010DS is a fantastic pick if you're after a powerful microwave oven for family use.
The over-the-range design saves you plenty of countertop space.  With a stainless steel finish and a scratch-resistant Ceramic Enamel Interior, the unit is surely going to age beautifully.
It cooks at a full 1000 watts and offers 2.1 cu. ft. capacity, which makes it capable of handling the cooking tasks of a big family.
What really makes it a great alternative to rotisserie microwave is its PowerGrill feature.  It enables you to make outdoor grill-like meats, chicken, and many other food items.
For your further convenience, the microwave features sensor cooking options, so you can effortlessly cook a wide range of foods for optimal results.
The 400CFM ventilation system is powerful, with a simple clean filter also. It removes steam and odors from your kitchen while allowing you to clean the filter with ease.