If you're looking for a microwave in the market, you might have already come across Proctor Silex. Proctor Silex offers a range of microwaves that are compact and affordable.
But with so many budget microwave ovens available today, should you buy a Proctor Silex microwave? Can microwaves under $100 be any good? And also, which Proctor Silex microwave is the best for you?
Here's what to know about the Proctor Silex microwaves. And we reviewed the most popular Proctor Silex microwaves to help you find the model that's best for you!
Proctor Silex Microwaves Review 2023
Proctor Silex 700 Watt Microwave Review: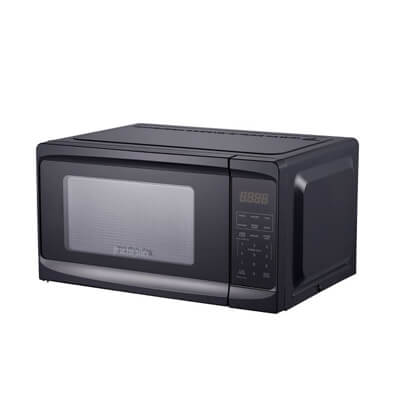 The 700 Watt Microwave is Proctor Silex's most compact microwave oven. Therefore, it would be ideal if you have constraints of space in the kitchen. It would also make a perfect choice for mobile homes, boats and dorm rooms.
Though it's compact, it can still fit a variety of dishes with the 0.7 cu. Ft. capacity. Instead of having dial knobs like many inexpensive microwaves do, it has electronic controls that are easy to use.
And the digital play above the control panel is easy to read so that you can easily tell how much cooking time is left.
You can seamlessly fulfill your daily cooking tasks using the 10 power levels. Also, you will be able to monitor your food while cooking thanks to the interior light.
Proctor Silex 0.9 cu ft 900 Watt Power Microwave Review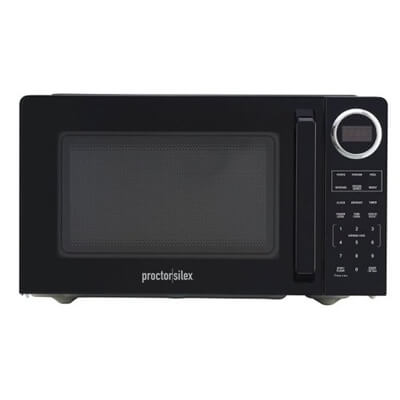 First up, the Proctor Silex 900 Watt microwave is a nice-looking unit with a modern design. It's also very compact, so it won't take up much valuable kitchen space.
But what really caught our eyes in the first place is the price. It is for $79.99 on Target and $107 on Walmart at the moment we review. It's definitely a good deal for a 0.9 cu. Ft. microwave.
It has a capacity of 0.9 cu. Ft., which will be sufficient to serve a small family. Of course, there are 11 power levels to help you prepare foods easily and effectively. There are auto cooking options allowing you to cook potato, popcorn, pizza and more with one press of the button.
Proctor Silex 1.3 cu. ft. Microwave Oven
This 1.3 cu. Ft. microwave is one of the more attractive options from Proctor Silex. It is black on the front, with a stainless steel finish.
A stainless steel finish is always something we will look for in a microwave. It will make the microwave more durable and easy-to-clean. The door handle is firm and easy-to-grasp.
It comes in a compact frame, so it could easily fit in your kitchen counter. However, you will be able to make dinners for four or more people with its 1.3 cu. Ft. capacity.
Also, you will enjoy cooking with the glass turntable, which is easy to clean and provides even cooking results.
The control panel is straightforward and easy-to-understand, so you won't need to spend much time figuring it out. The large LED display is easy to read.
There are considerate features like interior light and child safety lock. These features would further improve your cooking experience.
Should You Buy a Proctor Silex Microwave?
As always there are plenty of other microwave ovens to choose from, but we will say the Proctor Silex microwaves are some great options. Proctor Silex is an American company out of Glen Allen, Virginia. The Proctor Silex microwaves Unlike other budget microwaves, many of those are from China, Japan and other districts.
RELATED READING: What microwaves are made in the USA?
Overall, the microwaves from Proctor Silex tend to be more affordable, so you can save yourself some cash. And just because they are inexpensive doesn't mean that they will be inadequate. They are a good combination of price, build and features.
However, the obvious limitation of the Proctor Silex microwaves is the fact that it just doesn't have the smart features. Smart features like sensor cooking are so useful in our daily cooking process.
Despite that, we did really like the popular Proctor Silex microwaves we've reviewed. If you are looking for a quick way to get the job done, and you don't want to spend extra money, the Proctor Silex microwaves will be great options for you. That said, don't buy Proctor Silex microwaves if you are willing to invest more on a microwave for premium features.
For that, take a look at our Galanz 3 in 1 Microwave Review, which is slightly more expensive but will offer more features and convenience.