Microwave ovens are a common household appliance. The Proctor Silex and BLACK+DECKER are two reliable brands in the field of microwaves.
However, How do they stack up against each other? Proctor Silex vs Black and Decker, which one should you buy?
Read on to see which one is better for you!
Proctor Silex vs Black and Decker: Similarity
Both Proctor Silex and BLACK+DECKER make microwave ovens aimed at the household market. They both have a nice reputation in making quality microwaves.
Their options are mostly countertop models. Also, they both offer reliable compact microwaves, mostly ranging from 0.7 cu. Ft. to 1.3 cu. Ft.
Therefore, if you're looking for a microwave oven for individuals and small families, you could find a great option from these two brands.
Proctor Silex vs Black and Decker: What are the key differences?
This is actually where it gets interesting. While both Proctor Silex and BLACK+DECKER provide users with quality microwave ovens. They have some differences too.
The price is naturally what we consider when choosing a kitchen appliance. The price range of BLACK+DECKER microwaves is roughly from $89.99 to $279.99. And most Proctor Silex microwaves range from $54.99 to $109.99.
If you are tight on budget, you would find a perfect option from Proctor Silex. Proctor Silex offers quality microwaves at a more affordable price tag.
On the other hand, the BLACK+DECKER microwaves are a bit more expensive than Proctor Silex microwaves. But, you will have more premium features when investing in the more expensive ones.
BLACK+DECKER actually did a pretty good job with providing microwave ovens with different capacities. You can find a compact 0.7 cu. Ft. microwave from its product line. And larger microwaves with 1.6 cu. Ft. capacity are also available.
However, it seems that Proctor Silex focuses on compact microwaves. You could get the compact 0.6 cu. Ft. microwave from Proctor Silex. If you are after a solution for big families, Proctor Silex just doesn't have it.
That said, when comparing their product lines before you actually place an order, you need to consider your use scenario first.
You could find great options if you are looking for a microwave oven for camping, individuals, dorm rooms, mobile homes and even boats. However, if you're looking to cook big meals that will feed a crowd, you should look at BLACK+DECKER first.
When we categorize microwaves into different categories according to their placement, the most common ones are countertop microwaves and over-the-range microwaves.
Both BLACK+DECKER and Proctor Silex have various countertop microwave oven options. But, BLACK+DECKER actually have a wider range of microwave lines than Proctor Silex.
If you're on the market for an over-the-range microwave, BLACK+DECKER will have it. And they are highly rated and popular as well. Proctor Silex, on the other hand, have their eyes on countertop microwave ovens only.
Proctor Silex vs Black and Decker: Some Final Thoughts
Proctor Silex and BLACK+DECKER are some of the well-known brands on the market today. When it comes down to reliability and quality, both of them are favorable.
However, there are some key differences between them, as we mentioned above, you will need to take into consideration, like the price, the capacity and more.
So at the end of the day, if you are looking for an affordable microwave that gets the job done, our recommendation is to go with Proctor Silex. Therefore, you could save yourself some cash.
RELATED READING: Best Microwaves Under $50
If you are willing to pay a bit more, we'd recommend going with BLACK+DECKER for they have a wider range of product lines for you to choose from.
All things considered, the debate on Proctor Silex vs Black and Decker ultimately boils down to what you need. And we think it's safe to say that there is no clear winner between Proctor Silex and Black and Decker.
The Most Popular BLACK+DECKER Microwave: BLACK+DECKER EM720CB7
The BLACK+DECKER EM720CB7 is a great microwave oven that's available at a wallet-friendly price. It's a countertop microwave that suits a variety of needs.
The stainless steel finish makes the unit durable and looks modern. You can feel the quality of this unit as soon as you lift it out of the box, which is quite rare for affordable microwave ovens.
The manual interface is intuitive to use, which includes a large LED digital display and an easy-to-read control panel. It can fulfill your daily cooking needs with the 0.7 cu. Ft. capacity and 700 Watts of cooking power.
It can make well-done dishes and evenly reheat foods with the 10" glass turntable. The turntable is removable so you can easily clean spills.
There are pre-programmed buttons for popcorn, potato, pizza, frozen vegetable, beverages and dinner plate. They will provide you with great convenience during daily cooking.
The Most Popular Proctor Silex Microwave: Proctor Silex 0.9 cu ft 900 Watt Power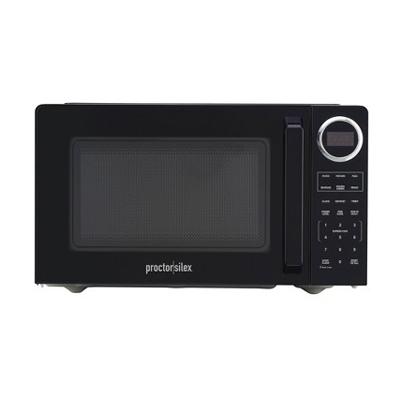 This Proctor Silex microwave is also budget-friendly. It's a well-built microwave with a compact footprint, so it's perfect for apartments and dorm rooms. At the time we reviewed this unit, it's for $104.71 on Walmart. It's such a great deal for a quality microwave oven with 0.9 cu. Ft. capacity.
Its buttons are large and easy to understand, too. You can easily navigate the unit as long as you get your hands on it.
Thanks to its 900 watts of cooking power, you can prepare dinner meals in a short time.
The large display on the control panel lets you easily tell how much cooking time is left. Its preset menus for common dishes make it great for daily cooking.