The standard microwaves are just not designed for left-handed people. With the door handle and control panel on the right side, most microwave ovens on the market today clearly don't make life easier for the left-handed.
Is there any microwave for left-handed people? Where to buy a microwave oven for the left-handed?
Read on to learn more…
What Is a Microwave for Left-Handed?
A microwave for left-handed should allow left-handed users to more naturally and conveniently use it for daily cooking needs.
Design-wise, a left-handed microwave would have the hinges on the right-hand side, which means the microwave door swings to the right. Also, it's ideal to have the controls placed on the left side.
Where to Buy a Microwave for Left-Handed?
Unfortunately, through our research, we found that dedicated microwaves for left-handed use are still rare in 2023.
Most left-handers have to settle for a microwave designed for right-handed, which is not very satisfactory.
Fortunately, there are alternatives to microwaves for left-handed, which can really make a difference for the convenience and possibilities in cooking.
The best alternatives to delicate microwave ovens for left-handed are microwaves with drop-down door and microwave drawers.
With controls on the top and a door that opens on the bottom, these microwaves would be the best fit for left-handed people for now.
Best Alternatives to Left-Handed Microwaves
When you are paying a bundle for an appliance, why compromise on comfort? If you're looking for a microwave for left handed, you should check out these top-rated alternatives to left-handed microwave oven.
SAMSUNG PowerGrill Countertop Microwave Oven
Perfect for everyday cooking, the SAMSUNG MC11K7035CG/AA will offer you the convenient operation with quality build.
Not only does it works great, it looks incredible too. The all-black, time-less look make it easily fit in your existing interior design.
The Samsung microwave is rich-featured, so you can achieve all kinds of cooking results with it. With the microwave cooking function, you can enjoy fast and even cooking.
Enjoy multi-textured food? Then you will love the Power Convection Technology of this unit. It can keep food crispy on the outside without drying inside by combining the traditional convection cooking with powerful hot air.
And the PowerGill function offers you added cooking possibilities. It allows you to brown and crisp your food on the outside while maintaining a juicy inside.
Related reading: Best Microwaves with Crisp Function
Another thing we love about this alternative to microwave for left-handed is its ceramic enamel interior. It makes the unit surprisingly durable and easy-to-clean.
Sharp SMD2470AH 24″ Microwave Drawer
The Sharp SMD2470AH microwave drawer is the perfect alternative to a microwave for lefties. It meets all your needs with a reliable, simple to use design.
This microwave oven can be installed below any electric or gas wall oven, or into a kitchen island. Its front-mounted touch controls are angled for easy viewing. Therefore, you can easily operate the microwave without bending over.
Its stainless steel finish will look great with your cabinet and kitchen decor. And it makes the device so much easier to clean.
With a 1.2 cu. ft. capacity, the microwave drawer is large enough to cook a whole frozen pizza, and the 950-watt cooking power helps evenly prepare foods promptly.
It features 12 sensor cooking settings to cook popular foods perfectly, including sensor reheat, popcorn, potatoes and more.
There's also a keep warm feature, so you can hold your dishes warm and delicious for up to 30 minutes.
Sharp KB-6524PS 24-Inch Microwave Drawer Oven
The Sharp KB-6524PS is definitely the best alternative to left-handed microwaves you can buy right now.
It allows you to open the door with a pull of the handle or a touch of the AutoTouch key, so it'd be convenient for the left-handed to access.
The microwave drawer has the control panel on top, thus making it a perfect option for left-handed people.
It comes in a stainless steel finish, which makes the unit long-lasting and easy-to-clean.
The left-handed microwave oven alternative fits in the same space as other Sharp 24-inch models, but its larger interior is tall enough to hold a 20 oz. cup.
This alternative to microwave for left-handed is suitable for family use as well. The 1.2 cubic feet capacity, along with 950 Watts of cooking power, makes the unit capable of handling a family's cooking needs.
It features the sensor cook technology with 11 sensor presets to take cooking guesswork out of your kitchen.
In all, the Sharp KB-6524PS would be a wonderful addition to your kitchen if you're looking for a microwave oven for left-handed.
Samsung MC12J8035CT PowerGrill Duo Countertop Microwave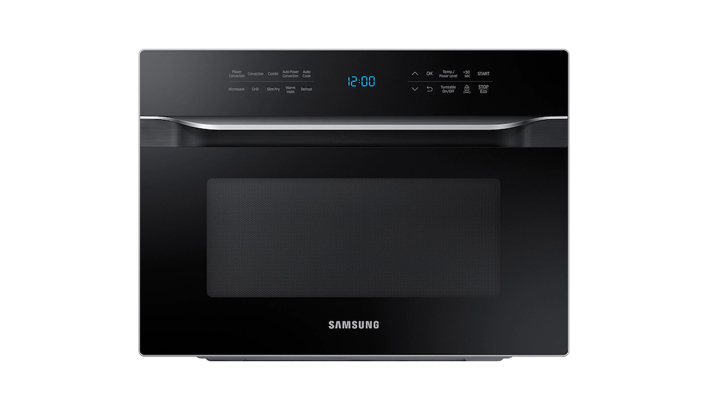 Looking to save a few bucks? The Samsung MC12J8035CT is a more affordable choice that still performs amazingly.
Designed with a drop-down door and a control panel on top, it's also surprisingly comfortable for left-handed people to use.
The microwave can work as both a countertop microwave and a built-in microwave. If you have enough countertop space, it can be placed on the countertop for easy access. However, it can be installed with a trim kit to achieve a built-in look, as well.
The glass touch controls and large Ice Blue LED display provides a seamless design and a clear view of the settings. Also, Ceramic Enamel Interior protects the unit against scratches and ensures easy cleaning.
It comes with a 1.2 cu. Ft. capacity and 1000-Watt of [ower, which can make dinner meals for your family in a flash.
What's more, the left-handed microwave alternative provides great versatility, by offering Slim Fry, Powergrill Duo feature, and more.
The grilling element with a metal round rack and ceramic plate allows you to achieve a browny and crispy cooking result, while the Slim Fry function lets you enjoy deep-fried foods without using oil.
Featuring 10 auto-cook options, the microwave oven enables you to prepare perfect meals with the touch of the button. Other well-thought-out features like Auto Defrost, Preheat, and Eco Mode, are going to come in handy during your daily cooking process.
Sharp SMD2470AS Microwave Drawer Oven, 24-Inch
The Sharp SMD2470AS microwave drawer oven is another easy option for us to recommend to the left handed, particularly those who are looking for a sleek-looking and powerful microwave oven.
Drawer-design offers lefties great convenience without wasting counter space. The edge-to-edge stainless steel finish provides a premium look, so it would look good in any kitchen decor.
The exclusive Easy Touch Automatic Drawer system allows for easy open and a hands-free close when your hands are full.
The alternative to left handed microwave oven comes with a concealed control panel that opens to an easy-to-read and easy-to-operate 45° angle, so you don't have to bend over with your head towards the controls.
It accommodates almost every household, too. If you've got a whole family to feed, it can easily cope with your cooking requirements with its large 1.2 cu. Ft. capacity.
Still, the microwave drawer can cook at 1,000-Watt of cooking power, which is powerful enough to prepare big meals in a short time.
With 6 auto defrost settings, sensor cook, sensor reheat and popcorn settings, you can cook a wide range of foods for optimal cooking results without any guesswork. This results in extremely easy defrosting, reheating, and cooking.
Wrap Up
Unfortunately, microwaves for left-handed and microwave with right-hand hinge are still rare on the market.
Again, you don't have to settle for a right-handed microwave oven, or let the right-handed microwaves stop you from making quick and easy meals.
The microwaves with drop-down door and microwave drawers can help you in this regard, so give them a try and a spot in your kitchen.