If you, or someone you know, have poor eyesight, then using a regular microwave with small buttons could be inconvenient and dangerous sometimes. Fortunately, there are lots of new microwave options out there in 2020 for those who are blind or visually impaired, and we're happy to help you to choose a microwave oven that can help blind people to microwave their food without any problems.
We will guide you through the key features of a good microwave for people who have bad vision and we will list some models that are a perfect fit for them. If you have no time to read, here is a chart for you to choose quickly.
Top Choices for Blind Person
What Makes A Microwave Great for The Visually Impaired?
Smart Sensor
A microwave with a smart sensor cooking function can significantly reduce the cooking complexities when using the microwave. A good built-in smart sensor will detect the humidity and temperature of the food during cooking, and the microwave will decide if it should continue to heat the food.
With a smart sensor microwave, people do not need to monitor your food by yourself and you basically just need to put the food inside the microwave and wait until it is done. Therefore, this feature is very friendly for blind or visually impaired people since pressing several buttons in a row might be not very convenient for them.
Voice Control
Buying a microwave that supports Google Assistant or Amazon Alexa for people who have a bad vision is a good idea.
Thanks to the smart home industry, now microwaves are able to communicate with people directly through their voices. Imagine you can skip the control panel and just tell your microwave:" Hey, cook my dinner." Besides, a wifi-enabled voice-controlled microwave allows people to give more commands such as setting cooking time and reheating frozen food.
People who are visually impaired can even ask their smart microwave now about how to cook their meals and start to make their own meals by using their voice without any help from others.
Big Knobs
If you are looking for a microwave for a blind person and prefer a traditional way to use the microwave, microwaves with big knobs may be a good choice. With big knobs, blind people do not need to figure out what every buttons' position when they just want to heat up their food simply.
By using a microwave with big knobs, blind people just need to rotate the knob to set the heat and the time. Moreover, this type of microwave is usually more affordable than those smart microwaves. If you just need a simple microwave for someone who is visually impaired, choose a microwave with big knobs.
Best Microwave for The Blind And The Visually Impaired in 2020
We know it is hard to use a microwave in the kitchen when people have poor vision, and these microwaves are the most friendly models for those who have bad vision or even no vision.
Toshiba ML-EM34P(SS) Smart Countertop Microwave Oven
Reasons to Buy:
Voice Control
Built-in Smart Sensor
23 Preset Menus
Toshiba ML-EM34P(SS) is a microwave oven that keeps it easy for the Blind and visually impaired to make easy meals.
The unit is as the name says — a smart microwave oven, and keeps its usefulness to the max with a voice control feature.
When paired with an Echo device, the blind or visually impaired can simply control the microwave with voice commands.
The 1.3 cu. ft. microwave is durable and easy to clean with the stainless steel finish. Also, the easy-to-grasp door handle makes it easy to open, even for seniors.
The blind or the visually impaired can rely on the ease of use with the smart sensor. The built-in sensor will detect the humidity emitted by the food item and adjust cooking settings accordingly for optimal cooking results.
Other main features include 23 preset menus, sound on/off function, energy-saving mode and more. All these thoughtful features ensure you pleasing cooking experience.
AmazonBasics Microwave
Reasons to Buy:
Voice Control
Ask Alexa Button
Simplicity could be the key in your decision, and if so, the AmazonBasics microwave is an excellent choice.
It's Alexa compatible, meaning that it allows for hands-free operation when paired with an Echo device. Therefore, setting cooking power and time is as simple as possible, even for the blind and visually impaired.
With the Ask Alexa button, you get the ability to start the microwave using your voice. For instance, just press the Ask Alexa button, and say "5 minutes". The paired Echo device will be activated and start the microwave according to your commands.
There's also a door handle than a push button, which would prove easier to use. The compact size can fit in a corner easily, and save you considerable countertop space.
And the safety lock can prevent accidental access and operation, making it a safe appliance to have in the kitchen.
All in all, it's a simple microwave oven for blind people, but it's very good at what it does.
Commercial Chef CHMH900B6C Countertop Microwave Oven
Reasons to Buy:
Compact Size
Dial Controls
Removable glass turntable
900 Watts with 6 Power Levels
Unlike the models we talked about above, this isn't a smart microwave oven. It has two large control knobs that make it easy to set power level and cooking time, even if users' eyesight is deficient.
It packs a smaller 0.9 cu. ft. capacity, but it's more than enough and handy for easy microwave reheating and cooking.
As you would imagine, the microwave for blind people also has a removable glass turntable which helps you evenly prepare foods.
Speaking of which, the versatility it offers is pretty decent as well, and 6 different power levels should be good enough for a wide range of dishes.
Commercial Chef CHM660B Countertop Small Microwave Oven
Reasons to Buy:
Affordable
Rotary Dial Controls
Compact Size
Removable Glass Turntable
If you're looking for an even smaller microwave for blind people, the Commercial Chef CHM660B is going to be your best bet.
This small microwave is available in black and white, and it's built with durable strong construction.
And the two rotary dial controls make it easy to operate for those who have vision problems. It's a simple phone, but it's very good at what it does.
To ensure you won't find any cold spots in your dishes, the microwave for blind people includes a removable glass turntable for evenly prepared dishes.
Other features like an easy defrost function, as well as multiple power levels and an easy-to-grasp door handle, are also present here.
Whirlpool WMH78019HZ Smart Over the Range Convection Microwave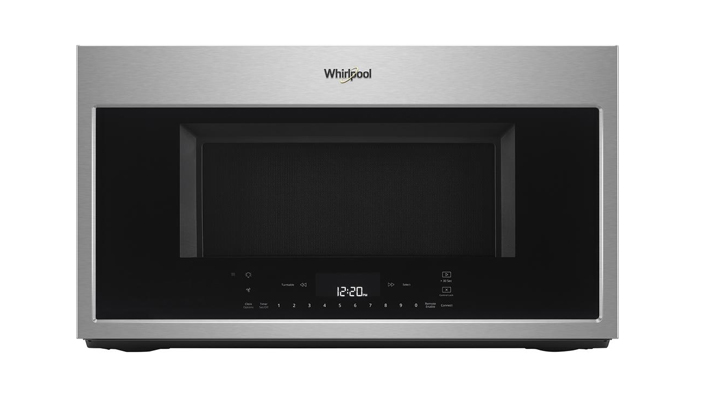 Shop at Walmart Shop at Home Depot
Reasons to Buy:
Compatible with Alexa and Google Assistant
Smart Appliance
Sensor Cooking
Control Safety Lock
Whirlpool WMH78019HZ is the best over-the-range microwave for blind people with its smart features.
With the Alexa and Google Assistant compatibility, it's easier for people with a vision disability to use the microwave oven. When paired with a smart home device, you can easily cook or reheat dishes with voice commands.
A smart appliance is available, which allows you to send cooking commands to the microwave oven from your smartphone.
It also has a built-in smart sensor. This can be very useful for the visually impaired as it takes the guesswork out of the cooking process. Therefore, you can rely on it for best cooking results.
There's a control lock mode included, so you can lock the control panel via smartphone or tablet to prevent accidental operation.
Cafe CVM721M2NS5 2.1 cu. ft. Smart Over the Range Microwave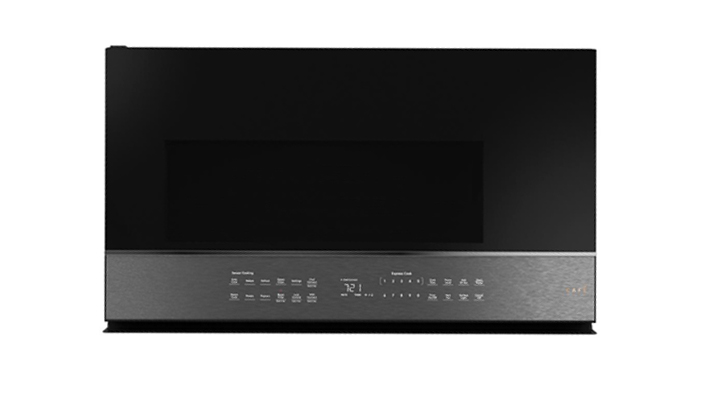 Shop at Home Depot
Reasons to Buy:
Voice Control
Smart Appliance
Smart Sensor
Easy-to-Clean Enamel Interior
Cafe CVM721M2NS5 is one of the best over-the-range microwave ovens for the visually impaired and blind.
As the features offered by the microwave are very helpful and come around as easy to use for a person with vision problems.
Apart from the basic functions of convenience cooking controls and easy defrost function, it offers a smartphone app that allows you to send commands remotely.
And sending cooking commands has never been easier when it's paired with a smart device.
The smart sensor will provide the visually impaired with the easiest way to cook, as it can automatically adjust the cooking settings for optimal cooking results.
The easy-to-clean enamel interior with steam clean makes it a breeze to keep the unit clean and fresh. All in all, it's a decent model to consider.
Related Reading: How to Clean Microwave Ovens with Baking Soda?