The best microwaves with big buttons are easy to read, accessible, and don't require users to spend hours reading the user manual before they can start cooking.
This doesn't mean they have to sacrifice their aesthetics or features. A simple microwave with large buttons can be fully-featured and nice-looking as well.
With all the options available to buy, what should you prioritize when shopping for a large button microwave oven?
In this detailed buying guide, we'll list the factors you should focus on. Also, we've rounded up the best microwaves with big buttons that meet the criteria.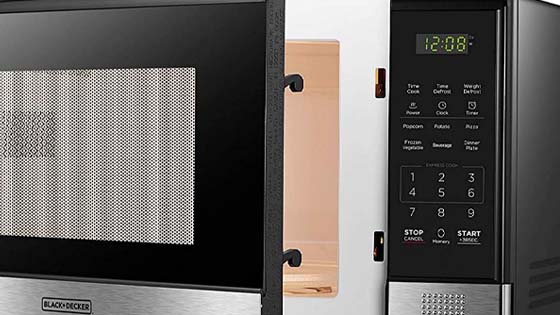 Contents:
Microwaves with Big Buttons: Top 5 Large Button Microwave Reviewed
For our reviews, we selected big button microwaves that are easy-to-use and high-quality. Each model is also specifically designed for different lifestyles.
Read on and find the best one for you and your family!
Best Microwave with Big Buttons Overal: Toshiba EM925A5A-BS
The model's simple design, useful features, and easy-to-grip door handle make it one of the best microwave ovens with big buttons in the market.
This stylish stainless steel microwave oven has a simple and timeless outline. With an easy-to-grip door handle, one can easily and quietly close and open without disturbing anyone.
It has large control buttons on the front, which are easy-to-read and intuitive. Seniors and those with visual challenges will appreciate the large buttons.
With a capacity of 0.9 cu. Ft., it's big enough to fit a full-sized dinner plate and to serve a small family. The 900 Watts cooking power with 10 power levels can handle all the cooking requirements of a small family as well.
It features 6 preset buttons that work perfectly. They allow you to cook or reheat popular food items simply with one press of the button.
For those who mainly use microwaves for defrosting, an auto defrost function is extremely nice to have. The microwave lets you effortlessly defrost frozen foods by time or by weight.
The microwave oven with big buttons can be locked to prevent accidental access or operation — a feature that gives you peace of mind, especially when you're living with children.
Easiest-to-Use Microwave with Big Buttons: Galanz GLCMKA07RDR-07

The Galanz GLCMKA07RDR-07 is an easy-to-use microwave with big buttons and thoughtful features.
For seniors and users who want to keep things simple, fewer buttons and fewer choices can be a relief. It has only 5 big buttons on the control panel, all marked with easy-to-read text. Also, there is a dial knob that you twist to the right for minutes and to the left for power levels.
That's all that you got for cooking settings, so the microwave is surprisingly easy to get used to.
The compact microwave comes with 0.7 cu. ft. of capacity and 700 Watts of output power, which is functional for individuals and small spaces.
What distinguishes this small microwave with big buttons is the design. The hot rod red color is beautiful and the retro style makes it even more special. It would be a fun and practical addition to any kitchen.
The 9.6'' glass turntable helps you cook food more evenly. And the adjustable power levels make cooking and reheating meals even easier and more convenient.
Best Value Microwave with Big Buttons: BLACK+DECKER EM031MB11

Just because you're looking for a microwave that doesn't break the bank doesn't mean you'll have to settle for mediocrity. The BLACK+DECKER EM031MB11 is perfect for anyone who wants to get the best bang for their bucks, and it's full of handy features to make home cooking easier.
For less than $100, you get 1000 Watts of cooking power with 10 power settings, and a large capacity of 1.1 cu. Ft., which are capable of coping with a family's cooking requirements.
The removable 12.4" glass turntable will let you easily fit a large-sized dinner plate and help you cook food more evenly. And thanks to the large LED display and the big buttons.
Plus, with its 6 preset buttons for popcorn, potato, pizza, frozen vegetable, beverage, and dinner plate, you'll be able to have these popular dishes ready with just one push of a button.
Other thoughtful features like child safety lock, 30 Seconds Express Cooking, interior light, and kitchen timer are included to ensure an enjoyable cooking experience.
Best Budget-Friendly Microwave with Big Buttons: Kenmore 70721

The Kenmore 70721 proves you don't have to spend a lot to get a great microwave oven. With a price tag that won't scare anyone away, the Kenmore 70721 is an excellent microwave with big buttons.
The large button microwave is quite simplistic in its design, making it an easy-to-use appliance for everyone. It has large buttons on the front for cooking settings, all marked with easy-to-read text.
It provides up to 700 watts of cooking power at 10 different levels, and a capacity of 0.7 cu. Ft., which means it'll be a solid option for small spaces, like dorm rooms, office break rooms, and apartments.
Featuring 6 auto-cook options including pizza, potatoes, popcorn, frozen vegetables, soup, and fresh vegetables, you won't have to worry about the cooking settings anymore.
A 9.96″ removable glass turntable is included to make sure your dishes are thoroughly cooked. The easy defrost function lets you defrost frozen foods by weight or by time easily. On the whole, it's an easy-to-use, compact microwave that offers great value overall.
Best Over-the-Range Microwave with Big Buttons: Amana AMV2307PFS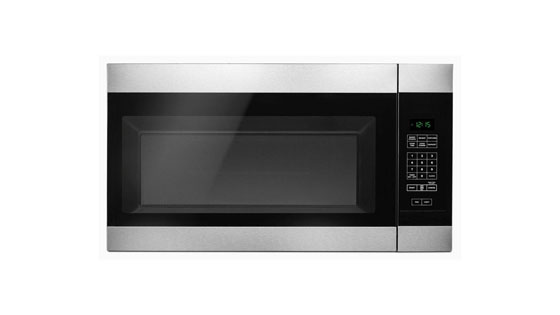 The Amana AMV2307PFS is the rare over-the-range microwave oven that comes with big buttons and a modest price tag. Its modern-sleek design looks amazing in any kitchen.
With a 1.6 cu. Ft. capacity and 1000-Watt of cooking power, the large button microwave oven is big enough to serve a big family, and it's powerful enough to cook big meals quickly.
That said, there is a popcorn button to help you effortlessly have popcorn ready for a family movie night.
Also, there's a quick reheat function that allows you to simply select your food item and quantity, and it will reheat the food for the best results.
One major benefit of the over-the-range microwave with big buttons is that it has a built-in 300 CFM Exhaust Fan with Charcoal Filter. It will help remove smoke and steam, and keep your kitchen clean and fresh.
Microwave with Big Buttons: What to Look for in a Large Button Microwave
Whether you're looking for a microwave with large buttons for seniors, or you just need something easy to read, there are factors you need to consider when shopping for a large button microwave.
1. Ease of Use
We all love a kitchen appliance that is simple, and easy-to-use. Consider getting an easy microwave oven for your kitchen, especially when you're living with senior citizens.
Opt for a microwave oven comes with a straightforward control panel, so you don't need to spend hours reading the user manual and trying to figure out how to warm a cup of coffee.
Some microwave ovens will come with easy-to-understand control buttons, so they'll be very easy to operate and get the job done effortlessly.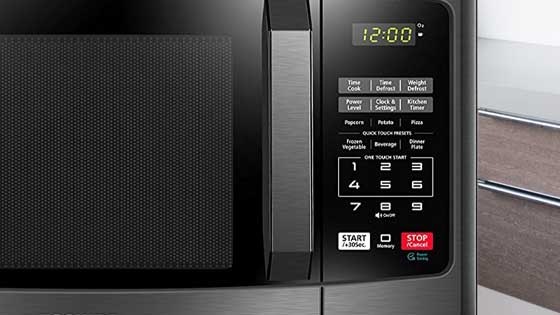 2. Design
The design of a microwave is the first thing you'd notice, and also one of the most important factors you should consider.
If you're mainly looking for a microwave for seniors, spring for a large button microwave that has a door handle.
For the elderly, a microwave with handle is much easier to open than a microwave with push button.
We'd recommend considering big button microwaves with clean design and easy-to-clean interior. This will save you so much time cleaning and maintaining the unit in the long run.
3. Cooking Versatility
While microwaves with big buttons should be easy to use, this does not mean they should sacrifice the cooking versatility.
Take a step further to make sure that the model you're getting will offer you the cooking versatility you need.
For family use, spring for a microwave oven that has a cooking power no lower than 900W and a capacity of larger than 0.9 cu. Ft, so you'd rely on the microwave for all kinds of meal preps.
However, if you're looking for a model that works efficiently for individuals, a 0.7 cu. ft. microwave with 700W power should be fine.