Have you ever felt you're short for cooking space when needed to reheat a large size dinner plate? Want greater versatility to fit in containers of any shape? It's time to step up your game with a microwave without turntable.
There are many options available across the board. Yet it can be tricky to choose a reliable microwave without turntable amongst them all.
In this article, you'll learn about the pros and cons of microwave ovens without turntable, and the best microwaves without a turntable you should consider.
Microwaves without Turntable Recommendation: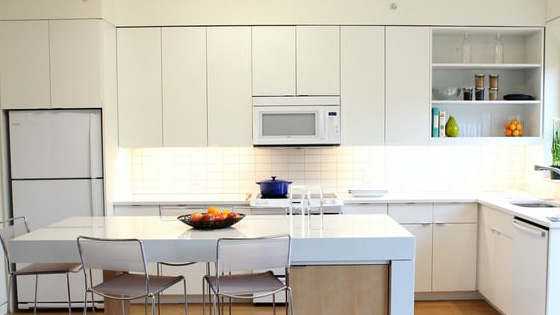 CONTENTS:
1. How does a microwave without turntable work?
2. The Pros & Cons of Microwaves Without Turntable
3. Top 5 Microwaves Without Turntable to Buy Today
How Does a Microwave Without Turntable Work?
MIcrowaves with turntable and microwaves without turntable both have the rotating motor inside the appliance.
The rotating motor of a microwave with turntable drives the glass plate, while the rotating motor of a microwave without turntable drives the stirring blades hidden under the flatbed.
The stirring blades help to distribute microwaves generated by the microwave oven to food items, so they can be evenly cooked without physically spinning the food.
Microwaves Without Turntable: the Pros & Cons
When compared with microwaves with turntable, microwave ovens without turntable has its own advantages and disadvantages.
Let's explain the pros and cons to help you decide if you should get a microwave with or without turntable:
ADVANTAGES OF A MICROWAVE WITHOUT TURNTABLE:
Microwaves without turntable usually have a spacious interior and offer you a larger cooking volume and better flexibility, which means you can heat more than one dish at once, or you can easily fit in awkwardly shaped containers.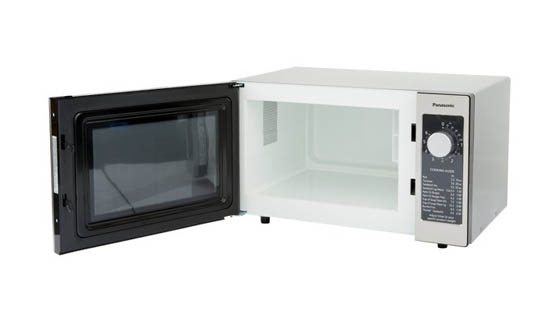 Without a glass turntable or the rotating motor, microwave with a flatbed is so much easier to clean.
Without the need to spin the food when cooking, you can expect less or even no splashing of the food.
DISADVANTAGES OF A MICROWAVE WITHOUT TURNTABLE:
Even with the hidden stirring blades, not all microwaves without turntable doesn't guarantee perfectly even cooking results as microwaves with turntable. That's why you should be careful with your purchasing decision when it comes to microwaves without turntable.
Should you buy a microwave without turntable? Well, it depends. If you're looking for a microwave for a restaurant, office lunchroom or other commercial use, a microwave without turntable will be a solid option.
Firstly, in commercial use scenarios, users usually don't have time to clean the microwave every time they finish cooking. Microwaves without turntable make it easy enough to clean up the spillovers, and keep things neat and tidy.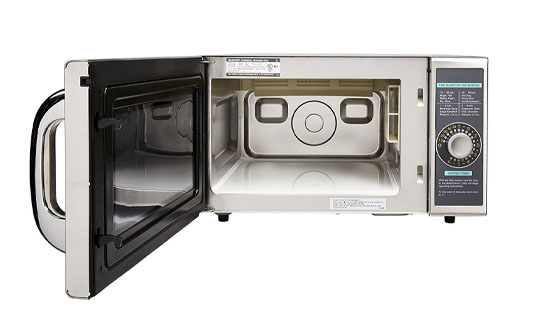 Secondly, there won't be a removable glass turntable to break. When faced with high-volume use, good chances are a glass turntable could be broken in a flurry.
Furthermore, a microwave without turntable is able to satisfy different people's cooking needs by easily fitting in dishes of any shape and offering extra cooking space.
5 Best Microwaves Without Turntable You Should Consider
We evaluated the microwave ovens without turntable on its cooking capacity, features, quality, and more. Also, our top picks for microwaves without turntable can cook food evenly and offer great value for its price range.
Ahead, we've rounded up the most reliable and best value microwaves without turntable to help you with your decision.
Panasonic Consumer NE1025F Commercial-Grade Microwave
Best Microwave Without Turntable Overall
The Panasonic microwave without turntable is stylish and sleek with its stainless steel front and easy-to-grisp door handle.
The heavy-duty microwave oven without turntable by Panasonic is a commercial-grade model that is able to withstand high-volume use, making it a perfect choice for those who frequently use the microwave for various cooking tasks.
The no-turntable design and bottom energy feed maximizes the cooking efficiency by minimizing the distance microwaves travel to reach the food items, meaning it can heat and cook food quickly.
Having no turntable inside the microwave also means it's easier to clean, and having less sloshing of your food.
The controls of the microwave with no turntable are easy to use and well thought out. The dial knob control allows for easy selection of cooking time so you don't have to press a button so many times to get to the settings you desire.
All in all, the microwave oven without turntable is high-quality, easy-to-use, heavy-duty, easy-to-clean, and everything a microwave without turntable should be.
Sharp R-21LCFS Commercial Microwave
Best Medium-Duty Microwave Without Turntable

If you've been searching for microwaves without turntable on the market, you must be familiar with the brand Sharp. Sharp has been providing high-quality electronics for decades, ranging from Microwaves to Air Purifiers.
The microwave oven without turntable comes with a stainless steel interior and exterior wrap, making it extremely easy to clean up and maintain its sleek appearance.
This 1000-Watts microwave without turntable by Sharp boasts a 1.0-cubic-foot capacity, which means it can cope with a 13-1/2" platter, prepackaged foods, single servings, or a half-size pan in either direction.
The big, easy-to-read dial control makes it even easier to quickly set the cooking time, even for seniors or people with eyesight problems.
READ ALSO: Simple Microwaves for Senior Citizens
The auto-cancel timer would bring great convenience to daily cooking. When the microwave door is open during cooking, the remaining time will be canceled, which helps to save energy and increase the magnetron's life.
Midea Equipment 1025F0A Countertop Microwave Oven
Easiest-to-Use Microwave Without Turntable
If you're looking for a microwave that is easy to navigate, look no further. This model by Midea is the best microwave without turntable for those who want to keep things simple.
The straightforward dial control lets you effortlessly set the time, saving you the frustration of pressing a bunch of buttons to set the desired cooking time.
Equipped with no rotating glass turntable, the microwave is still able to heat food evenly and quickly.
Although it's compact in size, the 0.9-cubic-foot microwave still has enough space for a 12" platter or 6" ½ H or X Pan with cover.
The stainless wrap and interior makes the microwave match all the kitchen styles, and ensures easy cleaning.
Another big plus of this model is its interior cavity light. It allows you to clearly see your food as it cooks.
Panasonic Consumer NE1054F Countertop Microwave
The Panasonic countertop microwave without turntable is a solid performer in a compact size. It takes up minimal space on countertops, yet being able to cope with high volume operation.
The bottom energy feed feature enables the microwave cook and reheat dishes quickly and thoroughly, even without a turntable plate.
The overall stainless steel design with a grab & go door handle not only makes it look good in any space, but also ensures effortless performance and long-lasting durability.
Plus, the touch-control keypad of the microwave without turntable includes braille lettering, which ensures easy access and usage for people with vision problems.
Equipped with 6 power levels and 2 & 3 stage cooking, the microwave without a glass turntable can handle various cooking requirements.
A big plus of the microwave without turntable is the programmable control pads. It allows you to conveniently save up to 20 recipes in the program.
Sharp R-21LVF Medium-Duty Commercial Microwave Oven
Our favorite part of the Sharp microwave without turntable is the sturdy built – stainless steel interior, exterior, and door, which makes it a breeze to clean the microwave from the inside out.
With a capacity of 1 cu. Ft. and the power output of 1000 watts, the microwave oven without turntable is powerful enough to easily cope with basically all cooking needs.
If you appreciate quietness as we do, you'll be amazed by how quiet it is when it's operating. It has the sound on/off mode, allowing you to turn on or turn off the microwave buzzer as you desire.
Although there is no rotating glass turntable inside the microwave, it is able to cook dishes evenly, and offers greater flexibility to fit in containers of different shapes.