If you're in the market for a reasonably-priced over-the-range microwave oven, chances are good that you'll run into the Maytag MMV1175JZ, for it's quite a popular option recently.
Retailing for $349.00, it's not as high-priced as many other over-the-range microwaves these days. Still, it's a considerable amount of money to spend.
In today's review, we'll look into the key specs, features, and performance to see if it's a good buy.
Jump to:
Maytag MMV1175JZ Microwave Oven Review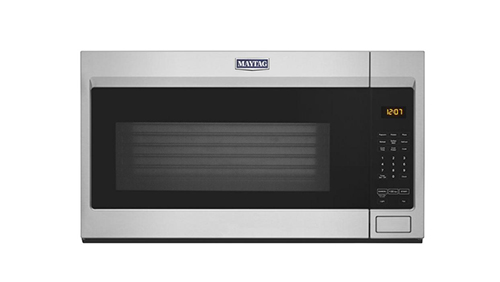 1. Design
Design-wise, the edge-to-edge stainless steel provides a high-end look, so it will add a touch of class to your kitchen.
The fingerprint stainless steel finish is not only easy on the eyes, but also makes the unit durable and easy-to-clean.
The black, stainless steel surface features a large LED display, an easy-to-understand control panel, and a push button, which contributes to a seamless look.
The push-button lets you easily open the door with a push of the button with your wrist or elbow, so you won't contaminate the appliance when your hands are full of food ingredients.
Behind the door, there's a stainless steel cavity that can handle heavy use for years of microwaved meals, and is extremely easy to clean.
Also, there's a 2-level interior light that allows you to clearly see what's happening inside while cooking.
2. Size & Capacity
It's 15.56 inches in depth, 17.13 inches in height and 29.94 inches in width, so this unit is going to be a better fit for family kitchens, rather than a dorm room or studio apartments.
Similar to other large-footprint microwave ovens, the Maytag MMV1175JZ has a spacious capacity to cook a good size of foods. With 1.9 cu. Ft. of cooking space, the microwave can handle a medium to large family's cooking requirements.
Within the unit, you can find a glass turntable that measures 12" across. The turntable moves quietly and smoothly, so there won't be much noise when it's operating.
This turntable helps distribute and circulate the microwave radiation all around the food, and this results in evenly and perfectly prepared foods.
The only minor niggle is that you don't have an option to turn off the turntable. Hence, you can't turn off the turntable to prevent spills or to fit an awkwardly shaped container when you need to.
3. Cooking Power
Its powerful performance is one of the greatest selling points of the Maytag MMV1175JZ microwave.
This over-the-range microwave cooks all kinds of food with the help of 1000 Watts of cooking power and 10 power levels.
Put in a frozen pizza or a big bowl of soup, and you can expect it to be served in the twinkling of an eye.
4. Preset Menus
To take all the sting out of your cooking process, there's a wide range of pre-programmed cooking settings to help you cook with ease.
Whether you want perfectly prepared popcorn, potato or pizza, take full advantage of the preset menus. You can reheat or cook a variety of popular foods without any guesswork.
5. Multi-Speed Exhaust Fan
The built-in 300 CFM ventilation system can operate at 2 speeds, which is not as powerful as standalone vent hoods out there. Still, it can get the job done.
The exhaust fan enables you to prepare your favorite dishes without worrying about the smoke, steam or smell, thus your kitchen will stay fresh all the time.
It also comes with a pre-installed charcoal odor filter that is easy-to-clean. The fan draws smoke and moisture to the grease filter and prevents cooking odors from lingering around your living space.
6. 10-Year Limited Parts Warranty
What really sets the Maytag MMV1175JZ apart is its 10-year limited parts warranty. It offers a 10-year limited warranty on its cavity and magnetron, which you won't find in most of its competitors.
Maytag MMV1175JZ Microwave Review: The Pros & Cons
What we like about the Maytag MMV1175JZ microwave:
Maytag MMV1175JZ offers a remarkably generous capacity that allows you to make big-batch meals for your family.
The fingerprint-resistant stainless steel exterior and interior make it long-lasting and easy-to-clean.
A broad spread of thoughtful features, such as preset menus, child safety lock, and kitchen timer, will simplify your cooking or reheating process to a great extent.
The interior light is bright enough to shine the whole cooking area, so you can easily see your dishes as it cooks.
The charcoal odor filter that comes with the ventilation system can remove high airflow odors and steam. Therefore, you'll always have a clean and fresh kitchen.
What we don't like about the Maytag MMV1175JZ microwave:
There are only 2 speed levels for the venting system.
An option to turn off the turntable isn't available.
Maytag MMV1175JZ Microwave Review: The Final Verdict
RATING: 86%
For basic cooking requirements like reheating leftovers and making easy microwave meals, it can effectively get the job done. And with the stainless steel finish from the inside out, it will remain in a good shape after years of use.
$349 (MSRP) is a considerable amount of money to spend on a microwave. But it's still less than a lot of over-the-range microwave ovens out there.
Also, considering that it's a high-quality microwave and vent hood combo, it's still a bargain. That said, the Maytag MMV1175JZ is a solid option if you're looking for an over-the-range microwave for your kitchen.