Let's face it, sometimes the complexity of the newer appliance makes cooking more complicated for seniors than it should be.
With microwaves for seniors, you or your senior family member can whip up healthy and nutritious meals in no time!
But with so many microwaves for the elderly out there, which microwave will offer you the best cooking results whilst not being complicated to operate?
Keep reading for the best microwaves for seniors across the board, and learn what factors to note when choosing microwaves for elderly.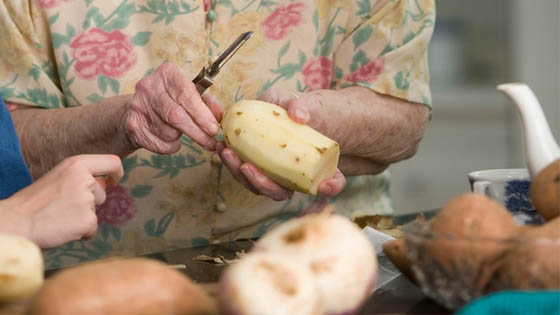 Contents:
● Top 5 Microwaves for the Elderly You Can Buy Today
● What to Look for in the Top-Notch Microwaves for Seniors
Microwave for Seniors: 5 Best Models for Easy Microwave Meals
To help you find the best microwave for seniors, we've dug in deep and rounded up the 5 best microwaves for senior citizens on the market today.
So, keep reading the comprehensive buying guide to find out which of the microwaves for seniors will best fit your needs and preferences.
Simplest Microwave for Seniors: Commercial Chef Countertop Rotary Microwave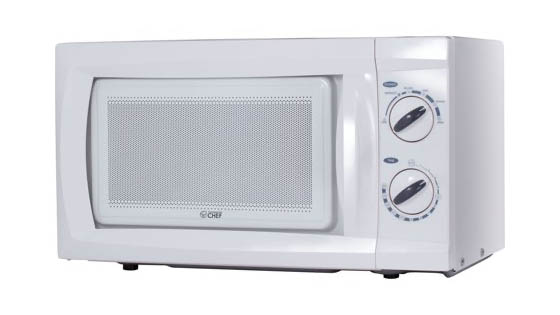 SPECIFICATIONS

Power: 600W

Capacity: 0.6 cu. ft.

+ Easy-to-use dial knobs

+ Space-saving

+ Easy-to-grasp handle
The very first thing you'll notice about this microwave for seniors is its two big control knobs.
These straightforward control knobs make the microwave perfect for seniors who have great difficulty with vision and dexterity that are necessary to navigate a touch panel.
It isn't a microwaves with a spacious interior for complex cooking tasks, but it can satisfy most cooking requirements like heating up beverages, soup or dinner plate.
The microwave for elderly comes with an easy-to-grasp grip type handle, so it would be effortless for seniors to open or close the microwave door.
Besides all the simplicity, the easy microwave for seniors is packed with a removable glass turntable to evenly cook or reheat dishes. The turnable can go in the dishwasher, and the whole unit requires minimal upkeep.
All in all, this microwave is remarkably easy for seniors to use, clean and cook, making it the simplest microwaves that seniors would be comfortable with.
Best Safe Microwave for Seniors: COMFEE' AM720C2RA-G Retro Style Countertop Microwave Oven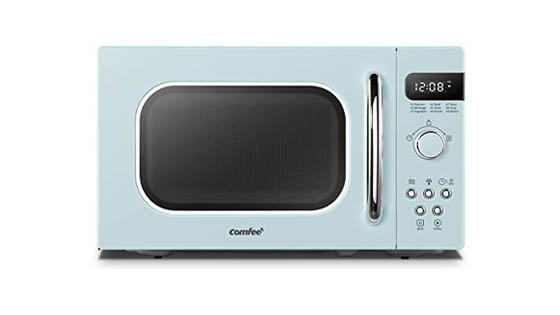 SPECIFICATIONS
Power: 600W

Capacity: 0.6 cu. ft.

REASONS TO BUY
+ Easy-to-read control panel

+ Space-saving

+ 9 auto menus

+ Position-memory turntable

REASONS TO AVOID
– Controls are different from typical microwaves,

but it gets really easy once you figure them out.
The microwave for seniors earn its spot as the safest microwave for seniors because of its safety lock function, easy-to-read panel, and position-memory turntable.
It boats with a 0.7 cubic ft. interior capacity in the external dimensions of 17.3 x 13 x 10.2 inches. It could easily fit in a cabinet or take up little space of the counter, and still be able to handle a regular-sized dinner plate.
The microwave for seniors is equipped with large LED digital display, easy-to-read control panel, and interior light, so it would work out perfectly for seniors with troubled eyesight.
The microwave for the elderly is programmed with a safety lock. If seniors are not in their best condition and shouldn't have access to microwaves, you can disable the control panel to prevent accidental or unintended operation.
The innovative position-memory technology will reset the turntable to its starting point when the cooking process ends, so the elderly can easily take the dish out or grasp the coffee mug without getting hurt or burnt.
Pre-programmed with 9 handy preset menus, the microwave allows seniors to effortlessly heat up popular food items like popcorn, meat, pizza, potatoes and more. No guesswork needed for cooking time or power levels!
Small Microwave for Seniors: Whirlpool 0.5 Cu. Ft. Countertop Microwave Oven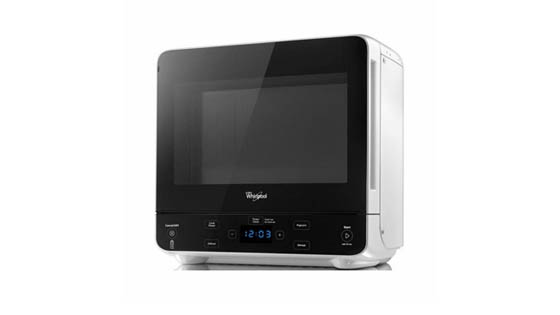 SPECIFICATIONS
Power: 750W

Capacity: 0.5 cu. ft

REASONS TO BUY
+ Fits in corners

+ 10 power levels

+ Easy-to-understand controls

+ Safety lock

REASONS TO AVOID
– A fairly high price tag
This microwave from Whirlpool is the smallest microwave for seniors on this list. The small microwave for senior can easily fit into corners to maximize your counter space.
Though it's compact in size, it can handle a full dinner plate because of its 11-inch diameter glass turntable that is larger than those in standard comparable microwaves.
Featuring 10 cooking levels and 750W of output power, the microwave for seniors can cope with most of the basic cooking requirements. Boiling, reheating and defrosting, you name it.
The rounded interior space and the compact size of the unit makes it a breeze to clean it up. You can even move the microwave and clean the underneath space.
The controls on the small microwave for seniors are operated by digital touchpads but they are pretty straightforward and easy to put together.
The microwave for the elderly will make reminder beeps that follow if the senior forgets to get dishes out right away, which is a great feature for forgetful seniors.
Best Budget Microwave for Senior: Commercial Chef CHM660B Countertop Microwave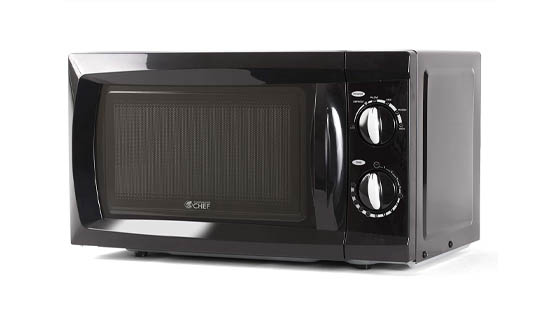 SPECIFICATIONS
Power: 600W

Capacity: 0.6 cu. ft.

REASONS TO BUY
+ Easy-to-use

+ Easy-to-grasp handle

REASONS TO AVOID
– The black coating could peel off over time.
If you have a tight budget, the microwave for seniors from Commercial Chef is for you.
This small microwave for the elderly is definitely something seniors will love because of its good old-fashioned simplicity. It comes with Mechanical, rotary dial controls, making it a great model for seniors seeking simple, basic operation.
The easy microwave for the elderly also highlights the easy-to-grasp handle for seniors to conveniently open or close the door.
With 6 power levels and defrost by weight function, the easy microwaves let seniors easily fulfill day-to-day cooking tasks.
Easy Microwave for Seniors: Sharp ZSMC0710BW Countertop Microwave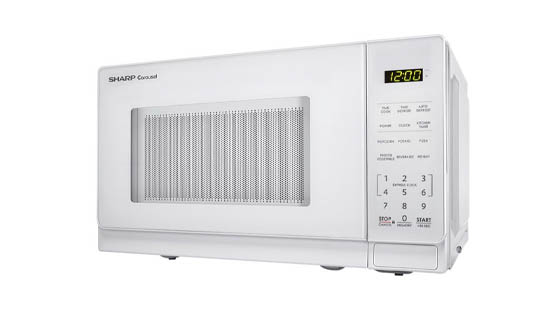 SPECIFICATIONS
Power: 700W

Capacity: 0.7 cu. ft.

REASONS TO BUY
+ Affordable

+ Easy-to-use

+ Easy-to-read control panel

REASONS TO AVOID
– Without knob control and pull handle
The countertop microwave by Sharp is an incredible microwave for the elderly with a bunch of user-friendly features.
The controls are operated by digital touchpads instead of knob dials, but the overall control panel is easy to read, and straightforward to work with, even for seniors.
With features like one-touch starts, auto defrost, and preset menus, the microwave for seniors make it effortless to cook or reheat common food items.
Microwave for Seniors: Things to Look for in a Microwave for Elderly
Just in the market for a microwave for seniors and didn't know where to start? The following microwave for seniors buying guide will help.
When in the market for a microwave for the elderly, here are the things you need to be mindful of.
Easy-to-Read Panel. It's essential that the printing on the microwave is big and clear enough for seniors to read.
Look for microwaves for seniors with bold printing and larger display, especially for the elderly with troubled eyesight.
This would help the elderly clearly read the timer settings and easily tell the different buttons.
Easy-to-comprehend controls. To spare seniors the trouble of fumbling with the user manual, consider microwaves for seniors with easy-to-understand controls.
Basically, the elderly would use the microwave to reheat frozen food and cook easy meals for most of the days.
Features for making big-batch meals will barely come in useful, and too many options can cause confusion.
Microwaves with straightforward control panels or big dial controls are simply the best choices for seniors.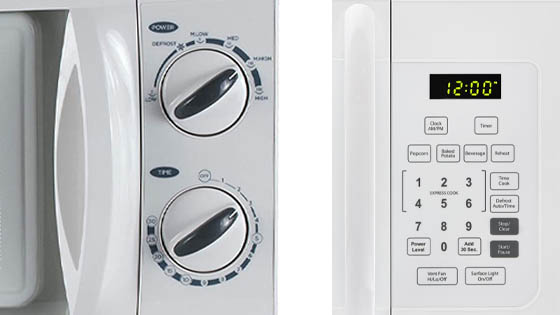 Microwaves with a complex set of functions and settings are best avoided, so seniors won't be confused or intimidated by too many buttons.
Capacity. When looking for microwaves for the elderly, you'll want something that won't take up too much counter space, but still can cope with a big dinner plate.
It's not necessary to get the seniors a huge microwave designed for feed-a-crowd meals.
Microwaves the in the capacity range of 0.6 cu. ft. to 1.1 cu. ft. would be sufficient for most of the seniors.
Preset menus. Microwaves for the elderly with pre-programmed menus can bring convenience to seniors' cooking process.
Being able to heat popular dishes like pizza, potatoes, veggies and beverages for the optimal results with one press of the button is truly a blessing to seniors.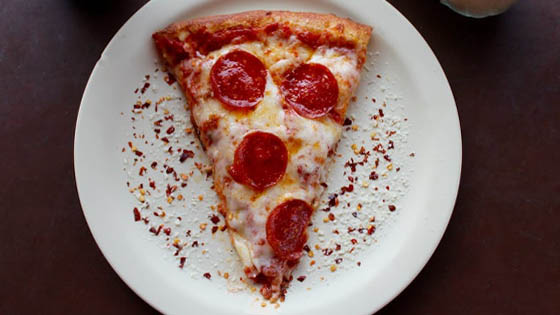 When in the market for a microwave for seniors, take preset recipes of the microwave into consideration.
They will take the guesswork out of heating common food items, making day-to-day microwave cooking a lot easier for seniors.
Bonus features. When shopping for microwaves for senior citizens, there are some bonus features that you can take into the evaluation.
Sensor cooking and sensor reheating would come in useful for seniors, but it usually comes with higher-priced microwaves.
Microwaves for seniors with smart sensor can automatically set the cooking time and power level for the dishes, according to the humidity emitted by the food item.
And microwaves that continue to make beep sound until the food is retrieved will be a great option for seniors. This is particularly true if your senior family member is forgetful.
Also, if it's unsafe for them to use microwave alone, look for microwaves with safety lock to prevent accidental activation.
These bonus features of microwaves for seniors will make it safer and easier for seniors to deal with microwaves.
Final Thoughts
Having the best countertop microwave for seniors at home makes all the difference for the elderly.
Whatever your budget and whatever your preference is, there will be a microwave for seniors that best fit your needs.
Bare the listed must-have features in mind, and take seniors' cooking routines into consideration. It will be helpful when you're shopping for the best microwave for your senior family member.
If you have any questions concerning microwaves for the elderly, let us know in the comments!