Microwaves with mirror door have gained popularity for being easy on the eyes and practical.
However, similar to any decision involving purchases, spotting the best microwave with mirror door for your kitchen across the board can be challenging.
In this blog post, we will explore the advantages and disadvantages of having a microwave with a mirror door. Also, to help you make an informed decision that matches your cooking needs, we've compiled a list of the best microwaves with mirror door for you to consider.
Top 3 Microwaves with Mirror Door Available Today
Best Countertop Microwave with Mirror Door:
Panasonic NN-SN686S Microwave Oven
The Panasonic NN-SN686S is one of the best microwaves with mirror door on the market, with rich features and quality design.
With 1200 Watts of cooking power and 1.2 cubic feet of cooking capacity, you can enjoy fast cooking and large meals.
Though it has a relatively large cooking space, the footprint is rather small. Therefore, it won't take up too much precious countertop space, allowing you to devote more space to other cooking tools.
The stainless steel finish is durable and it makes the microwave easy to clean. And the large LED display clearly shows the remaining cooking time and cooking settings, and it also makes it easy for senior citizens to navigate the microwave.
It has a special feature for better cooking results, which is the Inverter Technology with Turbo Defrost. It produces a continuous flow of power, and as a result, leading to consistently cooked food without overcooking.
And that's not all! There are 14 smart cooking options that allow you to cook a wide range of popular foods without any guesswork. Also, it boasts a keep warm feature that lets you keep prepared dishes warm until they are ready to serve.
Best Compact Microwave with Mirror Door:
COMMERCIAL CHEF Small Microwave
While this microwave with mirror door is easy on the wallet, it's far from a basic and low-quality microwave.
It's the most compact microwave with a mirror door on this list, so it would be the perfect choice for dorm rooms, mobile homes, office break rooms and apartments.
Just because it's extremely affordable doesn't mean that it would be cheap. This microwave with mirror door is designed with a stainless steel finish. Therefore, you can expect it to be durable and easy to clean as well.
Design-wise, you would also love the fact that the microwave with mirror comes with no handle. The push button design makes it more convenient for users to open the microwave door. Also, the flat surface makes the microwave even easier to clean up.
RELATED READING: Microwaves without door handle
Moreover, this compact microwave with mirror offers a lot of convenience when it comes to cooking. There are 10 power levels for you to choose from, so you can easily have different cooking tasks fulfilled.
It is packed with various preset menus for you to cook a wide range of popular foods with one touch of the button. The preset menus include popcorn, potato, pizza, frozen vegetables and more.
Best Over-the-Range Microwave with Mirror Door:
LG MVEL2125F Countertop Microwave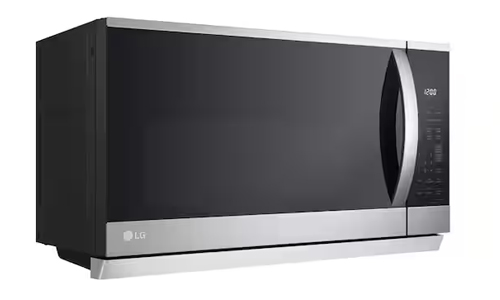 LG is a leading name in the market for high-quality and high-end home appliances. And this large microwave with mirror door by LG is another quality appliance to prove it.
This mirror door microwave comes with a 2.1 cu. ft. cooking capacity which is the largest in this list. It would be your perfect choice if you constantly need to cook feed-a-crowd meals for your big family.
The most special part about this microwave with mirror door is its smart features. It boasts the scan-to-cook technology that works with the ThinQ app. The smart feature allows you to remotely send accurate cooking instructions with just a scan of the barcode.
Another smart feature you would love about this microwave oven with mirror door is the sensor cook feature. It enables users to easily prepare meals without any guesswork.
And that's not all you can get from the over-the-range microwave with mirror door. It is designed with a powerful venting system, which can ensure good air quality in your kitchen.
The Pros & Cons of Microwaves with Mirror Door
If you're still hesitating on getting a microwave with mirror door, the following content will help you decide. Here are the advantages and disadvantages of having a microwave with mirror door.
Pros:
Having a microwave with a mirror door in the kitchen can add a touch of refinement and elegance to the area. And by this way, it will enhance the overall visual charm of your kitchen. It is such an easy and convenient way to make your living space even more good looking.
A mirror door on the microwave could amplify natural and artificial light. Therefore, it could help brighten up the cooking area and make it easier for you to cook in low-light conditions.
The mirror surface on the microwave would be easier for users to clean stains and fingerprints. If you have any stains or fingerprints left on the mirror door, all you need to do is to wipe it clean with a damp cloth. They won't easily become resistant stains on a mirror surface. However, we won't be so sure about plastic doors or microwave doors made of other materials.
Cons:
​​Easy to collect fingerprints
An obvious disadvantage of mirror doors on microwaves is they tend to gather fingerprints easily. You will find fingerprints collected on the mirror door just after you open or close the door while cooking. And as a result, you will need to clean it up more frequently.