If you want to replace your old microwave with a new microwave with a wooden handle, you have found the right article.
The best microwaves with wooden handle are more good-looking, modern and aesthetic.
With all the features and specifications to consider, it could be tricky to find the best microwave with wooden handle that perfectly matches your cooking needs.
To assist you get the best microwave with wooden handle for your kitchen, we have put together a list of the top picks for different needs.
Or if you're wondering if a microwave with door handle is available today, or trying to find out where they will be available, you will find helpful information below.
3 Best Microwaves with Wooden Handle Available Today
Russell Hobbs RHMD714G Countertop Microwave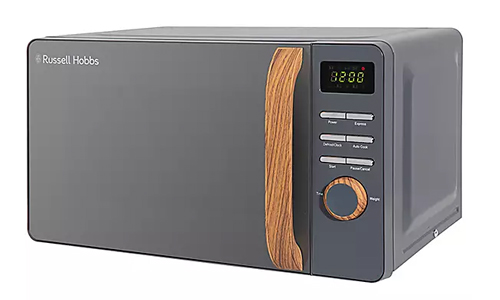 The microwave with wooden handle by Russell Hobbs has a modern design that complements any kitchen or living space.
There are 5 colours for you to choose from. Therefore, you can always get the one that best matches your kitchen style.
Those who are looking for a cooking solution for studio apartments, office break rooms or other small spaces would love the fact that this microwave with wooden handle is super compact.
Therefore, it will take up limited precious countertop space of yours, so you could have more space for other tools and appliances.
Just because it's appealing doesn't mean that it won't be practical. This microwave with wooden handle comes with many nice features to make daily cooking easier and more convenient.
There are 5 power levels to help you fulfil different cooking tasks and an automatic defrost to help easily defrost frozen food.
That's not all, there are 8 auto cook preset menus so users can cook a wide range of popular foods without guesswork.
It also features a multi-stage cooking function that allows you to cook one dish at different power levels for desired time to achieve the best cooking results.
Another big selling point of this microwave is that it's surprisingly affordable. At the time we were writing this article, it's for 69.99 pounds on UK Amazon, which is a great deal for such a quality microwave with wooden handle.
Daewoo SDA1698GE Wooden Handled Microwave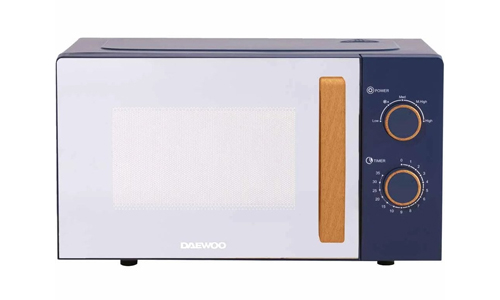 The Daewoo SDA1698GE is another highly-stylish and high-quality microwave oven with wooden handle suitable for individuals and small families.
Beside the wooden handle, the very first thing you would notice about this microwave is the mirror door.
The mirror door makes the microwave oven look even more delightful and modern. Also, it will make the uni easier to clean.
You would love the layout of the controls and you would also love the fact that it is extremely easy to understand the controls as well as to navigate them.
The microwave with wooden handle has some buttons for cooking mode and a big dial knob for cooking time controls. They are very straightforward, so it would be a nice option for families with senior citizens.
It also had some convenient and excellent features. It has 5 different power levels to help you make different dishes, And there's an easy defrost function to help you effortlessly have frozen food defrosted. Also, the 60-minute digital timer would be so helpful in the kitchen.
Swan Digital Scandinavian microwave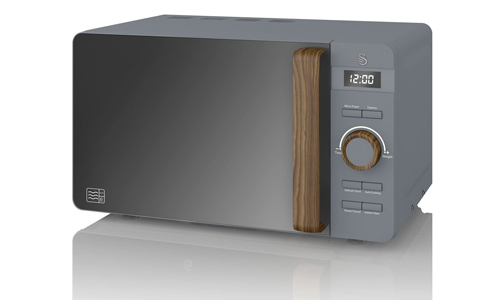 The microwave with wooden handle by Swan is a perfect combination of modern style and performance in a compact body. Its beautiful wooden handle is designed to complement wooden and modern décor.
The small footprint makes it a perfect choice for small kitchens and small spaces. Its 20 liter capacity offers enough space to meet cooking needs of individuals and small families.
And the built-in turntable which is large enough to fit normal dinner plates is there to help heat food evenly.
Also, the practical digital clock and timer design makes the controls easy to understand and easy to use.
The designer also added a touch of wood on the dial control knob, which further completes the modern look.
The microwave with wooden handle includes various convenient features that would help make cooking a lot easier.
With 800 Watts of cooking power and 6 power settings, it can have different cooking tasks completed in a short time.
The auto defrost function and auto cooking function of this microwave with wooden handle would help eliminate guesswork in the cooking process.
The Pros & Cons of Microwaves with Wooden Handle
Here are some of the major advantages and disadvantages of having a microwave with a wooden handle. Hopefully, it will help you make up your mind about purchasing a microwave with wooden handle, or not.
Pro:
A microwave with wooden handle exudes a modern and timeless beauty all the time. Also, people would naturally prefer microwaves with wooden handle as they make the kitchen look warmer and more homey while bringing a touch of elegance to the living space.
Furthermore, a microwave with wooden handle can easily blend in any kitchen design. Be it nostalgic or modern, they would complement the kitchen decor you already have.
A well-crafted wooden handle of a microwave is more durable than plastic ones. And most microwaves you can find on the market today come with a plastic handle rather than a wooden one.
However, you could always rely on a wooden handle to last longer and remain in good shape after years of use. This is another great advantage to choosing a microwave with wooden handle over a plastic one.
Texture and Sensory Experience
The wooden handle's tactile feel enhances the sensory experience when you interact with the microwave. It provides a study hold when you open or close the microwave door.
Cons:
I think we all can agree on this – wood products demand higher maintenance than plastic and stainless steel products do.
When you have a microwave with a wooden handle, you are kind of required to run regular maintenance to keep it in good condition.
There are limited options for a microwave with wooden handle on the market these days. You will only find basic options with limited functions. If you are going for a microwave with richer features, I'm afraid you won't find a high-end microwave with wooden handle available today.
At the time we write this article, microwaves with wooden handle are more common to find in Europe and the UK. If you live in other districts, I'm afraid it would be more challenging for you to get a microwave with wooden handle.