Going on a trip on a camper van and want to make easy meals along the way? Need to keep your beverages warm and easily defrost frozen foods during your adventures?
Sounds like you're in need of a low wattage microwave for camping! But how to spot the best microwaves that best suit your needs? What to look for in a microwave for campers?
We've rounded up a list of the best microwaves for camping to help you make an informed purchasing decision. Also, we'll explain what you should look for in a microwave oven for camper. Let's dive in…
Contents: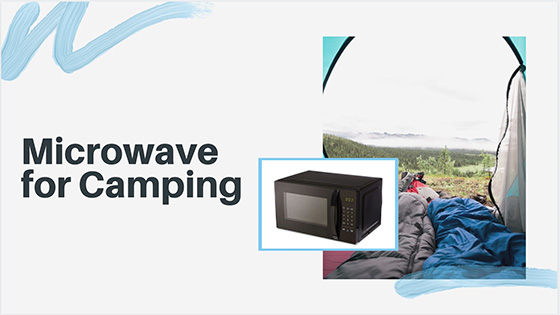 Microwave for Camping: Top Picks & Reviews of Best Microwave for Campers
Best Microwave Oven for Camping Overall:
COMFEE' EM720CPL-PM Countertop Microwave Oven
Pros: Affordable, easy to use, compact and high-quality
The COMFEE microwave oven is a must-have on the road. If you want all of the capabilities of a standard microwave oven within a small footprint, this is the unit for you.
This compact microwave for camping is surprisingly easy-to-use and gets the job done without consuming extra electricity.
With a 0.7 cubic-foot capacity, it's a perfect fit for most RV countertop and small spaces. The 700 watts and 11 power levels can fulfill almost all of your cooking needs on the road.
It boasts an energy saving Eco mode. It helps minimize 50% standby power by turning on ECO mode, which is the dream for camping life.
Other features include mute function, settings, clock, kitchen timer, One touch express cooking function and easy auto-cook functions. You can always rely on it for reheating leftovers, warming beverage and making easy meals during your camping trip.
Best Low Watt Microwave for Camping: Sharp ZSMC0710BW Countertop Microwave Oven
Pros: Low wattage, easy to clean, small footprint with roomy turntable.
Cons: Requires longer cooking time, but you can expect that from all low-wattage microwaves.
Sharp is known for their sleek and compact microwave solutions. The low-wattage microwave by Sharp is ideal for campers, hikers, and those who live in a motorhome.
Its small footprint and low-wattage power output ensure you have easy access to warm beverages and easy microwave meals on demand when you're on the road.
The microwave for camping is easy to use and full-featured, too, plus the glossy finish makes it super easy to clean.
Preprogrammed with preset menus, the microwave for campers allows you to use popcorn, beverage, pizza, and potato settings for convenient one-touch cooking.
Best Budget Microwave for Camping: AmazonBasics Microwave
Pros: Affordable, voice-controlled with Echo device, compact size.
Cons: Some of the users have been complaining about the moisture.
The AmazonBasics smart microwave for camping is a reliable, inexpensive microwave to look into if you're on a budget.
The microwave for camper comes with many special features that you won't find in most microwaves out there, including quick-cook voice presets, auto-popcorn replenishment, and more.
Living in a motor home doesn't necessarily mean you can't enjoy a smart home. When paired with an Echo device, you can effortlessly start and control the microwave with your voice.
You can just say, "Alexa, cook 8 ounces of potato", and Alexa will set the microwave to the appropriate power level and cooking time.
With 10 power levels and a turntable, the microwave for camping lets you cook all kinds of food and achieve even cooking results.
Smallest Microwave for Camping: Whirlpool 0.5 cu. ft. countertop microwave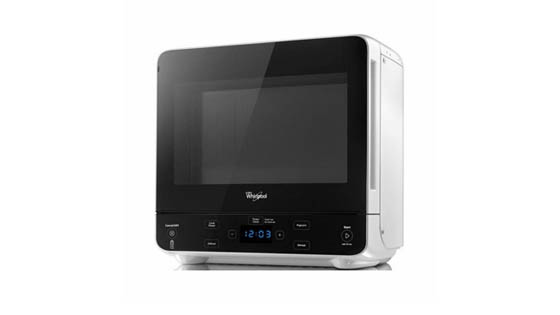 Pros: Smallest model for camper van, easy to clean, spacious interior.
Cons: A bit pricey compared with other models on the list.
The countertop microwave by Whirlpool is a top-rated camping microwave that comes in an extremely compact size.
Being one of the smallest microwaves on the market, you can easily fit it into corners and maximize camper van spaces.
Though the microwave oven for campers is small in size, you get quite a spacious interior. It can fit a full-sized dinner plate or a fairly large bowl.
The microwave for camping offers 10-level cooking power controls. The variable power levels allow you to precisely and easily tailor cooking settings to the cooking task at hand.
It boats with tap touch controls which are easy to use and easy to clean, making the microwave for camping perfect for those who hate to remember how to navigate controls and who hate to spend hours cleaning appliances.
Best 3-in-1 Microwave Oven for Camping: Nostalgia BSET300RETRORED 3-in-1 Family Size Breakfast Station
Pros: 3-in-1 appliance, easy to clean, perfect for a travel trailer.
Cons: Some users complain that the griddle is not hot enough for some food.
If you're a lover of coffee and would love to have fresh and warm coffee along the way, you definitely want to check out this one. The 3-in-1 appliance is another microwave oven option for camping that's small but mighty.
It has a coffee maker that can brew up to 4 cups of coffee at a time, a toaster oven for multiple purposes, and a non-stick griddle for easy cooking.
The multi-function toaster can toast up to 4 slices of bread at a time and is capable of heating leftovers, 7-inch frozen pizzas, and more.
The removable oven tray and non-stick griddle design allow for easy cleaning even on the road.
Best Portable Microwave Oven for Camping: RoadPro 12-Volt Portable Stove Kit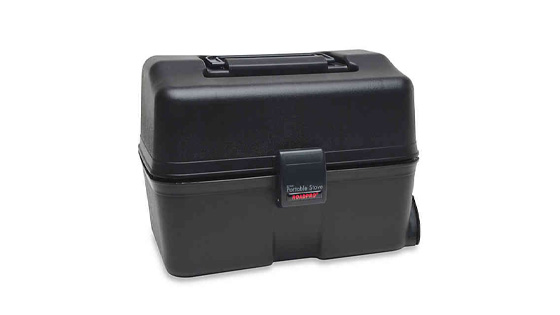 Pros: Portable, mini-sized, 12-volt power port.
Cons: With simple features only.
While it would be great to have a full-featured microwave, there are portable microwaves for camping with simple features as well. Our preferred choice for a 12V microwave for camping is the RoadPro Portable Stove Kit.
The portable microwave for campers is outstanding because it enables you to heat most kinds of pre-cooked food at an extremely affordable price.
The handy 12-volt portable stove kit can easily warm up leftovers. It's also able to cook food up to 300 degrees, making it ideal for stews, rice meals, chops, and more.
This powerful all-purpose mini microwave for camping is easy to set up and use. Just plug it into your 12-voltage socket and you're all ready to make hot dishes.
How to choose a reliable microwave for camping?
Choosing a quality microwave for camper vans can be tricky sometimes. With tons of options on the market, you could feel lost and be struggling to spot the microwave for camping that best suits your needs.
Follow the thorough buying guide below, and figure out which microwave is the right camping buddy for you.
1. Size.
When choosing a microwave for camping, I'd strongly recommend you to evaluate the size of the microwave. It's not just about finding the smallest one, but to figure out what size best fits your motor home.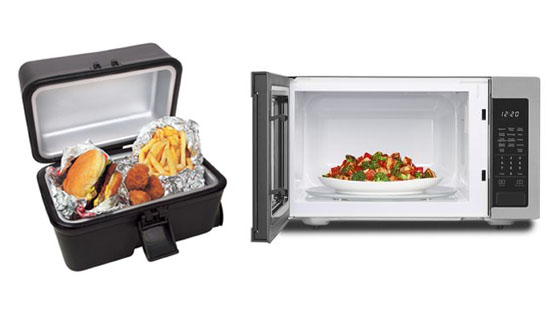 A small microwave for camping takes up little space, but it usually offers a smaller cooking capacity. Measure your dinner plate and the space meant for the microwave for camping, then pick a microwave for camping accordingly.
READ ALSO: Microwaves for Small Spaces Buying Guide
2. Wattage.
The wattage is another significant buying information you should take into consideration when evaluating a microwave oven for camping.
While you'll love a microwave oven with higher wattage for it can cook faster. However, if you're running the microwave over your car battery or a 12V battery, a high-wattage microwave can drain the battery fast.
3. Easy-to-clean.
When you're on the road, you don't want to spend much time cleaning up appliances. Go for a small microwave oven for the camper that requires minimum effort to clean and maintain.
4. Bonus features.
Aside from all the basic features above, there are some bonus features that can allow for easier meal preps.
Preset menus enable you to cook popular foods with one touch of the button, eliminating the guesswork for cooking time and power levels.
A removable turntable lets you cook food evenly and clean the turntable and the microwave interior easily.
How to run a microwave for camper off a 12V battery?
When you're off the grid, getting the microwave for camping a power source can be one of the trickiest problems.
Follow the video guide below, and learn how to run a microwave oven for camping off a 12V battery:

Wrapping Up
A microwave oven for camper can bring great convenience to your camping trip. From warming up beverages to reheat leftovers, it will help you stay warm and satisfied with hot meals during the journey.
We reviewed the most popular microwaves for camping and broke them down into different categories according to the product design and performance.
In the list of our top picks, you can find the smallest microwave for camping, the best low-wattage microwave for camping, and more.
Hopefully, we've covered all the information you wish to know about microwaves for camping in this post.
If you have any questions or any thoughts to share with us, leave a comment down below!