A bulky microwave oven is unnecessary for most of the time, we usually just need a microwave to warm our coffee or to defrost frozen food. So, why don't you opt for microwave with lighter, and more power-efficient designs?
Here, you will find our list of the best lightweight microwaves in 2020 and you'll find each of them to suit just about every budget and type of use.
Whether you're buying a lightweight microwave that is portable for outdoor use, or planning on choosing a lightweight small-sized microwave that saves your kitchen space, you should not miss our comprehensive buyer's guide and product selection.
And we will also be discussing you if you really need a heavy microwave oven in this post. Let's dive in!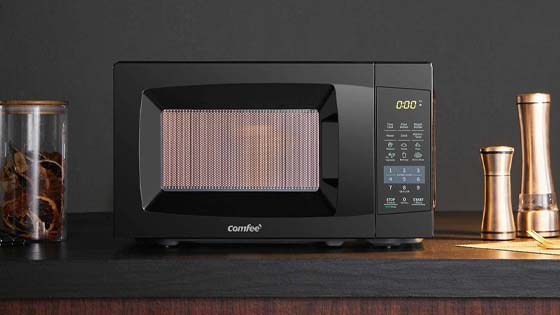 Contents:
How Much Do 'Lightweight' Microwaves Weigh?
How to define a lightweight microwave? What is a lightweight microwave?
Lightweight microwaves normally come in small sizes, and they are usually for countertop use. Unlike those bulky over-the-range microwaves, lightweight countertop microwaves are usually smaller than 0.9 cubic feet.
For example, a 0.7 cubic feet model is an ideal size if you are looking for a small & lightweight microwave. (But we have to note you that not every small-sized microwave is lightweight)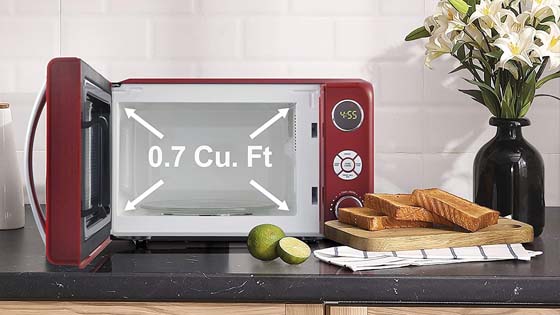 A microwave carries a big heavy body (larger than 1.5 Cu) that can weigh over 40 or 50 pounds, so those microwaves that weigh less than 25 pounds are considered to be pretty lightweight & portable.
In the next part, we will show you some best lightweight microwaves that are worth buying.
5 Best Lightweight Microwaves Available in 2023
The best lightweight microwave ovens should not compromise on the quality or features. And the following options are the best performers as lightweight microwaves.
Keep reading to see why they made the cut, and choose the one that best suit your lifestyle.
AmazonBasics Microwave
BEST LIGHTWEIGHT MICROWAVE OVERALL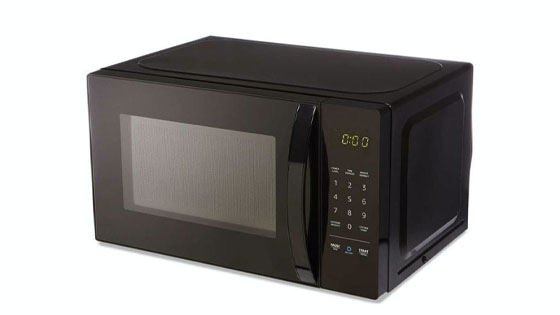 Topping the list of the top 5 lightweight microwaves is the AmazonBasics microwave. It is a compact microwave oven and only weighs 21.9 pounds (9.9 kg). Thus it is portable, and able to save you a lot of countertop space.
It has a cooking capacity of 0.7 cu. ft. and the cooking power of 700 Watts, so it can satisfy all your basic cooking needs.
What actually makes it the best lightweight microwave is its excellent performance, and the low cost. Retailing for $59.99, it has some fancy features you won't find in any other models of this price range.
The small lightweight microwave is compatible with Amazon Alexa, so it supports voice control when paired with an Echo device.
Speaking of Alexa compatibility, the unit has an Ask Alexa button. To start cooking, just press the button, and easily send commands using your voice. The button will instantly wake up your paired Echo, just like saying "Alexa" does, saving you the trouble of yelling all the way to the living room.
BLACK+DECKER EM720CB7 Digital Microwave Oven
BEST LIGHTWEIGHT STAINLESS STEEL MICROWAVE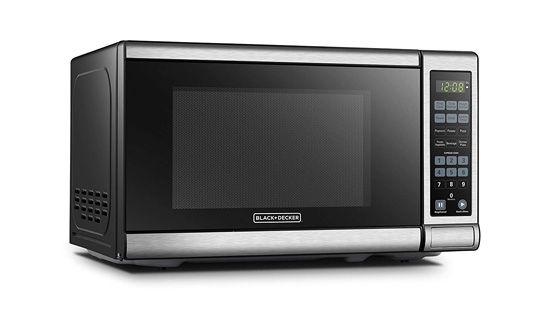 If you prefer a microwave oven with a stainless steel finish, this is one of the lightest options you can find.
It weighs about 23.8 pounds (10.8 kg) and thus is perfect for small spaces. The lightweight microwave oven has a stainless steel finish and comes with a push-button door that makes it look professional and timeless.
As small as it may seem, you can fit a regular-sized dinner plate and rely on it for all your day-to-day cooking requirements. The microwave also includes a removable 10" glass turntable to help distribute heat evenly around the food items.
Another great thing about this lightweight microwave is that it features pre-programmed buttons. These preset menus let you cook popular foods like popcorn, potato and pizza with one touch of the buttons, and it will achieve ideal results automatically.
It also comes with other well-thought-out features, including 30 Seconds Express Cooking, child safety lock, auto defrost function, and more. These all together will ensure users a convenient and safe cooking experience.
Commercial Chef CHM660B Countertop Small Microwave Oven
EASIEST-TO-USE LIGHTWEIGHT MICROWAVE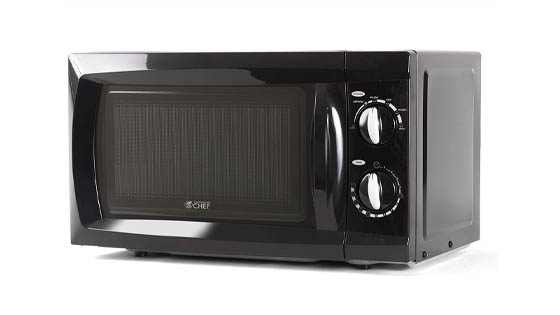 The Commercial Chef CHM660B has to be the easiest-to-use available. At slightly above 23 pounds (around 10.47 kg), it happens to be one of the lightest and smallest microwave ovens.
The very first thing you'd notice about this microwave oven is its two big dial knobs. Unlike most models that have electronic controls these days, these two mechanical dial knobs are all it has for cooking controls.
READ ALSO: Microwave Oven with Dial Knobs
You'll love the fact that it is just a simple turn of the dial and be done, making it a perfect lightweight microwave oven for senior citizens and those who want to keep things simple.
With a cooking capacity of 0.6 cu. ft., the size is perfect for individuals and it has the lowest power demand of 600 Watts.
6 power levels and a removable glass turntable are included to make this microwave oven fully capable of handling daily cooking requirements and delivering even cooking results.
COMFEE' EM720CPL-PMB Countertop Microwave Oven
BEST SMALL LIGHTWEIGHT MICROWAVE
The COMFEE' EM720CPL-PMB is the most lightweight microwave on this list at 20.3 pounds (9.2 kg). It is a solid option for dorm rooms, apartment kitchens or vacation homes.
Though it has a smaller size than average, it's fully-featured like a full-size microwave oven. This lightweight microwave has a power output of 700 Watts and 11 power settings, so it can cope with a variety of cooking tasks
It features two defrost settings and does a great job of helping with all your defrosting needs.
It has one-touch cooking buttons for 6 common foods. You effortlessly can cook or reheat popcorn, potato, pizza, frozen vegetables, or reheat a beverage or dinner plate. Just press the preset button, and the microwave will automatically start cooking for ideal results.
Furthermore, there is more to this unit. You'll also find thoughtful features like sound on/off mode, energy-saving ECO mode, a 12.4-inch glass turntable, and more.
Galanz GLCMKA07RDR-07 Microwave Oven
BEST BUDGET-FRIENDLY LIGHTWEIGHT MICROWAVE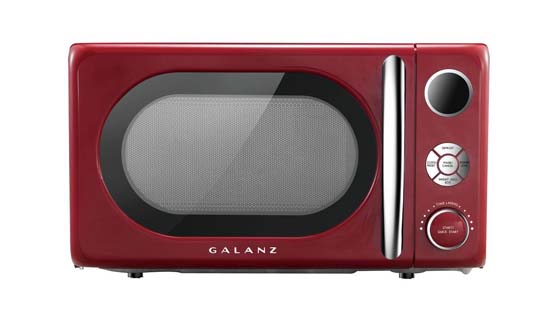 Following on our list of the best lightweight microwaves is the Galanz GLCMKA07RDR-07. Retailing for $79.99, but often on sale for $56.64, it's the ideal option for those who are on a limited budget.
It weighs  23.1 pounds (10.5 kg) and is compact enough to tuck in a little corner, so you don't have to sacrifice a lot of counter space.
Its retro style design sets it apart from other models on this list. The bold color and unique design bring a touch of nostalgia into any living space.
The lightweight microwave oven provides 700 Watts of cooking power, and 0.7 cu. ft. capacity, so it has the capability of preparing easy meals.
It includes two defrost settings that allow you to easily defrost frozen food by time or by weight.
Moreover, its auto menus are going to come in handy for easy microwave meal preps. With the preset menus, cooking or reheating Beverage, Potato, Reheat, Frozen Dinner, Popcorn, Pizza will be a breeze.
Why You Need A Lightweight Microwave
Portable & Space-Saving
This is the most obvious selling point of a lightweight microwave. First, a lightweight microwave is perfect for kitchens that are not very spacious.
A mini does not take up so much room of your kitchen, and you can easily move the microwave aside when you need to clean the table.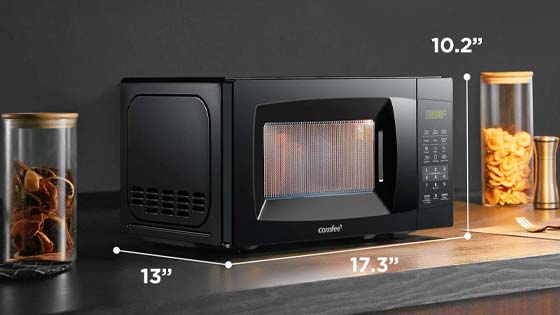 Additionally, a lightweight low wattage microwave can be used for camping or picnic easily when you have a battery power station.
Since the microwave is small and lightweight, you can simply put it into the trunk of your car.
Budget-Friendly
Small microwaves come with cheaper pricing. Compared to large professional microwaves that can cost you a few hundred bucks, you usually can get a lightweight microwave under $100.
Most importantly, although these lightweight microwaves are not as expensive as fancy restaurant-grade models, they can fulfill all the needs for families from warming coffee to automatically cooking your food.
Power-Efficient
When it comes to the power-saving ability, lightweight microwaves are definitely better than regular microwaves.
The wattage of a lightweight microwave oven is usually lower than heavy models. Compared to heavy-duty microwaves that come with over 1000w power, the wattage of a lightweight microwave is usually under 800 watts.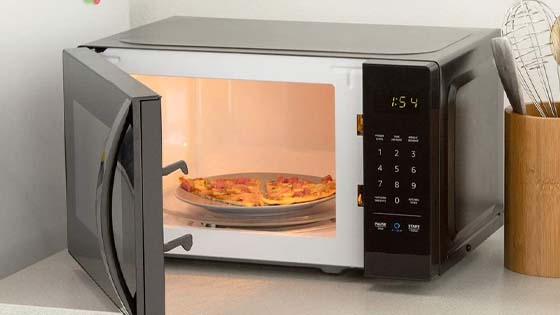 That is also why lightweight microwaves are a popular choice for RV & boat, they can save more energy and extend the traveler's battery life significantly.
Conclusion:
We love to have the best lightweight microwave oven in our kitchen as they free up plenty of countertop space and offer great flexibility. However, finding a lightweight microwave, with all the features that a full-sized microwave has, is a real challenge.
In the buying guide for lightweight microwaves above, we have listed our top picks and all the features you should note.
Hopefully, among our top picks, you already found the unit that best fits your needs.
If you have any questions concerning lightweight microwaves, please leave a comment down below.