Trying to find a new microwave oven for your kitchen? Midea now produces some of the best microwaves across the board. Therefore, it is reasonable to have Midea's microwaves on top of your list when you're in search of a microwave.
However, with so many Midea microwaves available on the market, which one should you get? Which Midea microwave oven is actually worth your money?
Here is a list of the best Midea microwaves for you to consider. Also, we will provide you with a detailed review on each one of them. There will be a best pick for you whether you want a microwave for your home or for commercial use.
Best Midea Microwave Review
Best Midea Compact Microwave: Midea Equipment 1025F0A Countertop Microwave
Want a compact countertop microwave so you can save some valuable countertop space? The Midea Equipment 1025F0A is the best Midea microwave for you.
This model has a smaller footprint than other Midea microwaves. It's space-saving and therefore it would be a great choice for apartments, dorm rooms, mobile homes and other small spaces.
Just because this Midea microwave is compact, doesn't mean that it's not powerful. It has 1000 Watts of cooking power, which is powerful enough to help you bring meals to the table quickly.
This Midea compact microwave is well built with stainless steel exterior. If you are not so impressed by the stainless steel exterior, the stainless steel cabinet and oven cavity would absolutely impress you.
A stainless steel cabinet and oven cavity isn't something you will see in most affordable microwaves, and even many high-end models don't feature them.
With the stainless steel exterior and interior, this compact microwave by Midea is remarkably easy to clean, and it will be able to endure heavy duties. Moreover, the stainless steel design from the inside out makes the unit even more durable. Therefore, it would remain in good shape after years of cooking.
When you look into the cabinet of the microwave oven, you will find that there is no turntable inside. With the no turntable design, it allows you to fit a larger plate or an awkwardly shaped container in it. Also, it can prevent spills and splatters while cooking.
If you want to learn more about microwaves without a turntable, read this post.
Best Countertop Midea Microwave: Midea Equipment 1034N1A Countertop Microwave Oven
Thanks to its quality build and convenient features, the Midea Equipment 1034N1A stands as one of the best countertop microwave ovens for families or commercial use available on the market.
The 1.2 cubic feet of cooking capacity enables it to handle larger meals and fulfill more cooking tasks. It also has 1000 Watts of cooking power, so you can expect your meals to be ready in a flash.
There's also a stainless steel exterior and a stainless steel interior, so you can love this Midea for its easy cleaning and durability.
And with the stainless steel cabinet, it can easily deal with the demands of the commercial food service environment. This Midea microwave oven is so powerful at fast and easy cooking as it has 100 auto programs, making it a great choice for commercial use as well.
What makes this Midea really special is the 3 cooking-stage feature. This enables you to make delicious dishes with multiple levels of texture. If you want to take your microwave cooking game to the next level, it will be a really nice feature to have.
Best Midea Over-the-Range Microwave: Midea MMO19S3AST Microwave Oven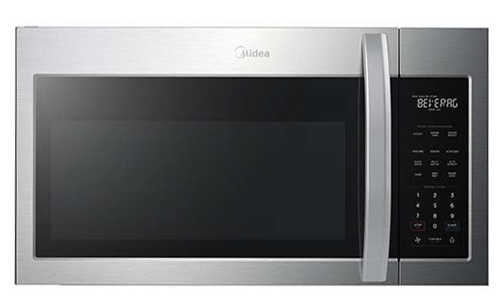 If you want an over-the-range microwave, the Midea MMO19S3AST would make the better choice over most of the competition at this price point.
For starters, this over-the-range microwave by Midea has the largest cooking capacity in this list. The 1.9 cubic feet cooking capacity also stands out in its price range. It is so spacious to easily fit big plates and platters. It can help you bring feed-a-crowd meals to the table on a daily basis or for special occasions.
The built-in ventilation system of this Midea over-the-range microwave is powerful. It is a 2-speed 300 CFM fan that will help to keep your kitchen fresh and clean while you're cooking with the cooktop.
ALSO READ: Best Microwave Ovens with Fan Underneath
For further convenience, this Midea over-the-range microwave also comes with a LED cooktop light, so you can see the cooktop area clearly when cooking at night.
Downside? This over-the-range microwave doesn't own a stainless steel interior like the previous ones. However, it boasts the EZX Clean Diamondback Coating which also makes cleaning a breeze.