The kitchen might be the most noisy and busy part of many households. There will be clattering pots, sizzling pans, and whirring appliances.
And that's why having a microwave with soft close door around the kitchen would be really nice. It's not just for its quietness, and it would be safer to use a microwave with soft close in a busy kitchen.
In this post, we will delve into the advantages of having a microwave with soft close door. Also, we will highlight some of the best microwaves with soft close door available today.
Why You Need a Microwave with Soft Close Door?
1. Safety
When it comes to cooking, safety is always the top priority. And safety-wise, a microwave with soft close door would help a lot in a busy kitchen.
Microwaves with soft-close doors are designed to avoid finger trapping or other injuries that are involved with sudden door closure.
For families that live with senior citizens and children, the soft-close movement of the door makes the microwave oven safer for them to use. It will lower the possibility of fingers accidentally being trapped or hooked in.
2. Convenience
The microwaves with soft-close doors offer great convenience by reducing the possibilities of spills and mishaps.
When you put the foods in the microwave oven and need to close the door, the soft-close door can prevent foods within the microwave from shifting or falling due to abrupt door movements.
3. Quiet Operation
Personally, I find the noise of a microwave door slamming shut unpleasant. And I am pretty sure many people can relate.
Microwaves with soft-close doors are made to ensure that the closing motion of the door is quieter and more gentle. In this way, it lessens the likelihood that the door would make unpleasant and disturbing sounds.
3 Best Microwaves with Soft Close Door
To help you make the best decision, we've listed the top microwaves with soft close door available today for you to consider.
Whether you are looking for a budget microwave with soft close door or a high-end one, you will find a great option for your kitchen below.
Best Countertop Microwave with Soft Close Door:
Panasonic NN-SN686S Countertop Microwave Oven
The Panasonic NN-SN686S is a feature-rich microwave with soft close door. It is not only impressively feature-filled, but also reasonably priced.
It comes with a soft-close door, and an overall sleek, timeless design. The stainless steel finish makes it easy to go with any kitchen style, and also makes the unit easy to clean and maintain.
With a 1.2 cubic feet cooking capacity and 1200 Watt high power, this microwave with soft close door has the ability to serve families well.
RELATED READING: Best Size Microwave for Families
It even comes with a high-end, patented Inverter Technology to make sure everything you put in the microwave is evenly prepared without over cooking.
What makes this microwave with soft close door even better? It can eliminate the guesswork in your kitchen. With the smart cooking function, it allows you to cook foods with just one press of the button. And then the built-in genius sensor will automatically adjust power and times based on different food for optimal results.
This microwave with soft close door by Panasonic has got some special features as well. There is a safety lock that you can use to prevent children from accidentally accessing the microwave.
Also, it boasts a keep warm feature which is not commonly seen in affordable microwave ovens. This feature allows you to keep soups, dishes or desserts warm and fresh until ready to serve.
Additionally, what users are saying about this microwave would give you the confidence in investing in it. Users mostly love the fact that this microwave with soft close door is easy-to-clean, easy-to-use and great value for the money.
Best Affordable Microwave with Soft Close Door:
Magic Chef MCM1611ST Microwave Oven
The Magic Chef MCM1611ST ticks many elements that make a nice microwave with soft close door that is worth every penny of yours.
We are absolutely impressed by how affordable this microwave is, considering that it's a quality one with convenient features.
Though this unit is more affordable than the previous one, it has a large cooking capacity of 1.6 cubic feet. Therefore, it makes a great choice for households that would need feed-a-crowd meals constantly.
It is powerful as well. It comes with 11 power levels and 1100 Watts of cooking power that you can use to easily fulfil your cooking tasks.
There are 6 one-touch cooking programs to help you cook popular foods with ease. Another convenient feature of the microwave with soft close door is the defrost by time feature. It lets you defrost food by its weight, helping eliminate the guesswork in the defrosting process.
We also appreciate that this microwave oven has a memory function. Therefore, it will effectively streamline your cooking time in your daily cooking process.
Best Over-the-Range Microwave with Soft Close Door:
GE PVM9005SJSS Microwave Oven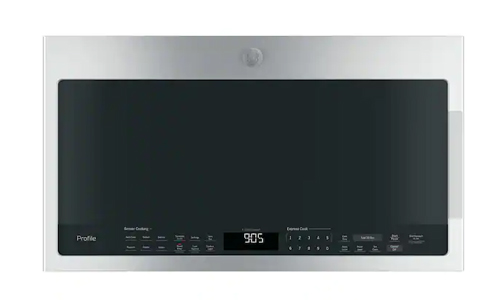 Throughout decades, GE appliances have been providing users with reliable performance and enjoyable experiences. And this microwave with soft close door by GE is another reliable appliance to consider.
It is designed with a timeless, sleek and modern look so it can seamlessly go with your existing kitchen decor. It comes with an integrated handle for easy cleaning, which also seems more elegant and polished.
It has a cooking capacity of 2.1 cubic feet which is the largest cooking capacity in this list. This is really useful if you want to cook more than one dish at once, and there will be more than enough room for you to cook for a big family.
If you need to cook more than one dish at once, the turntable off option would help as well. It allows you to control the rotation of the turntable so you can easily fit more than one plate. And also, when the turntable is off, the plates won't bump into each other while cooking.
The sensor cooking function is extremely useful and convenient when it comes to daily cooking. It could eliminate the frustration for those who are not so good at guesswork.
One thing that makes this microwave stand out the most is the smart home compatibility. You can have full control over your kitchen thanks to the smooth integration of GE Profile Microwaves with your smart home.