Lately, more and more manufacturers are trying to push into the microwave oven industries with their low-cost products. The quality varies, though.
Since the quality of microwave ovens in the marketplace varies greatly, we need to be smart on picking the right one for our home kitchen.
Magic Chef HMM1110B is one of the popular, inexpensive microwave ovens available to buy. It cost less than $70, and seems a decent product.
Is it really worth your money and time? What are the pros and cons of the Magic Chef HMM1110B? Let's see if it's a great choice for you in our detailed review below.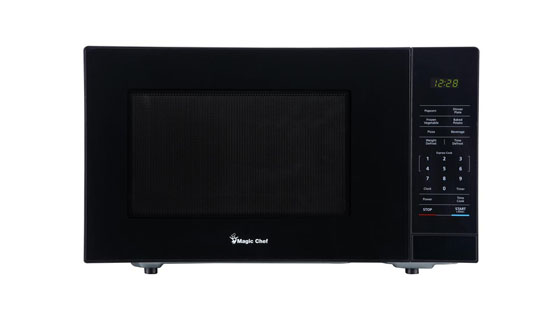 Magic Chef HMM1110B Review 2020
1. Size
The first thing of a microwave oven we'd consider is its size. The dimensions of the Magic Chef HMM1110B is 15.7 in. (D) x 12.1 in. (H) x 20.2 in. (W).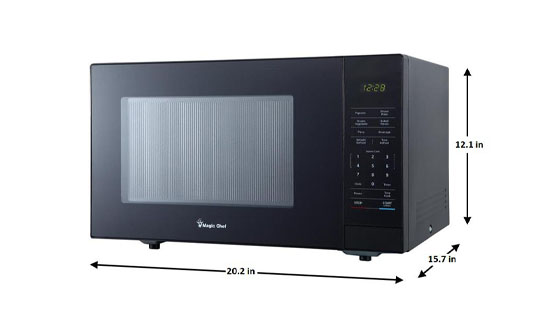 Compared to other options in the marketplace, it will not be considered a huge unit. We'd say it's a medium to large model.
Its size is the perfect fit for a small family, office break room, and more. If you're looking for a microwave for college dorm rooms, tiny apartments, or camper vans, this won't be your best bet. It will take up more counter space than you'd like.
2. Capacity & Wattage
The cooking capacity and power output are the main factors to consider as well. For dorm rooms and apartments, a low wattage microwave would be ideal. However, if you're looking for a unit for family use, a higher power enables it to handle more cooking requirements.
The microwave oven boasts a cooking capacity of 1.1 cu, ft, which is roomy enough to fit a large-sized dinner plate, and capable of preparing proper meals for a small family.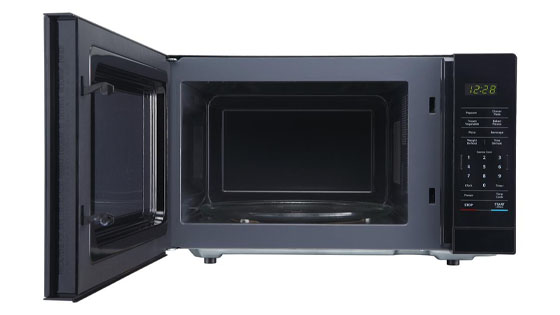 Most microwave ovens of such price range come with a cooking power of 600 Watts to 800 Watts. As to the Magic Chef HMM1110B, you're getting a wattage of 950 Watts, which means it can heat up pretty quickly.
Both the capacity and wattage of the Magic Chef HMM1110B are surprisingly satisfying for such a low-cost option. The relatively high cooking power and efficient capacity is going to provide you with great flexibility in your everyday cooking process.
3. Easy-to-Use and Easy-to-Clean Controls
It will give you a headache if you need to explain to every guest or nanny about how to operate the microwave in your kitchen. That's why picking an easy-to-use microwave is essential.
The electronic control panel of this microwave oven is pretty straightforward. Thus, it's easy-to-use as well. You can easily figure out how to navigate it even without the user manual.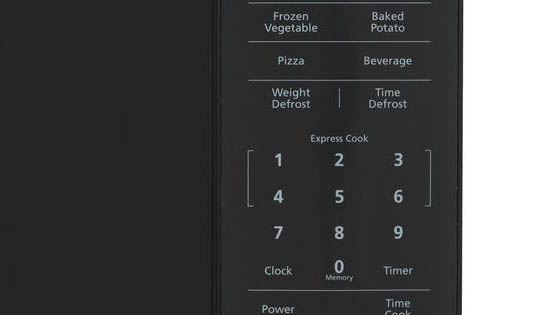 With no dials or buttons, the plain control panel is extremely easy to clean and maintain. A few wipes with a damp cloth is all it needs to keep it clean and shiny.
4. Glass Turntable for Even Cooking Results
The easy-to-use microwave oven comes with a 12.40-inch glass turntable. Glass turntable will rotate the food when it's heating.
Therefore, you could expect thoroughly cooked dishes, and wave goodbye to cold spots and overcooked edges.
5. Convenient Auto-Defrost
An auto-defrost function is very useful for simplifying your cooking process. The auto-defrost function of the Magic Chef HMM1110B lets you defrost frozen foods by weight or time.
It does a great job defrosting frozen meat, vegetables, and more, while providing you with great convenience not having to adjust many settings.
6. Beneficial auto-cook presets
Preprogrammed cooking menus are rarely seen in low-priced microwaves. The good news with the Magic Chef HMM1110B is that it has 6 auto-cook settings.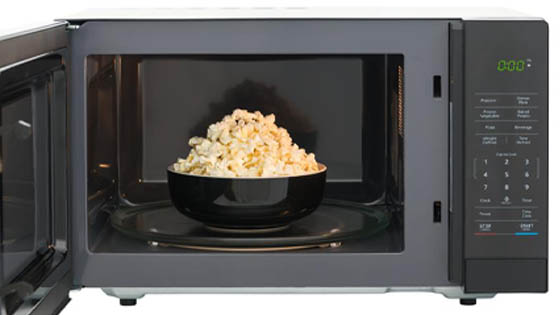 The 6 auto-cook presets include popular foods like frozen vegetables, potato, pizza, and more.
These auto-cook settings let you cook these popular foods with one touch of the buttons, and save you the frustration of guessing power level and cooking time.
Magic Chef HMM1110B Review: Pros & Cons
PROS:
Extremely affordable
Efficient 1.1 cu. Ft. cooking capacity
Excellent 950 Watts of cooking power
Easy-to-use electronic controls
6 auto-cook options
CONS:
A bit noisier than other models on the market
The door button is a little hard to push
Verdict: Low-Cost, and Impressive!
That wraps our review on Magic Chef HMM1110B. This low-cost countertop microwave can cope with all your basic cooking needs than most of the cheap options will. It is possible because of its efficient capacity and relatively high power wattage.
It's specifically ideal for small families, medium-sized kitchens, due to its medium-to-large size.
The all-black design makes it look great in any kitchen decor. And the fact that it's super easy to use makes a big selling point. The auto-cook settings are a big surprise to have in such a low-cost microwave oven.
All in all, it's definitely a good purchase given that it only costs $69.98. Go for it if you have enough countertop space for it, don't need any fancy features.
However, if you prefer models that are quiet and easy to open, you should consider something else. Need a better alternative? A high-quality, excellent performer of the similar price range would be BLACK+DECKER EM031MB11 1.1 cu. Ft. microwave oven (retailing for $99.99 — but often on sale for $89 or less).