The best flatbed microwaves available today don't just offer convenience, they are fully-featured, too.
But which are the best? We've done the research to help you choose! No matter the budget you're having, you'll find the best flatbed microwaves for you in our list below.
What Is a Flatbed Microwave?
What is a flatbed microwave? What is so special about flatbed microwaves? Are they better than other microwave ovens?
Before we get to the part where we will choose the best flatbed microwave for our home, we need to understand some facts about them.
Most microwave ovens we see today have a turntable inside. The turntable would rotate during the cooking process to make sure your food would be evenly cooked.
A flatbed microwave is a type of microwave oven that does not have a turntable or rotating plate inside. Instead, the cavity of the microwave is a flat surface.
However, it still needs to evenly prepare the food. So, it will use other methods to achieve that. For example, flatbed microwaves may have a rotating antenna or bottom energy feed, to evenly apply microwaves to the food.
Flatbed Microwaves VS. Microwaves with Turntable, Which Is Better?
Microwaves with a turntable are still going to deliver a great cooking experience, but flatbed microwaves are just impressive when it comes to convenience.
Given that there will be no turntable inside the flatbed microwaves, there will be more space for larger dishes. The spacious interior also allows for odd-shaped containers. Therefore, flatbed microwaves are ideal for big families and commercial use.
What else? The flatbed design can effectively prevent spills since there will be no rotating during the cooking process.
Also, The interior of flatbed microwaves is so easy to clean. It literally makes the cleanup a breeze!
The downside of flatbed microwaves, when compared to microwaves with turntable, is the fact that they are generally more expensive.
Ultimately, the choice between a flatbed microwave and a microwave with turntable depends on the specific circumstances and personal preference.
Best Flatbed Microwave Ovens for 2023
Panasonic NE1054F Countertop Microwave Oven
The Panasonic NE1054F is our pick for the best Flatbed microwave, delivering the second-to-none cooking experience for a reasonable price.
Its stainless steel finish is the very first thing we love about this model. The timeless design with stainless steel finish makes the unit seamlessly become part of your kitchen decor.
A heavy-duty commercial-grade, stainless-steel front and steel exterior cabinet and interior easily withstands years of use. Also, they would ensure easy cleaning from the inside out.
To learn more about microwaves with stainless steel interior, read this post.
The flatbed interior makes it ideal for household use, and commercial use, as well. It's NSF & UL Commercial approved as a food service equipment.
The no-turntable design requires low maintenance, and it's super easy to clean up after cooking. If spills happen, all you need to do is to wipe it out with a damp cloth.
The flatbed design allows the food to sit closer to the bottom energy feed. And through this, it will minimize the distance microwaves travel to reach the food. That is to say, it will cook your food faster this way.
Meanwhile, 1000 Watts of cooking power means it could help you serve dishes to your family or customers in no time.
With the two-stage and three-stage cooking feature, the flatbed microwave could offer you the possibilities of making foods with different textures. It will take your microwave cooking to the next level.
Midea Equipment 1025F0A Countertop Commercial Microwave Oven
Midea 1025F0A deserves high marks for its overall quality and durability considering its price. It's for $255 at the time we reviewed it. It is more affordable than most flatbed microwaves on the market today.
As with most Midea microwaves, it has a quality build with stainless steel finish. It could remain in good shape after years of use. It also has a stainless steel interior that you would definitely enjoy.
It's far more durable than a plastic interior and so much easier to clean. The stainless steel interior won't absorb smells or grease, so they can hardly linger.
1000 Watts of cooking power and 0.9 cu. Ft. (25 L) of capacity make it ideal for home use and light-duty commercial use.
There is an EZ Grab and Go handle with a 90°+ opening for easy access and reliable use. The Midea flatbed microwave comes with a pretty straightforward control panel, which means it would be easy to navigate.
With the 6 minute electronic dial timer, it would be incredibly easy to set the time for cooking, even for senior citizens.
Another well-thought-out feature of this flatbed microwave is the interior light. It allows you to monitor your food while cooking without opening the door. Therefore, you can check on your dishes whenever you want.
Sharp R-21LCFS Medium-Duty Commercial Microwave Oven
If you want a medium-duty flatbed microwave, this is one of our favourites, because it's high-quality and modestly priced. It would be a nice investment for households and commercials.
The medium-duty flatbed microwave has a relatively spacious interior. It can accommodate a 13-1/2" platter, prepackaged foods, single servings or a half-size pan in either direction. The flatbed design also allows you to fit odd-shaped containers.
We also rate the Stainless steel exterior wrap here, including the door handle. It also has a stainless steel interior. Therefore, the whole unit would be long-lasting and easy-to-clean.
Control of the flatbed microwave is amazingly unchallenging. There is only one dial knob for control. So, all you need to do is to twist a knob to the time you want and the microwave cooks your food for that amount of time.
You're getting a handy time guide on the control panel as well, which is super convenient. Before you start the microwave, you can just look at the time guide and get the recommended times for heating a variety of popular foods.
Magic Chef Flatbed Countertop Microwave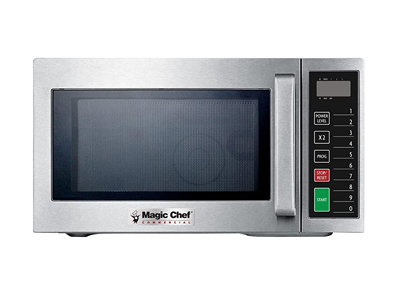 Here's another budget flat microwave that offers great convenience. This flatbed microwave comes with a durable stainless steel construction, and a stainless steel interior with ceramic cabinet floor. You can expect the unit to be in good condition after years of use.
0.9 cu. ft. capacity accommodates a variety of dishes, which is sufficient for most families and light-duty food service. 1000-Watt of cooking power is also powerful enough to bring food to the table before long.
You're getting a lot of useful features for your money here. For example, you will have 10 programmable buttons for multiple cooking levels.
It allows you to save frequently used cooking menus to the number key. Hence, you can easily activate the microwave for these menus with one touch.
The multi-stage cooking feature will also come in handy for different cooking times as well as different power levels at your touch.
Midea Equipment 2117G1A Commercial Microwave
Looking for a heavy-duty flatbed microwave for commercial use? Check out the Midea Equipment 2117G1A.
It has a flatbed capacity of 0.6 cu. Ft, and it can accommodate a 12'' (305 mm) platter. There's an interior light that allows you to monitor cooking status without interrupting the cooking process.
The stainless steel cabinet and oven cavity makes it ideal for commercial use, on the grounds that it can be perfectly adapted to the commercial environment.
Need to serve food to your customers very soon? The powerful cooking power of 2100 Watts will help you achieve that.
If you're in the food service industry, there's a wonderful feature you would definitely love. The flatbed microwave allows you to preprogram up to 100 auto items with 60: 00 maximum cooking time for each.
That is to say, you don't need to set the cooking time and power for the dishes every time. Just preprogram your own menus and activate the presets when you need them.
11 power levels and 3 cooking stages provides you with all the possibilities. They can help you easily fulfil different cooking demands of your shop.