Are you looking for the best microwaves for disabled users? You've found the right post. The market today has offered many proper microwave ovens for disabled people. Many microwaves are ADA compliant, and designed to make disabled people's lives easier.
However, choosing the right microwave for the disabled could be time-consuming.
In this article, we'll discuss the best microwaves for disabled people in detail. Get the one that goes with your needs and requirements.
Microwave for Disabled People: What Is an ADA Compliant Microwave?
In order to spot the right microwave oven for the disabled on the market, it's necessary to understand what an ADA compliant microwave is.
ADA compliant microwaves are required to allow disabled people to reach and use them. And it should be able to operate with one hand with light force.
Let's take GE ADA-compliant microwave ovens for example. GE explains on their official website:
"To be considered ADA compliant, a GE microwave must meet the following requirements:
Maximum high forward reach for controls and operating mechanisms is 48″; the maximum low forward reach is 15″.
Controls and operating mechanisms must be operable with one hand and shall not require tight grasping, pinching or twisting of the wrist. The force required to activate controls shall be no more than 5 lbs."
Now we've understood the meaning of ADA compliant microwaves. Below you'll find the reviews of the best microwaves for disabled people.
Best Microwaves for Disabled People: Top 3 Models Available Today
In the following, we round up 3 best microwaves for disabled people, which are ADA compliant, easy-to-use and fully-featured.
Again, you need to take your needs and requirements into consideration while choosing a microwave.
Best Countertop Microwave Oven for Disabled People:
Kenmore 70929 Countertop Microwave Oven
First in the list of best microwaves for disabled users is the Kenmore 70929 countertop microwave oven.
It's one of the best-selling microwaves on Amazon and it's ADA compliant. It comes with a 0.9 cu. Ft. capacity, so it would work perfectly for individuals and small families.
It won't require much force to open the microwave door. It has a latch that allows you to open the door with one push.
The microwave is overall easy-to-use. And it offers some convenient features. The microwave for disabled users has a large LED digital display on the front. Therefore, you can see the settings easily.
A safety lock function keeps you and your family out of danger. The Add 30 Second button and auto-cook preset really help simplify the cooking process.
Best Built-in Microwave for Disabled People:
GE Profile PEM31SFSS Countertop Microwave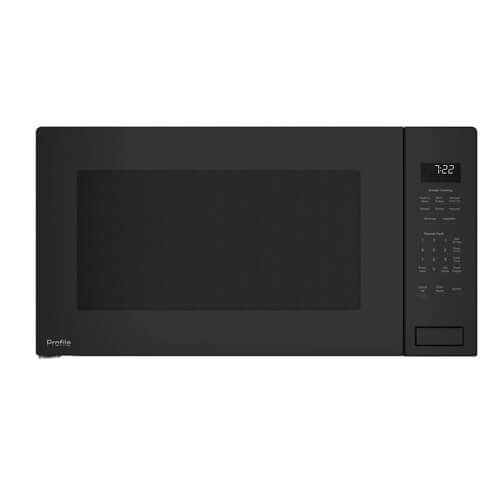 This GE microwave benefits from feature control positioned within arm's reach (between 15 and 48 inches above floor). And it allows one-hand operation.
It also has a door latch, so the disabled can open it with ease. Therefore, it makes a perfect choice for people with disabilities.
The product has a large capacity of 2.2 cu. Ft. and an extra-large 16″ turntable. Hence, you won't face any problem making big meals for a family.
Moreover, it comes with sensor cooking controls that can automatically adjust time and power for delicious cooking results.
Best Budget Microwave for Disabled People:
Whirlpool WMC10007AW Countertop Microwave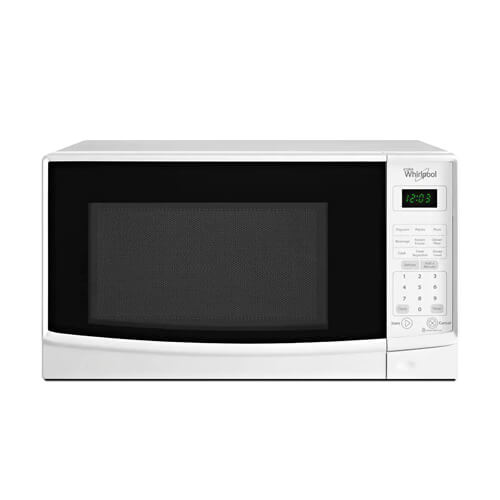 Whirlpool WMC10007AW is suitable for disabled people who live alone or live in a relatively small space.
It's great because it is compact and saves you a lot of valuable space in the kitchen. It has an easy-to-clean interior that helps you keep the unit clean.
With 10 various power levels, it can fulfill your daily cooking needs. Auto cycles let you quickly warm leftovers, make popcorn and cook a potato.
What I love about this model is its big buttons, and they're pretty straightforward. Therefore, cooking with this unit would be easy and effective.
One-touch options include popcorn, pizza, potatoes, dinner plates and more, so you could cook these foods with one press of the button. And the electronic lockout can help prevent accidental use.