When it comes to kitchen appliances, you will always find Bosch among the high-end options. It could be considered costly when compared to other options out there.
That said, the Bosch Serie 4 combination microwave isn't something you just grab and go. You need to think about the value for the money before making the purchase.
In this unbiased review, we will explore why the Bosch Serie 4 combination microwave is better than its competitors. Also, we'll explain some reasons why you might want to avoid it.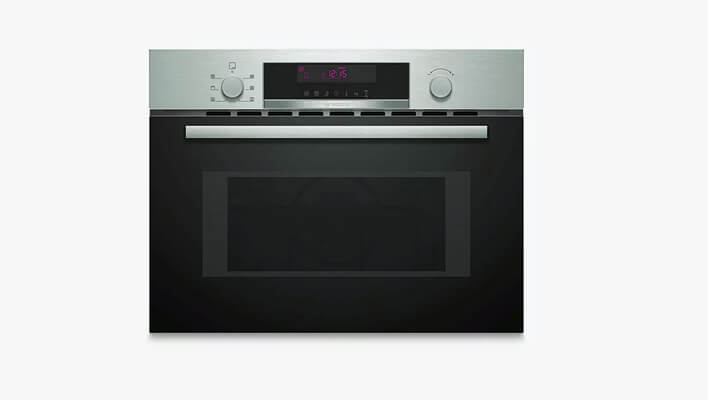 Bosch Serie 4 Combination Microwave Review: the Price
The Bosch CMA583MS0B is priced at €602 to €626, or around £720 on different platforms. And the Bosch Serie 4 combination microwave is mainly available in Europe.
Given the price, the Bosch Serie 4 combination microwave is supposed to be a valued addition to the kitchen. Let's get into the features and specifications and see if it will work well for your kitchen.
Bosch Serie 4 Combination Microwave Review: Specifications and Features
1. Design
The overall design of the Bosch Serie 4 combination microwave is modern and sleek. Therefore, it could easily go with your current decor style.
With controls on the top and the two big dial knobs for controls, the microwave oven is incredibly easy to use. Also, the drop down door allows you to temporarily put plates and foods on it, which is super convenient for daily cooking.
The stainless steel finish and stainless steel interior make the microwave oven durable, yet extremely easy-to-clean. It also has a brilliant hydrolytic cleaning function that could further simplify the cleaning and maintenance process.
2. Capacity
It has a large capacity of 44 litres, which makes it a great option for large households and even commercial use. And naturally, it won't be ideal for individuals and couples, for it will cost a lot more and take up more valuable kitchen space than other solutions that would work fine for you.
3. Power Output
The powerful 900 Watt power output helps you put food on the table in an instant. And the unique fan system ensures evenly prepared dishes.
4. Features
It boasts various heating functions, including Microwave, Hot Air Cooking, full width variable grill and pizza function. They provide you with all the cooking possibilities you would desire.
One great feature we love about the Bosch Serie 4 combination microwave is the Hot Air grilling function. It just takes the cooking game to the next level. With this feature, you could easily make roast dishes with a succulent inside and a crispy finish.
Related Reading: Microwave Ovens with Crisp Function
For additional convenience, there are 15 automatic programmes available for quick meals. Another thing that you would definitely love about this unit is Bosch's AutoPilot feature.
You just need to enter the weight and select your meal. And then it would automatically set the cooking time and power for perfect results. Isn't it the dream for those who are not good at guesswork?
The control panel lock feature is another considerate feature to like. If you live with children, it could effectively prevent the little ones from tampering with the microwave.
Bosch Serie 4 Combination Microwave Review: Installation and Warranty
When shopping for a kitchen appliance, the installation is one of the vital factors to consider.
The Bosch Serie 4 Combination microwave is a built-in microwave oven. Therefore, it would require more time and effort to install than a countertop microwave. You may even need to hire a pro to install it for you if you're not good at such things. And thus, additional fees might be required at this point.
As for the warranty, it comes with a two-year warranty. It's the standard warranty for most appliances available today.
Bosch Serie 4 Combination Microwave Review: the Verdict
The Bosch Serie 4 Combination microwave is more than just a regular microwave. It's a true microwave oven that combines various heating functions. And through this, it helps you easily achieve all the daily cooking tasks.
A wide range of well-thought-out and high-end features also make it stand out among the competitors. The major letdown of it might be the fact that it comes at a steep price tag. And the relatively complicated installation would be something to think about, but it would be the same for all built-in microwave ovens.
On the whole, if you have extra cash to invest in a solid, built-in microwave oven, the Bosch Serie 4 Combination microwave would be an excellent choice.