If you are looking for a new microwave oven for your kitchen and currently interested in Kitchenaid KMHS120ESS, this in-depth review is for you.
From its design to the features, we will walk you through everything you need to know about Kitchenaid KMHS120ESS in this review.
Explore our comprehensive review on Kitchenaid KMHS120ESS, and see if it is the best choice for you.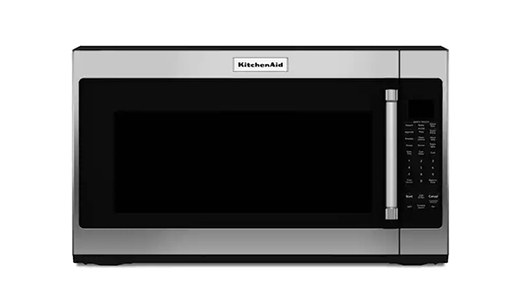 Aesthetics and Easy Maintenance
When it comes to looks, the Kitchenaid KMHS120ESS won't fall short. The Kitchenaid KMHS120ESS comes in stainless steel finish or black stainless finish.
Any kitchen would benefit from its timeless design. Its minimalist and classic design makes it easy to seamlessly blend in a variety of kitchen decors.
And the stainless finish also ensures long-lasting durability and easy maintenance. The Kitchenaid KMHS120ESS would remain in good shape after years of use.
The microwave's interior may be easily cleaned with Cookshield finish. Therefore, it would be easy for users to keep the microwave oven shiny and clean for a longer period of time.
Spacious Storage
When you take a look inside of the Kitchenaid KMHS120ESS, you will find a spacious 2.0 cubic feet capacity.
The 2.0 cu. ft. capacity is large enough to easily hold a variety of containers. The spacious capacity can easily fit awkwardly shaped containers, which is very versatile and convenient.
And it's sufficient enough to serve a big family. You can easily cook more than one dish at once thanks to the large capacity. It makes a great choice for those who need to make feed-a-crowd meals on a daily basis.
Cooking Power
The Kitchenaid KMHS120ESS comes with high 1000-Watt power, ensuring that it can cook your favourite food quickly.
If you are a busy parent, you would love the fact that it would help you bring dinner to the table in a flash.
Venting System
By selecting the Kitchenaid KMHS120ESS, you not only get to enjoy a fully-featured microwave oven but also a powerful venting system.
The Kitchenaid KMHS120ESS is an over-the-range microwave, so it naturally comes with an exhaust fan. With the help of the 3-speed, 400 CFM vent fan with charcoal odour filter, you can easily remove cooking odours and smoke out of your kitchen.
Convenient Features and Ease of Use
The Kitchenaid KMHS120ESS offers a wide range of convenient features, making it an excellent addition to any kitchen.
The very first feature you would love about Kitchenaid KMHS120ESS is the smart sensor cooking function. It can automatically adjust the cooking time and power for the best results to cook, reheat or defrost. The sensor cooking feature allows you to cook a wide range of foods without any guesswork.
And you can also steam and simmer with this microwave oven, which would expand your cooking possibilities to unprecedented levels. For further convenience, the Kitchenaid KMHS120ESS boasts the sensor steam and sensor simmer cook cycle function. It lets you precisely steam or simmer your favourite foods based on the desired level of doneness.
Another well-thought-out feature of Kitchenaid KMHS120ESS is the keep warm feature. When you have the dishes cooked and they are not ready to be served, you can keep them warm in the microwave with the keep warm feature until all your family are ready to eat.
If you constantly cook soup or other dishes that could easily lead to spills, you would love the stoppable turntable. It allows you to turn off the turntable for cooking, so it can prevent spills. Also, when the turntable is off, it will have more space to fit large containers.
As for navigating, it won't be complicated at all. The controls are super intuitive. It is simple to interface with and manage the microwave using electronic touch controls and a vacuum fluorescent display (VFD).
Some Extra Thought
Kitchenaid has been providing users with quality microwave ovens for decades. And the Kitchenaid KMHS120ESS seems to be another microwave worth your investment.
However, as you consider your options, it's worth giving this some extra thought. This unit is a bit more pricey than other similar options on the market. You can get a 2.0 cubic feet microwave oven from other brands, which may lack some convenient features, for around $500.
What owners are saying
Owners turn out to love the Kitchenaid KMHS120ESS. They award this microwave oven an average of 4.7 out of 5 stars on major retailers.
Many users appreciate the quality build and how the unit is sturdy with the heavy duty handle but still elegant. And they love the easy operation and convenient features as well.
Should You Get the Kitchenaid KMHS120ESS?
If you are in the market for a quality microwave, the Kitchenaid KMHS120ESS definitely is a nice option. It offers a sleek, classic design and large cooking capacity that many households expect from a microwave oven.
It also comes with a wide range of convenient features that will make your cooking tasks a lot easier. The powerful venting system would work great to keep your kitchen fresh and clean.
However, it is a bit pricey. If you have the budget to spend on the microwave oven, the Kitchenaid KMHS120ESS won't disappoint.