Microwave ovens used to be so bulky, so they will take up a lot of precious space in the kitchen. However, in recent years, microwaves have become a lot smaller.
Low profile microwave ovens make it possible for households to fulfil cooking tasks while saving much space.
In today's post, we will walk you through the advantages and disadvantages of low-profile microwaves. Also, we will help you choose the best low profile microwave ovens for you.
What Are the Advantages and Disadvantages of Low Profile Microwaves?
Here are some pros and cons of low profile microwaves to consider when you are on the market for one.
Pros of low profile microwave ovens
Efficient use of the space
The most obvious advantage of low profile microwaves is that they are much more space-saving than a regular microwave oven.
When you take a look at the measurement of low profile microwave ovens, they are often a bit over 10-inches in height.
Their slim profile makes sure that they won't protrude from other appliances. It will take up less space in the cabinet, saving you more space for storage. That is to say, low profile microwaves can seamlessly integrate into your kitchen layout even if you have a rather small kitchen.
Low-profile microwave ovens available on the market are relatively well built and good looking. And they mostly look simple, sleek and aesthetic.
Therefore, they can easily go with the kitchen decor and other appliances you already have.
Other than its functionality to cook, most low profile microwave ovens can also work as a venting system and a cooking light.
These low profile microwaves come with a built-in vent fan. Therefore, they can work as a venting system to remove smoke, steam, and odors from your kitchen when you cook with the stove.
RELATED READING: Microwave Ovens with Exhaust Fan
And many low profile microwaves boast a cooktop light. It allows you to keep an eye on what's cooking below the microwave or keep a nightlight on in the kitchen.
Cons of low profile microwave ovens
As many low profile microwaves today are well built and smart, they tend to be more expensive than regular microwave ovens. Therefore, you need to spend a bit more for low profile microwaves.
Though low profile microwave ovens are more pricey, the price varies. You still can find a relatively affordable low profile microwave on the market.
We just learned about the fact that low profile microwaves tend to be compact. Because of their smaller size, the capacity is relatively smaller.
They still can fit most regular dinner plates and bowls, and are capable of handling daily cooking tasks. However, their capacity tends to be low in height. Some of the taller containers won't fit.
What to Consider When Choosing a Low Profile Microwave Oven?
When shopping for a low profile microwave oven, we can get overwhelmed by so many options available.
Here are some factors you can consider when choosing a low profile microwave, so you can get the best solution for your kitchen.
Dimensions
Dimensions are the very first thing you should consider when choosing a low profile microwave. You should have measured the space you've saved for the microwave before going on the market.
Then, check the dimensions of the low profile microwave to see if it can well fit in your saved space. If you are not so sure about it, it is recommended to talk to the product support for advice.
Always make sure the dimensions will fit before you ever order a low profile microwave, which will save you the trouble and frustration.
Cooking power and capacity
The cooking power and interior space is another factor to consider when choosing a low profile microwave oven.
Take your daily cooking tasks into consideration when choosing the cooking power and capacity. For example, consider how many people you need to feed with the microwave, and how much time you would have for cooking.
If you need to feed a crowd with limited cooking time, you need to find a powerful low profile microwave with large interior space. On the other hand, if you are looking for a solution for individuals or small kitchens, consider a smaller one and save yourself some cash.
Venting options
Like we've mentioned before, most low profile microwaves come with a built-in venting system.
They offer a range of exhaust power and speeds for you to choose from. And you need to consider your cooking habits to choose.
For instance, if you constantly cook oily and greasy dishes with your stovetop, you might want to have a powerful venting system in the low profile microwave.
3 Best Low Profile Microwave Available Today
Whirlpool Over the Range Low Profile Microwave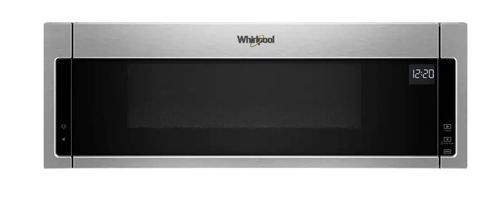 For those who want a low profile microwave that is compact, reliable and durable, this Whirlpool Over the Range microwave would be a great option.
The Whirlpool low profile microwave looks modern and sleek that's backed by the black-and-white design and stainless steel finish. Therefore, it can effortlessly blend into your kitchen decor.
It could work perfectly for small families and medium-sized families with a purposeful capacity of 1.1 cu. Ft. This low profile microwave can fit tall glasses for beverages, wide plates for dinner dishes and more.
To help to keep your kitchen fresh and clean, the low profile microwave oven comes with a powerful 400 CFM high-performance exhaust fan. It can effectively remove smoke, steam and odors from your kitchen.
Samsung Smart SLIM Microwave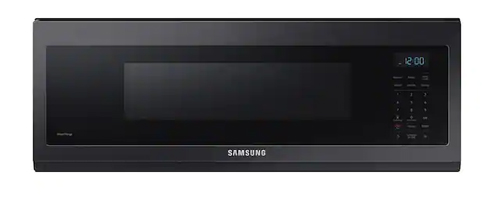 If you are a huge fan of smart home systems, you are going to love this smart low-profile microwave by Samsung.
It's the ultimate space-saving solution for smart, modern kitchens. Also, the time-less design makes it easily fit into any kitchen.
The slim design and space-efficient size could make the most of limited cabinet space. However, just because it's compact doesn't mean that it's not powerful.
The very first feature you would love about this microwave oven is its voice control feature. When it's paired with SmartThings App and compatible voice assistants, you can remotely control the microwave anytime you want. The SmartThings App also allows you to monitor and adjust settings remotely.
The venting system of this low profile microwave is powerful, too. The 400 CFM exhaust fan ensures the kitchen environment of yours is fresh and clean.
This low profile microwave can also deliver efficient and quick cooking results with a cooking power of 1100 Watts, making it a great choice for busy families.
KitchenAid Over the Range Low Profile Microwave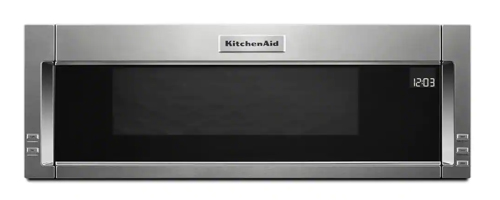 If you're most concerned with the venting system's power of the microwave, this low profile microwave has the most powerful venting system we've seen.
The low profile microwave comes with a ventilation coverage from two powerful 500 CFM Motor Class fans. The powerful venting system would ensure that your kitchen will remain fresh and clean all day long.
This low profile microwave is designed with a remarkable height of just 10.3 inches. Therefore, it could easily fit into your kitchen setup without sacrificing valuable cabinet space.
Furthermore, the low profile microwave is equipped with two brilliant LEDs. When you turn them on, they can illuminate the whole stovetop cooking surface. It can enhance the visibility and the overall cooking experience.